The Rise of Pentecostalism: Did You Know?
Recently Life magazine, in listing the top 100 events of the second millennium, put Pentecostalism at 68th. The Dictionary of Christianity in America says that Pentecostalism is perhaps "the single-most-significant development in twentieth-century Christianity."
Though many consider the 1906 Azusa Street Revival as the birth of modern Pentecostalism, speaking in tongues took place at two earlier Holiness gatherings, one in Topeka, Kansas, in 1901, and another in Cherokee County, North Carolina, in 1896.
It is hard to say which is the oldest Pentecostal denomination. The United Holy Church and the Church of God (Cleveland, Tenn.) point to pre-Pentecostal roots as far back as 1886. The Pentecostal Holiness Church, with pre-Pentecostal roots as far back as 1879, was the first to adopt a clear Pentecostal statement of faith in 1908.
Early Pentecostals claimed the gift of tongues was not primarily the speaking of a heavenly language (glossalalia) but other human languages (xenolalia). The purpose? Early leader Charles Parham said, "I had felt for years that any missionary going to the foreign field should preach in the language of the natives, and that if God ever equipped his ministers in that way [by xenolalia], he could do it today." Though many anecdotes of xenolalia exist, none have been confirmed.
Many early Pentecostals were pacifists. At the outbreak of World War I, some Pentecostals called for a "great peace council" at which they could state their opposition to warfare. Every major Pentecostal denomination has at some point adopted a pacifist resolution.
Pentecostals have often been as stern as fundamentalists about social behavior. In addition to banning traditional vices like alcohol, tobacco, and the movies, they have ...
You have reached the end of this Article Preview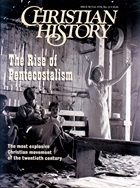 04/01/1998