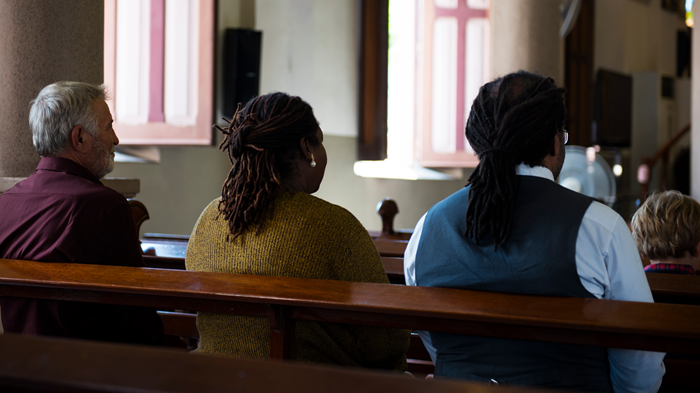 Image: rawpixel / Getty Images
The multiethnic church movement is working: Protestant churches in the US have become three times more likely to be racially diverse than they were 20 years ago.
The percentage of Protestant churches where no one racial group makes up more than 80 percent of the congregation tripled from 4 percent in 1998 to 12 percent in 2012, according to new research out this week from Baylor University. Evangelicals and Pentecostals show even higher levels of diverse churches, up to 15 percent and 16 percent, respectively.
Overall, nearly 1 in 5 of all American worshipers belong to a multiethnic congregation.
These findings—based on data from the most recent National Congregations Study—confirm a trend many evangelical leaders have pushed and prayed for, but research also indicates there is more work to be done to keep up with shifting demographics in the US and ensure the changing numbers reflect a healthy, biblical approach to diversity.
"Congregations are looking more like their neighborhoods racially and ethnically, but they still lag behind," said Kevin D. Dougherty, Baylor sociologist and the lead author of the study, which was published in the Journal for the Scientific Study of Religion. "The average congregation was eight times less diverse racially than its neighborhood in 1998 and four times less diverse in 2012."
Dougherty and co-author Michael O. Emerson, provost of North Park University, also suggested that "American congregations may be growing in diversity without altering the social conditions that inhibit full racial integration."
Most multiethnic churches (71%) are led by white pastors, and over the years, their makeup has remained half white. (Previous research from Dougherty and Emerson indicated that multiethnic congregations, in aggregate, can "serve merely as a tool into white assimilation," since African Americans are more likely than the white majority to change their views as a result of attendance.)
"There is so much more to being a 'healthy' multiethnic, multiracial church than merely counting diverse percentages in the pews," said Mark DeYmaz, president of Mosaix Global Network. "From a practitioner side, certainly the diversity of church staff and leadership boards, councils, etc., is more telling of healthy, authentic, structural inclusion of diverse others, though this is much harder to study, and in fact has yet to be studied in a similar way."
Another leader in the multiethnic church movement, pastor Cole Brown, has voiced similar concerns. "Becoming a multiethnic church isn't like becoming a church that does Sunday school. It's not a program change; it's a whole-life change," he wrote. "If your life isn't multiethnic it will be difficult, and potentially damaging, to try to lead a church to be multiethnic."
Among evangelicals, the proportion of multiethnic churches today has grown far beyond the 15 percent captured in the 2012 figures, DeYmaz told CT.
But even more significantly, the movement has become an established part of the conversation over the future of American evangelicalism—no longer an idea pastors need to argue or defend, but one that many churches and leaders are eager to embrace.
"When I first went down the trail of Christ-exalting diversity, and planted a multiethnic church in 2003, there were sparse examples I could look to pattern our ministry after," said Bryan Loritts, founder of The Kainos Movement.
"But now the volume has been turned way up on wanting to see multiethnic churches launched, and it's even become the new normal," he said. "When I talk to young church planters who are eager to get started, it's a little overwhelming to hear them say they want to be a multiethnic church. This is a relatively new and growing development- one I'm overjoyed with."
Groups like Mosaix and Kainos have worked with dozens of leaders, denominations, and networks to strategize around church diversity.
The Baylor study found that "the most consistent predictor of religious racial diversity is religious tradition or denomination," with bigger organizations less likely to include racially diverse churches (there's a big enough population for racial minorities to worship among themselves). On a smaller scale, racial justice advocacy can also be a draw for racial diversity.
A study published last year in the Review of Religious Researchsimilarly found that nondenominational and other conservative evangelicals are actually more likely than members of mainline and major denominations to attend multiracial churches and have non-white friends.
"There has been a push within the leadership of denominations to take seriously the need to address issues of racial reconciliation. Often those denominations make mistakes along the way but the focus they produce on these issues helps to motivate more people to become comfortable in a multiracial worship setting," University of North Texas sociologist George Yancey, whose earlier research focused on multiracial churches, told CT.
"You can take a look at the work of J. D. Greear, the newest Southern Baptist president, to see evidence of this emerging interest among American denominations on racial issues."

Emerson indicated that such interest is crucial for the future of the church. "As US society continues to diversify by race and ethnicity, congregations' ability to adapt to those changes will grow in importance," he said.
Even as the country's Latino population surges, they now make up a smaller proportion of worshipers at multiethnic churches than they did in 1998—down from 22 percent to 13 percent, the Baylor study reported. The dip likely relates to their departure from multiethnic Catholic churches to one of the growing number of Latino and Spanish-speaking Protestant churches in the US.
Instead of Latinos, African Americans now make up the second-biggest racial group in multiethnic churches, growing from 16 percent in 1998 to 27 percent in 2012. But in the current political landscape, their place in mostly white evangelical congregations has become more precarious.
In a recent New York Times article about black Christians switching churches or leaving them altogether, Emerson called the election of President Donald Trump "the single most harmful event to the whole movement of reconciliation in at least the past 30 years."
A 2015 LifeWay Research survey found that African American churchgoers were more likely than Hispanic or white Christians to want their church to become more diverse. Overall, two-thirds of churchgoers said their church had done enough to become racially diverse.
"We need Jesus loving, courageous leaders of God's church who will embrace the vision of diversity, cast the vision, and then move forward in boldness," said Loritts, author of the forthcoming book Insider, Outsider: My Journey As A Stranger in White Evangelicalism, And My Hope For Us All. "Christ-exalting diversity in America is not easy because we are literally coming against principalities and powers—it is after all America's historic sin—but I'm hopeful."
Christianity Today has previously reported on efforts to incorporate multicultural worship music and diverse leadership into churches, both factors researchers have associated with the rise in multiethnic congregations.