Evangelical Protestants have had an unusually high global consciousness ever since the 19th-century blossoming of the missions movement.  For a century and a half, missionaries' support letters kept North American churchgoers aware of countries and people groups they rarely read about in newspapers. Because of connections to missionaries and relief organizations, we hear about life in places like Mozambique, Tibet, Sri Lanka, and Rwanda. And when trouble starts brewing in such places, we often hear about it through these connections first.
But while missionaries and relief workers have been a great source of global connectivity—long preceding other factors in the much-ballyhooed phenomenon of globalization—they have often been slow to engage and resist the forces of oppression in the countries where they worked. It makes sense: Missionaries and relief workers serve at the discretion of their host governments. Criticizing political leaders would imperil their ministry.
Allen Hertzke's Freeing God's Children tells the story of how evangelical Protestants in the United States moved from reluctance and ambivalence about confronting persecution to passionate engagement and action. It also tells the story of unlikely alliances—as evangelicals linked arms with Roman Catholics, Jews, secularists, and feminists to address an array of human-rights issues.
In 1995, I got a telephone call from Michael Horowitz, a former Reagan administration lawyer, who was by then installed at the conservative Hudson Institute. Horowitz, a Jew, was passionate about the plight of Christians in certain Muslim and post-Soviet era Communist countries. And the reluctance of mission agencies to speak out publicly against oppression baffled him.
 During the Reagan years, Horowitz served as chief counsel in the Office of Management and Budget, a key position for Reagan's tax and budget revolution. During that time, the Horowitz used his political skills and the sheer force of his personality to keep U.S. pressure on the Soviet Union to allow Jews to emigrate. Hertzke characterizes Horowitz as "brash, blunt, bombastic, supremely confident, relentless in political pursuit." The pressure tactics worked, and Soviet Jews found new freedom.
The Reagan-era logic of confrontation was simple: Tyrannical governments are often weak governments. Their economic and political systems often run by executive fiat and have little resilience. The Soviet Union buckled, and that experience helped shape Horowitz's vision for saving Christians from persecution.
Horowitz phoned and faxed a Who's Who of evangelical leaders. And by January 23, 1996, he had nervous leaders lined up to support a new initiative. On that date, the National Association of Evangelicals hosted a milestone event at the Mayflower Hotel in Washington, D.C. Delegates listened to impassioned speeches on the need to confront religious persecution, and they approved a Statement of Conscience that laid out principles for future action by various parts of government. While the meeting was going on, evangelical leaders lobbied the White House directly to appoint a special adviser on international religious liberty who would be independent of the State Department.
At the time of the January 1996 meeting, the key players were still few. Most evangelical leaders were still trying to figure our how to get on board. Inexperienced in this kind of work, they needed help, and Horowitz provided them with the partners they needed to be politically effective. Those partners were Jewish and Catholic activists, journalists, and politicians. To name a few, Abe Rosenthal of The New York Times, Rabbi David Saperstein of the Religious Action Center of Reform Judaism, Senator Joseph Lieberman of Connecticut, Nina Shea of Freedom House, Representative Chris Smith of New Jersey, and Senator Sam Brownback of Kansas.
Hertzke began to study this incipient movement in 1996, and was amazed by its sudden growth and the unlikely character of the alliances. His book is full of colorful characters and subplots that provide the backstory to this great tale of humanitarian action.
For example, Hertzke tells how the Horowitz family became engaged with Gataneh Matafriah Getaneh, an Ethiopian Christian refugee, whose need for asylum the Immigration and Naturalization Service denied because the agency couldn't understand that in his homeland he was being persecuted as a Christian. The category of religious persecution simply didn't compute for them, but for Horowitz it provided a point of connection between his Jewish history and the mistreatment of Christians.
Hertzke also tells how the evenhanded human-rights advocacy of Shea got her blacklisted in the human-rights community. In the 1980s, her documenting of right-wing death squads in El Salvador earned her access to elite gatherings and the op-ed page of The New York Times. But when she began reporting similar abuses by Nicaragua's leftist regime, she found herself shunned. At the urging of a Nicaraguan journalist in exile, she founded the Puebla Institute, a lay Catholic organization, to defend religious freedom for all creeds in all parts of the world. Thus was laid the foundation for a kind of human-rights advocacy that had been previously scorned or ignored by the old-line rights groups.
Changing history
Secularist thinking has long been dominated by one or another variety of historical determinism. In the Marxist version, for example, history is determined by the inexorable clash and succession of economic classes. But Hertzke's tale is woven around the necessity of human action and its potential for changing history. That antideterministic thinking drove the Reagan-era confrontation with communism, and it also fueled Horowitz's passionate crusade for religious freedom. 
But complementing Hertzke's antideterminism is the concept of Providence. Providential appears repeatedly in this book, suggesting (though only suggesting) a sense of divine blessing on human effort. One chapter title that illustrates this sense of history is chapter six, "The Hand of Providence in Congress." The chapter recounts the strategic decision to sponsor congressional legislation. After the initial burst of enthusiasm, the incipient movement needed a focus for its energies and "a tangible way for American Christians to exercise their citizenship on behalf of their coreligionists." The first piece of legislation to emerge was tough and offered the government only a blunt instrument with which to respond to religious persecution.
But not everyone was happy with the approach of the Wolf-Specter bill, and looked for a more calibrated, diplomatic approach. That was to be found in alternative legislation sponsored by Senators Nickles and Lieberman. Within evangelical ranks, the clash between advocates of the different approaches was fierce, and Hertzke offers glimpses of the bruising fight. He concludes that the struggle "suggests a pluralism in the born-again world not always appreciated outside the community." The outcome was the passage of the International Religious Freedom Act of 1998, which blended the strengths of each approach.
Hertzke suggests "there is a theological lesson here: that partisans had to suffer through the [acrimonious] process to ensure unanimity." The sense of success and accomplishment that was in the end shared by both factions gave confidence to the fledgling movement and allowed them to continue to tackle new issues: prison rape, sex trafficking, Sudan, North Korea.
Hertzke points to a number of lessons that evangelicals should learn from this experience. First, conservative politics need not mean being captive to business interests. Evangelicals, he says, have become the foreign policy conscience of conservatism. Second, we must successfully partner with those of other faiths and no faith at all to affect the course of history. Maintaining a conservative moral vision does not mean working only with those who agree with us. Third, we win credibility when we work to do good for those outside our family of faith. And fourth, we sorely need deeper theological reflection on the nature of political activity.
For those who believe that conservatives can rescue the nation just by electing the right candidates and flexing the muscle of populist morality, Hertzke's book is a call to sanctified pragmatism, negotiation, and cooperation. And for those who fear that the world is beyond rescue or improvement, Hertzke sounds a call to patient, persistent action.
David Neff is Editor of Christianity Today.
Related Elsewhere:
This month's Editor's Bookshelf selection is Freeing God's Children by Allen D. Hertzke. Elsewhere on our site, you can
Read an extended interview with Allen D. Hertzke.
Read an excerpt of Freeing God's Children.
Order the book online from Amazon.com and other book retailers.
Rowman & Littlefield Publishers has more information about the book. The University of Oklahoma has more information about Hertzke.
Christianity Today sponsored a debate about how best to stop persecution, quiet diplomacy or public campaigns. Below is the conversation which prompted the debate, followed by the debate itself.
The USCIRF Is Only Cursing the Darkness | The increasingly irrelevant U.S. Commission on International Religious Freedom seems intent on attacking even those countries making improvements. (Oct. 16, 2002)
USCIRF's Concern Is To Help All Religious Freedom Victims | The chair of the U.S. Commission on International Religious Freedom responds to Robert Seiple's claims that it is "only cursing the darkness." (Nov. 07, 2002)
Cry Freedom | Forget 'quiet diplomacy'—it doesn't work. (Feb. 26, 2003)
Full of Sound & Fury | Polemics at home and abroad does not prevent religious persecution. (Feb. 27, 2003)
We Must Never Be Silent About Suffering | The CT religious rights debate continues. (April 07, 2003)
Article continues below
Diplomacy, Not Denunciation, Saves Lives | The CT religious rights debate concludes. (April 08, 2003)
Christianity Today recently published a story on another human rights issue, sex trafficking.
More Christianity Today articles are available on persection, social justice, and missions & ministry.
Earlier Editor's Bookshelf columns include:
Da Vinci Code Rebuttals
Da Vinci Dissenters | Four books try to break, crack, or decode the deception. (June 15, 2004)
Speaking in Code | A roundup of the many anti-Da Vinci Code books from Christian publishers. (June 15, 2004)
Parody: Da Vinci Rejects | What other publishers could have done to respond to Dan Brown's bestseller. (June 15, 2004)
Does Christianity Teach Male Headship?
Creating Husbands and Fathers | The discussion of gender roles moves beyond 'proof-text poker.' (July 19, 2004)
Raising Up Fathers | An interview with Maggie Gallagher
One Faith: The Evangelical Consensus
Discovering Unity | Two theologians are bullish on evangelical futures. (Jan. 20, 2004)
Mission-Driven Faith | An interview with Thomas Oden and J.I. Packer (Jan. 20, 2004)
A Season in Bethlehem
Thugs in Jesus' Hometown | A Season in Bethlehem shows how the city lost its historic harmony. (Nov. 17, 2003)
The Erosion Continues | Joshua Hammer talks about the implications of Christians' Holy Land exodus. (Nov. 17, 2003)
The Creed
Ground Rules | The Creed defines the game of faith without exhausting its excitement. (Oct. 22, 2003)
'We Live What We Believe' | Luke Timothy Johnson talks about the importance of the creed—even for non-creedal Christians. (Oct. 22, 2003)
Excerpt: The Countercultural Creed | What are Christians really doing when they stand up and say "I believe"? (Oct. 22, 2003)
In the Shadow of the Temple: Jewish Influences on Early Christianity
The Church's Hidden Jewishness | Hebrew thinking in a Greek world. (Sept. 15, 2003)
'Normalizing' Jewish Believers | How should Christianity's Jewish heritage change how Gentiles relate to their faith? An interview with Oskar Skarsaune (Sept. 15, 2003)
Sing Me to Heaven and My God And I
Thanks for the Memoirs | Two authors write about pain and God's elusive presence. (Aug. 19, 2003)
Choosing a Partner, Not a Future | Margaret Kim Peterson, author of Sing Me to Heaven, discusses her marriage to a man dying of AIDS and the theological lessons she learned. (Aug. 19, 2003)
Excerpt: A Green and Dying Tree | I saw the fruit of healing prayer even as AIDS was taking my husband's life. From Sing Me to Heaven. (Aug. 19, 2003)
Article continues below
Excerpt: The Unintentional Ethicist | How three assumptions about God can shape the moral choices we are called to make. From My God and I. (Aug. 19, 2003)
For the Glory of God: How Monotheism Led to Reformations, Science, Witch-Hunts, and the End of Slavery
Getting Western Civ Right | Christian theology is the catalyst, not the brake, for progress in Western history. (July 18, 2003)
Progress Through Theology | An interview with Rodney Stark, author of For the Glory of God: How Monotheism Led to Reformations, Science, Witch-hunts, and the End of Slavery. (July 18, 2003)
The Truth About the Catholic Church and Slavery | The problem wasn't that the leadership was silent. It was that almost nobody listened. (July 18, 2003)
Political Visions & Illusions: A Survey & Christian Critique of Contemporary Ideologies
American (and Un-American) Idols | Sacrificing community at the altar of freedom. (June 16, 2003)
Avoiding Rights Talk | An interview with David Koyzis, author of Political Visions & Illusions. (June 16, 2003)
Being the Body
Connecting Colson's Dots | Being the Body ties together Charles Colson's varied strands of advocacy. (May 19, 2003)
Survival Through Community | An interview with Charles Colson, author of Being the Body. (May 19, 2003)
The Resurrection of the Son of God
Life After Life After Death | The Resurrection of the Son of God is a "ground-clearing exercise" of historiographical obstacles. (April 17, 2003)
You Can't Keep a Justified Man Down | An interview with N. T. Wright, author of The Resurrection of the Son of God. (April 17, 2003)
Grace: The Story of America's Most Beloved Song
Converting 'Amazing Grace' | The story behind America's most beloved song shows the God-centered vision with which it was written. (March 31, 2003)
Amazing Myths, How Strange the Sound | An interview with Steve Turner, the author of Amazing Grace: The Story of America's Most Beloved Song. (March 31, 2003)
Blessed Are the Cynical: How Original Sin Can Make America A Better Place
Paradox Lost | Blessed Are the Cynical shows what happened to sin. (Feb. 17, 2003)
Getting Cynical About Ourselves | An interview with Mark Ellingsen, the author of Blessed Are the Cynical. (Feb. 17, 2003)
Have something to add about this? See something we missed? Share your feedback here.
Editor's Bookshelf
David Neff was editor in chief of Christianity Today, where he worked from 1985 until his retirement in 2013. He is also the former editor in chief of Christian History magazine, and continues to explore the intersection of history and current events in his bimonthly column, "Past Imperfect." His earlier column, "Editor's Bookshelf," ran from 2002 to 2004 and paired Neff's reviews of thought-provoking books and interviews with the authors.
Previous Editor's Bookshelf Columns:
Our digital archives are a work in progress. Let us know if corrections need to be made.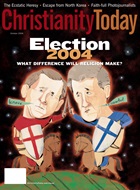 This article is from the October 2004 issue.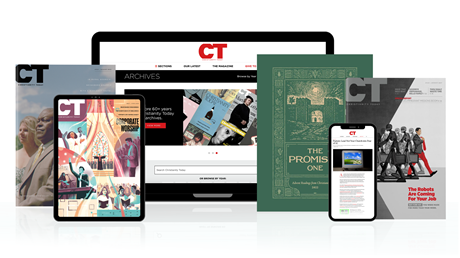 Subscribe to Christianity Today and get access to this article plus 65+ years of archives.
Home delivery of CT magazine
Complete access to articles on ChristianityToday.com
Over 120 years of magazine archives plus full access to all of CT's online archives
Subscribe Now
Operation Human Rights
Operation Human Rights