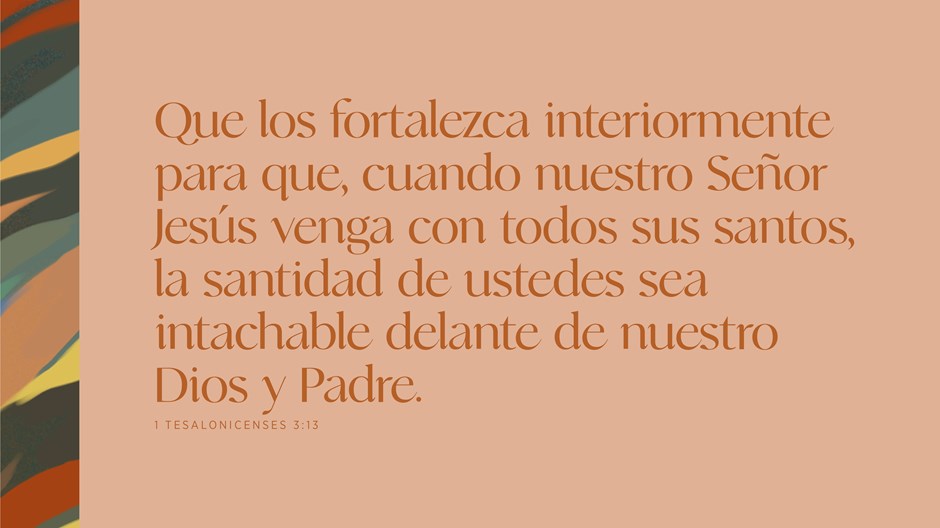 Para descargar nuestro devocional «El Evangelio de Adviento» completo, ingrese en este enlace.
Lea Primera de Tesalonicenses 3:9-13
¿Alguna vez ha echado mucho de menos a alguien y ha querido volver a verlo? En estos largos y aparentemente interminables meses de pandemia, hay muchos seres queridos a quienes no hemos podido ver, saludar o abrazar en persona. Las llamadas por Zoom y FaceTime simplemente no son suficientes. Deseamos estar en el mismo espacio, en la misma habitación, en el mismo lugar. Anhelamos verlos cara a cara.
El apóstol Pablo también anhelaba ver a los creyentes de Tesalónica en persona. Se alegra de que Timoteo le informa que están representando el Evangelio, viviéndolo en acción, «firmes en el Señor» (3:8). Desea visitarlos en persona, pero por ahora debe contentarse con esta carta. ¿Cuál es su mensaje para ellos? Que las Buenas Nuevas deben vivirse en persona hasta que veamos a Jesús cara a cara. ¿Qué significa esto? Las mismas Buenas Nuevas del amor de Jesús deben «crecer para que se amen más y más unos a otros, y a todos» (v. 12).
Este tipo de amor no es fácil de encarnar en nuestro mundo dividido. Hoy en día, muchos han permitido que los valores mundanos se infiltren y suplanten el amor cristiano y el testimonio del Evangelio. Puede que estemos más divididos que nunca como iglesia.
Este oportuno recordatorio de Pablo de hacer aumentar y desbordar el amor por los demás no es algo que podamos lograr por nosotros mismos. Más bien, Pablo dice: «Que el Señor los haga crecer para que se amen más y más» (v. 12).
Los efectos del Evangelio son vividos a través de nuestro amor que es como el de Cristo, en especial hacia aquellos que consideramos que están en la categoría de «todos». ¡No podemos afirmar que esperamos ansiosamente ver a Jesús en su Segunda Venida —la consumación de la historia del Evangelio— cuando ni siquiera podemos soportar ver a nuestros hermanos y hermanas en el Señor hoy!
Mientras esperamos el regreso de Jesús, Pablo insta a los creyentes diciéndoles: que «la santidad de ustedes sea intachable» (v. 13) en una sociedad que celebra la transigencia y el pecado. Nuestra anticipación llena de esperanza de la Segunda Venida nos desafía a buscar vivir siempre una vida santa para la gloria de Dios. Esto incluye soportarnos unos a otros y ser pacientes con aquellos con los que no estamos de acuerdo, confiando en el poder de Dios para hacerlo.
Pablo instó a los tesalonicenses a vivir de esta manera a la luz del regreso de Jesús: a dejar que su discipulado presente sea moldeado por su esperanza futura. Al igual que ellos, anhelamos ver a Jesús cara a cara. El Adviento nos recuerda que un día lo veremos. Que en este tiempo, mientras esperamos, nos esforcemos por ser personas de amor y santidad. ¡Ven pronto, Señor Jesús!
Matthew D. Kim es profesor de la cátedra George F. Bennett de Predicación y Teología Práctica en el Seminario Teológico Gordon-Conwell y autor de Preaching to People in Pain.
Traducción por Sofía Castillo.
Edición en español por Livia Giselle Seidel.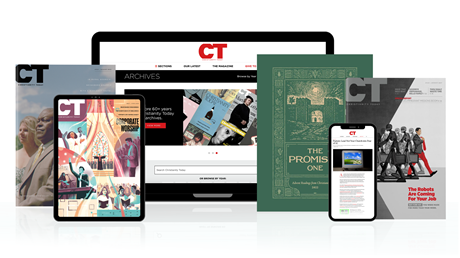 Subscribe to Christianity Today and get access to this article plus 65+ years of archives.
Home delivery of CT magazine
Complete access to articles on ChristianityToday.com
Over 120 years of magazine archives plus full access to all of CT's online archives
Subscribe Now
La vida del Evangelio en persona
La vida del Evangelio en persona