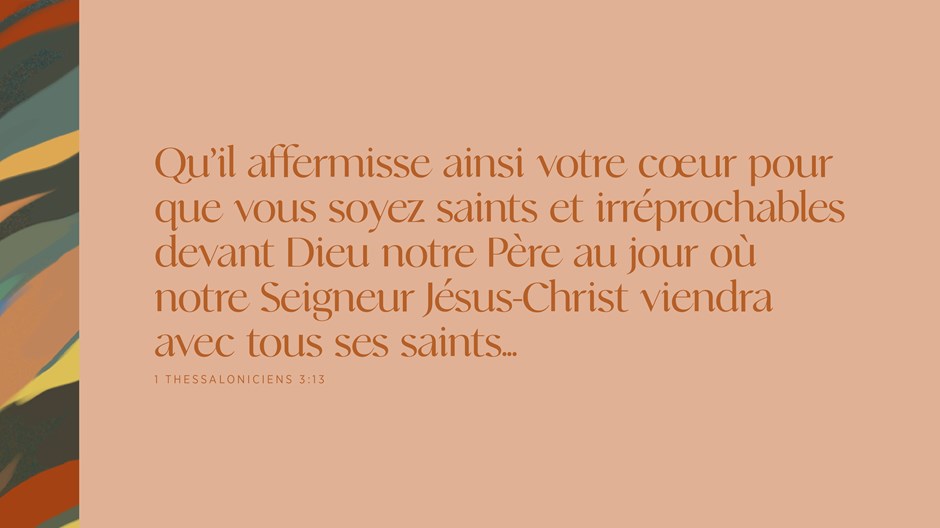 Image: Nicole Xu
Lecture dans 1 Thessaloniciens 3.9-13.
Vous est-il déjà arrivé que quelqu'un vous manque cruellement et que vous souhaitiez le revoir ? Au cours des interminables mois de la pandémie, nous avons tous eu de nombreux êtres chers que nous ne pouvions pas voir, saluer ou embrasser en personne. Les appels sur Zoom et FaceTime ne suffisent pas. Nous désirons être dans le même espace, la même pièce, au même endroit. Nous avons envie de nous voir face à face.
L'apôtre Paul désirait lui aussi voir les croyants de Thessalonique en personne. Il est ravi du compte-rendu de Timothée qui lui rapporte avec confiance que les Thessaloniciens incarnent véritablement l'Évangile, le vivent concrètement, en « restant fermes dans le Seigneur » (3.8). Il souhaiterait leur rendre visite personnellement, et pourtant cette lettre doit suffire pour le moment. Quel est le message qu'il leur adresse ? Que la Bonne Nouvelle doit être vécue « en personne » jusqu'à ce que nous voyions Jésus face à face. À quoi cela ressemble-t-il ? La Bonne Nouvelle de l'amour de Jésus doit « croître et déborder envers les uns les autres et envers tous » (v. 12).
Ce type d'amour n'est pas facile à incarner dans notre monde divisé. Nombreux sont ceux qui aujourd'hui ont laissé les valeurs du monde s'insinuer en eux et supplanter l'amour chrétien et l'esprit de l'Évangile. En tant qu'Église, nous sommes peut-être plus divisés que jamais auparavant.
Ce rappel opportun de Paul de la nécessité de grandir dans un amour débordant les uns pour les autres n'est cependant pas quelque chose que nous pouvons accomplir par nous-mêmes. Au contraire : « Que le Seigneur fasse croître votre amour » (v. 12).
Les conséquences de l'Évangile s'expriment dans notre amour semblable à celui du Christ, en particulier pour ceux que nous considérons comme faisant partie de la catégorie « tout le monde », les autres. Nous ne pouvons pas prétendre que nous attendons avec impatience la seconde venue de Jésus — le couronnement de l'histoire de l'Évangile — si nous ne pouvons pas supporter la vue de nos frères et sœurs dans le Seigneur aujourd'hui !
En attendant le retour de Jésus, Paul exhorte les croyants à « être irréprochables et saints » (v. 13) dans une société qui célèbre le compromis et le péché. Notre anticipation pleine d'espérance du second avènement nous met au défi de toujours mener une vie sainte à la gloire de Dieu. Cela implique de se supporter les uns les autres et d'être patients avec ceux avec qui nous sommes en désaccord, en comptant sur la puissance de Dieu pour nous en donner la force.
Paul exhortait les Thessaloniciens à vivre de cette façon en vue du retour de Jésus : laisser leur vie de disciple actuelle être façonnée par leur espérance future. Comme eux, nous aspirons à voir Jésus face à face. L'Avent nous rappelle qu'un jour nous le verrons. Puissions-nous nous efforcer de marcher d'ici-là dans l'amour et la sainteté. Viens vite, Seigneur Jésus !
MATTHEW D. KIM est le professeur George F. Bennett de prédication et de théologie pratique au Gordon-Conwell Theological Seminary et l'auteur de Preaching to People in Pain.
Traduit par Valérie Dörrzapf
Révisé par Léo Lehmann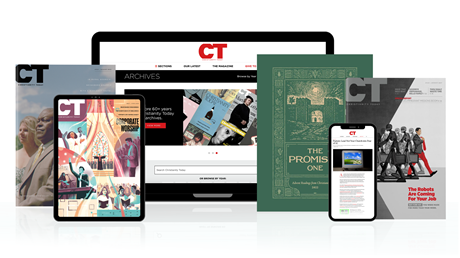 Subscribe to Christianity Today and get access to this article plus 65+ years of archives.
Home delivery of CT magazine
Complete access to articles on ChristianityToday.com
Over 120 years of magazine archives plus full access to all of CT's online archives
Subscribe Now
La vie de l'Évangile « en personne »
La vie de l'Évangile « en personne »