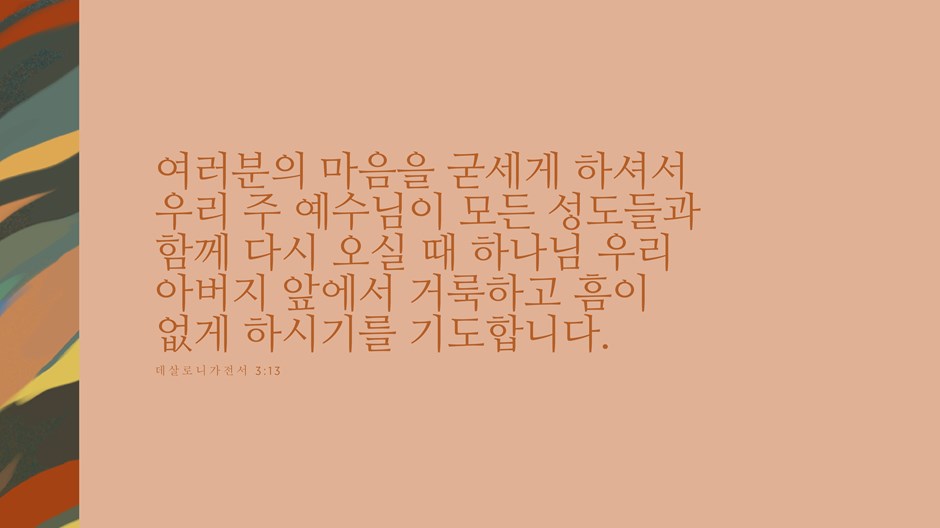 오늘의 말씀: 데살로니가전서 3:9-13
누군가를 몹시 그리워하고 다시 보고 싶어 한 적이 있습니까? 이처럼 오랫동안, 끝 모르는 이 팬데믹의 시간 동안, 우리에게는 직접 보고, 인사하고, 껴안지 못한 사랑하는 사람들이 많이 있습니다. 줌과 페이스타임으로는 이 기나긴 시간을 끊을 수 없습니다. 우리는 같은 공간, 같은 방, 같은 장소에 있기를 원합니다. 우리는 얼굴을 맞대고 그들을 보게 될 날을 갈망합니다.
사도 바울도 데살로니가 성도들을 직접 보고 싶어 했습니다. 그는 그들이 "주님 안에 굳게 서"(3:8) 복음을 구현하고 실천하며 살아가고 있다는 디모데의 확신 있는 소식을 듣고서 매우 기뻐합니다. 그는 직접 방문하기를 원하지만, 당분간은 이 편지로 만족해야 합니다. 그들에게 보내는 바울의 메시지는 무엇입니까? 우리가 예수님을 마주 볼 때까지 복음을 몸소 살아내야 한다는 것입니다. 이것은 어떤 모습일까요? "주님께서 여러분끼리 서로 나누는 사랑과 모든 사람에게 베푸는 여러분의 사랑을 풍성하게 하고, 넘치게 해 주시는" 것입니다(12절).
우리의 이 갈라진 세상에서 이런 사랑을 구현하기란 쉽지 않습니다. 오늘날 많은 사람들은 세속의 가치들이 숨어들어 와서 기독교의 사랑과 복음의 증언을 대체하도록 내버려 두었습니다. 교회로서 우리는 그 어느 때보다도 더 분열된 것 같습니다.
다른 이들을 넘치도록 사랑하라는 바울의 이 시의적절한 권고는 우리 스스로 이룰 수 있는 것이 아닙니다. 오히려 바울은 이렇게 말합니다. "주님께서 여러분의 사랑을 넘치게 해 주시기를 빕니다"(12절).
복음의 영향은 그리스도를 닮은 사랑, 특히 우리가 "다른 사람들"이라는 범주에 넣어 생각하는 사람들을 위한 사랑을 통해서 살아남습니다. 오늘 주님 안에서 형제자매들을 보기 싫어한다면, 우리는 재림하시는 예수님을 너무나 고대한다고 주장할 수 없습니다.
우리가 예수님의 돌아오심을 기다릴 때, 바울은 신자들에게 타협과 죄를 찬양하는 사회에서 "거룩함에 흠 잡힐 데가 없게" 하라(13절)고 촉구합니다. 재림에 대한 희망적인 기대는 항상 하나님의 영광을 향한 거룩한 삶을 추구하라고 우리를 도전합니다. 서로 참아 주고 우리가 동의하지 않는 사람들에게 인내하며, 그렇게 할 수 있는 하나님의 능력에 의지하는 것을 의미합니다.
바울은 데살로니가 성도들에게 예수님의 돌아오심을 생각하며 이렇게 살라고, 곧 그들의 제자로서의 현재의 삶이 미래의 소망 때문에 빚어지게 하라고 촉구했습니다. 그들처럼, 우리도 예수님을 얼굴을 마주하고 뵙게 될 날을 갈망합니다. 그리스도 강림은 언젠가 우리가 그렇게 될 것임을 상기시킵니다. 그동안 우리가 사랑과 거룩함의 사람이 되기 위해 노력하기를 바랍니다. 속히 오십시오, 주 예수님!
매튜 D.킴(MATTHEW D. KIM) Gordon-Conwell Theological Seminary의 George F. Bennett Professor of Preaching and Practical Theology의 교수이며, Preaching to People in Pain의 저자입니다.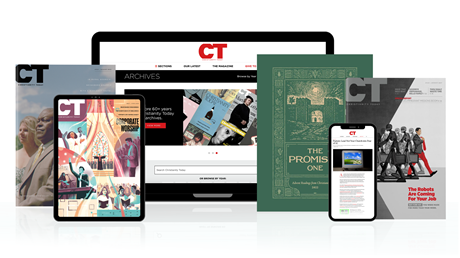 Subscribe to Christianity Today and get access to this article plus 65+ years of archives.
Home delivery of CT magazine
Complete access to articles on ChristianityToday.com
Over 120 years of magazine archives plus full access to all of CT's online archives
Subscribe Now
복음의 삶을 살다
복음의 삶을 살다