The Religious Odd Couple
Frugal Benjamin Franklin, in his Autobiography, wrote, "I happened … to attend one of his [George Whitefield's] sermons, in the course of which I perceived he intended to finish with a collection, and I silently resolved he should get nothing from me."
The collection was for Whitefield's Georgia orphanage, which Franklin thought ill-planned, and he had told Whitefield so, to no avail. Thus for some time he had refused to give to it.
At this sermon, though, Franklin said, "I had in my pocket a handful of copper money, three or four silver dollars, and five pistoles in gold. As he proceeded I began to soften, and concluded to give the coppers. Another stroke of his oratory made me ashamed of that, and determined me to give the silver; and he finished so admirably that I emptied my pocket wholly into the collector's dish, gold and all."
The experience convinced Franklin that Whitefield was an orator who could attract and sway huge crowds. It also was a memorable moment in what was to become a lifelong friendship between two men who were a religious odd couple.
Business First
At first theirs was a simple business relationship. To Franklin, Whitefield was a powerful salesman, capable of overcoming even an avowed skeptic's sales resistance. Franklin disliked Whitefield's Calvinism, but he thought Whitefield would be good business. Franklin was locked in competition with his printing rival, Andrew Bradford, and he saw that publishing the popular Whitefield would be a business coup.
As for Whitefield, he wanted to make use of the American press, just as he had effectively exploited the English press for two years, advertising his services in newspapers and seeing scores of titles published there.
We don't know who originated the agreement, ...
You have reached the end of this Article Preview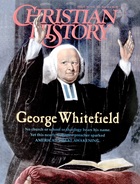 04/01/1993