On Expedition in Africa
If David Livingstone hadn't become an explorer, he could easily have made a good living at writing. His descriptions of Africa are some of the best English prose. The following are but brief, condensed excerpts of the 1858 Harper & Brothers edition (732 pages) of Missionary Travels and Researches in South Africa.
Faces in the barks of trees
In the deep, dark forests near each village, you see idols intended to represent the human head or a lion, or a crooked stick smeared with medicine, or simply a small pot of medicine in a little shed, or miniature huts with little mounds of earth in them. But in the darker recesses we meet with human faces cut in the bark of trees, the outlines of which, with the beards, closely resemble those seen on Egyptian monuments. Frequent cuts are made on the trees along all the paths, and offerings of small pieces of manioc roots or ears of maize are placed on branches.
There are also to be seen every few miles heaps of sticks, which are treated in cairn fashion, by every one throwing a small branch to the heap in passing; or a few sticks are placed on the path, and each passer-by turns from his course and forms a sudden bend in the road to one side.
It seems as if their minds were ever in doubt and dread in these gloomy recesses of the forest, and that they were striving to propitiate, by their offerings, some superior beings residing there.
Oozing poison
Feeling something running across my forehead as I was falling asleep, I put up the hand to wipe it off and was sharply stung both on the hand and head; the pain was very acute. On obtaining a light, we found that it had been inflicted by a light-colored spider, about half an inch in length, and one of the men having crushed it with his fingers, ...
You have reached the end of this Article Preview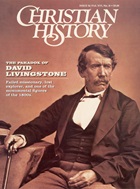 10/01/1997