The Magazine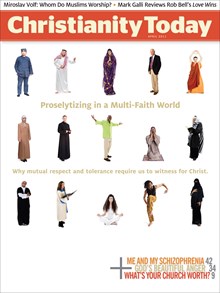 Read CT online anywhere you go.
Subscribers get full print and digital access, including:
10 award-winning print issues
PDFs of each issue
Full web access to ChristianityToday.com
60+ years of magazine archives
Table of Contents
In Every Issue
Multi-Faith Matters
Interfaith meetings remind us of the Good News.
Poet Amena Brown Speaks the Truth in Rhythm and Rhymes
Faith stirs the spoken word poetry.
Also in this Issue:
Keep the Conversation Going
Passages
Online Poll
Inspiration Comes in Waves
Sowing Seeds in Israel
Holding Pattern
Two Minutes With ... Michael Card
More Media (DVD)