The Magazine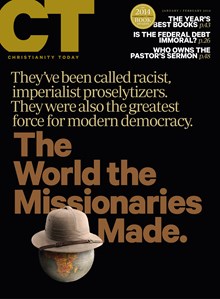 This feature is for subscribers only:
Subscribers get full print and digital access, including:
10 award-winning print issues
Standard and Reader Friendly PDFs of each issue
Full web access to ChristianityToday.com
20+ years of magazine archives
Table of Contents
In Every Issue
Our Position on Missionaries
(Almost) everything you've heard about them is wrong.
Reply All
Readers respond to the November issue via letters, tweets, and blog posts.
Christ Called Me Off the Minaret
Through investigations, dreams, and visions, Jesus asked me to forsake my Muslim family.
Loading