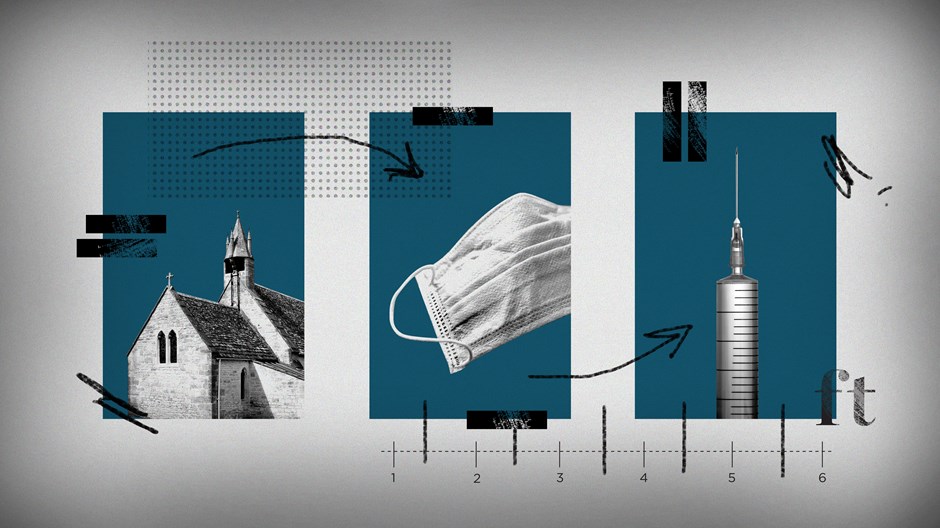 Image: Illustration by Mallory Rentsch / Source Images: Anshu A / Unsplash / WikiMedia Commons / MirageC / Getty Images
ملاحظة المحرر: أشارت نسخة سابقة من هذه المقالة إلى أنه ينبغي على الناس عدم الغناء أثناء التجمعات. أما الاقتراح فقد كان ضرورة ارتداء قناع الوجه عند الغناء أو التحدث. انظر الجدول المحدث لمزيد من المعلومات.
على مدى الأشهر الأربعة الماضية ، انتشر فيروس كورونا مستجد في جميع أنحاء العالم ، تاركًا غرف طوارئ مكتظّة ، ومرضى وحدة العناية المركزة على أجهزة التنفس الصناعي ، وعائلات تبكي خسارة أحبائها. للحد من انتشار هذا الفيروس ، نفذت معظم الحكومات أوامر صارمة بالبقاء في المنزل. هذه الإجراءات الصارمة كانت ضرورية لأن العديد من البلدان كانت ببساطة غير مستعدة لمكافحة الانتشار السريع لهذا الفيروس. لو وقفنا مكتوفي الأيدي ، لكان العدد المتزايد من الإصابات قد طغى على أنظمة الرعاية الصحية ، ولكانت أعداد الوفيات قد تصاعدت بسرعة.
خلال هذه الفترة ، أغلقت الكنائس في جميع أنحاء الولايات المتحدة وحول العالم أبوابها أمام العبادة والخدمة الشخصية. كما هو الحال مع العديد من الإجراءات الوقائية ، قد لا نعرف أبدًا كيف أدى ذلك إلى الحد من انتشار COVID-19. ولكن بصفتي اختصاصي صحة عالمي عمل لمدة 25 عامًا للسيطرة على الأمراض في جميع أنحاء العالم ، أنا متأكد من أن هذا قد منع العديد من الإصابات والوفيات التي كانت ستحدث بين رعايا الكنائس وعائلاتهم وأصدقائهم.
بعد ستة أسابيع أو أكثر من أوامر البقاء في المنزل في الولايات المتحدة ، تتراكم مطالبات البطالة ، ويصاب الناس بالغضب في منازلهم ، وتتزايد الأصوات الصاخبة داعية الحكومات إلى تخفيف قيودها.
يحذر خبراء الصحة العامة من أن الولايات المتحدة تفتقر إلى قدرات الفحوصات المخبريّة وتتبع الاحتكاك والحجر الصحي اللازمة للسيطرة على الوباء والحدّ من انتشاره ، ومع ذلك فإن بعض الولايات تخفف قيودها بالفعل وتسمح بإعادة فتح الأعمال "غير الضرورية".
تواجه كنائسنا الآن مجموعة من القرارات الصعبة: متى تستأنف الخدمة الشخصية وكيفية تنفيذ هذه الخدمات بأمان.
أقترح اتباع نهج تدريجي يساعد الكنيسة العالمية أن تحيا دعوتها الارسالية ، وتلبية ...
1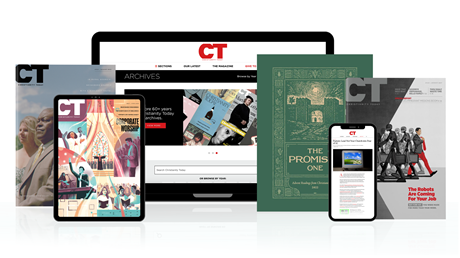 Subscribe to Christianity Today and get access to this article plus 65+ years of archives.
Home delivery of CT magazine
Complete access to articles on ChristianityToday.com
Over 120 years of magazine archives plus full access to all of CT's online archives
Subscribe Now
عندما تفتح كنيستك كيف تلتقي بأمان
عندما تفتح كنيستك كيف تلتقي بأمان