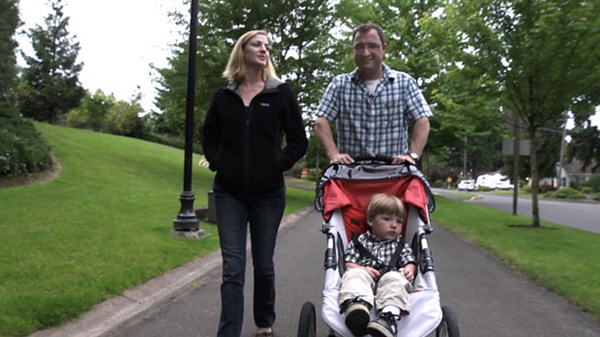 Before Saving the World, Go See Your Family
Shoshon and Stephanie Tama-Sweet on how a healthy marriage sustains their activism.
11.14.11
When a day at the office means rescuing 11-year-old sex slaves and lobbying at the Capitol for people with no health insurance, finding "work-life balance" can be tricky. At least for Shoshon and Stephanie Tama-Sweet, two Christian activists who have inspired much coverage from This Is Our City. Shoshon is the executive director of the Oregon Center for Christian Voices (OCCV), a small nonprofit that's led recent legislation making it harder to prostitute children. Stephanie is a lobbyist with a major health-focused nonprofit, traveling to the Capitol in Salem to push for greater health coverage for uninsured children. Through trial by fire, including a season of depression, they have learned together that working for the shalom of the city is often much more effective and sustainable when pursued in pairs.
In October, when the City project debuted its Portland coverage, Stephanie and Shoshon spoke with film producer Nathan Clarke about how their own partnership has strengthened both of them to labor more effectively, and hopefully, for neighbors suffering in their city.
Q: Stephanie, when did you first realize there was an issue [with Shoshon]?
Stephanie: Late this spring, I started to notice that things were more difficult for us. There's a cyclical nature to my job working in the legislative session. Every other year for about six months I put in a lot of hours, and that's always hard on a relationship. Then with Shoshon being in the legislative session too, stress levels were up, and we had less energy. And this was the first time doing it with a kid [3-year-old son, Ben].
One time that was particularly hard, Shoshon was participating in a parents' night with a group called Parents of Murdered Children. It was brutal. And I remember him coming home that night and saying, "We've got to figure something out." That was late March.
Shoshon: A lot of the difficulty was realizing, this is darkness. I'm dealing with darkness …. It's not that the actual work is just exhausting or so unrewarding. It's being in constant direct contact with stories and people and lives that have been really damaged. Most people's response to that is either to shut down or to distance yourself from it to the point where it's like, "Well, that's a terrible thing, but it's not my problem." You shove it off and go about your Starbucks day.
MORE FROM CHRISTIANITY TODAY