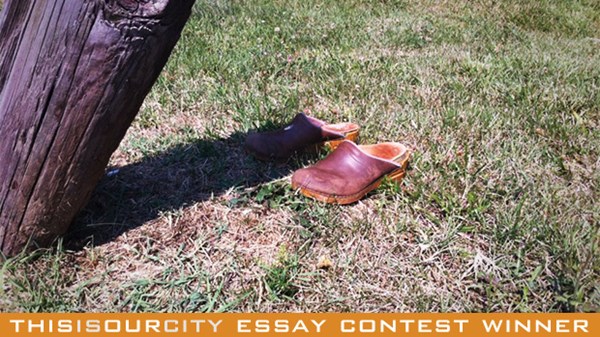 'Daddy, Why Do People Steal from Us?'
How I answered the question would prove crucial to addressing racial divides in our D.C. neighborhood.
1.15.13
Three years ago, my family moved into a predominantly African American neighborhood of Washington, D.C., to plant a church. Since then, we've had a lot stolen from us: a GPS, sunglasses, both my daughters' bicycles, a television, my wife's jewelry box, sinks, ceiling fans, and a garbage disposal. But the most recent theft blew my mind: Someone had snatched a pair of old clogs from our front porch. At first we just assumed that my wife had misplaced them, but on a neighborhood park with my eldest daughter, there they were, sitting in the middle of a field: the clogs. I regarded them sadly. Not knowing where they had been, we left them there.
We began to make our way back home, when my daughter asked me a question:
"Daddy, why do people always steal things from us?"
Gulp.

I struggled to formulate the correct response. A couple of years ago I would have told her that people steal because they are poor and need money. That still make some sense to me; high unemployment and poverty are common in our neighborhood, and we are hardly the only victims of petty crime. But that doesn't explain why someone would steal my girls' bicycles, not to mention my wife's clogs, which were worth less than nothing. Those thefts smacked of something more malicious than simple financial need.
Perhaps I should tell her that people steal from us because we are the minority here, thus giving voice to the fear of minorities everywhere. Asians make up less than 1 percent of the population in our zip code, in a neighborhood that's 86 percent black. We live on a busy street corner, and drivers are always transfixed by the sight of a large Korean family in an overwhelmingly black neighborhood, so much so that they often don't realize that the light already turned green.
But we are not just any minority: We are Asian, and Korean. And that makes us an even larger target for crime. There is a long history of antagonism between African American and Asian communities, specifically Koreans, that has gone generally unnoticed in the United States, because the discussion on race is often framed as division between blacks and whites. The usual explanation for this antagonism runs thusly: blacks resent Asians who set up shoddy stores in their neighborhoods, charge exorbitant prices, and then take that money back into the suburbs, a view that is not without merit. Warranted or not, that perception has made Asians fear that they were a larger target of violent crime in urban areas.
MORE FROM CHRISTIANITY TODAY