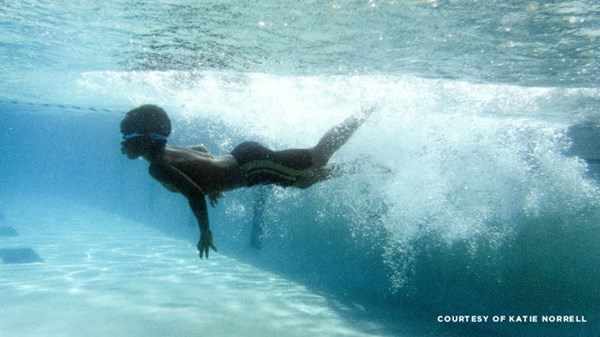 Image: Courtesy of Katie Norrell
Rethinking the $3,000 Missions Trip
When I learned that kids in my city couldn't swim, I started to rethink how much I'd invested in overseas missions.
7.23.13
Painfully thin for his age, Martin shivered uncontrollably by the side of the city swimming pool. He held his sides in a futile effort to keep warm. I was puzzled. A rare June heat wave had swept through Knoxville, and the temperature was pushing 90.
A few weeks later, Martin squeezed in beside me on the bus ride to our first swim meet. He was a wiry, bouncy 10-year-old with mischievous blue eyes and a killer smile. He could rarely sit still long enough to hear the workout set. Yet today he slumped down against the window and curled into a ball.
"Coach Doug," Martin asked after a few minutes, "can I have my dinner now? I haven't eaten in two days." A father of four, I know a con when I see one. "No, buddy," I teased. "You need to wait until after the meet like everyone else."
The summer got even hotter, and Martin kept shivering. One evening, a social worker who knew Martin dropped by the pool. I asked her if she knew why Martin always shivered. She pulled me aside and whispered, "It's because he's literally starving. The woman he lives with told a judge that she was 'starving the Devil out of him.' " I felt sick.
Summer swimming is enormously popular in Knoxville. Until a few years ago, however, kids like Martin could not compete in our summer swimming leagues. Every year on the last weekend of July, 2,300 wet kids jam into The University of Tennessee aquatic center for three days of fast times, cheers, and soggy ribbons. Until recently, however, no children from our urban neighborhoods were able to join in the fun. Lacking access to pools, few knew how to swim. As a result, drowning is a major cause of death among children in the inner city.
Five years ago, Emerald Youth Foundation, a Christian urban youth ministry, saw the need and launched Knoxville's first inner-city swim team. Today the team has about 50 kids. I'm the head coach. Our swim team is one beautiful example of how the church in Knoxville is seeking the common good of our city. The team is run by dozens of volunteers. Emily and Spencer, for example, compelled by God's command in Jeremiah 29:7 to "seek the peace of the city," moved into Martin's neighborhood.
MORE FROM CHRISTIANITY TODAY