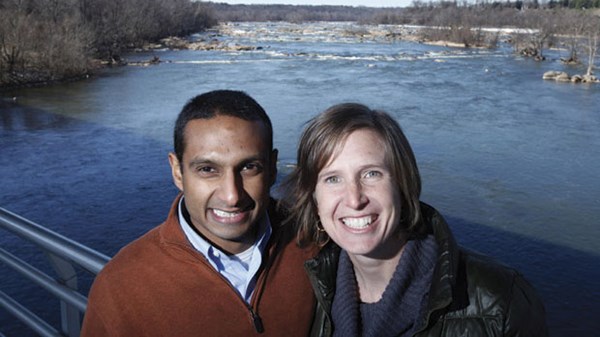 Nature Nurture: A Nonprofit Transforming Youth through the Great Outdoors
Blue Sky Fund, led by Lawson Wijesooriya, connects inner-city kids to Richmond's natural riches.
5.3.12
Winding its way from the Blue Ridge Mountains in the west to the mouth of the Chesapeake Bay to the east, the James River helps define the city of Richmond. Indeed, the city wouldn't exist without the River, on which a series of canals and locks solidified Richmond's role as the trading hub of the region in the 18th and 19th centuries.
Now, after decades of neglect, the James is experiencing a renaissance of sorts. Where barges once bypassed the main channel, now whitewater rafts, canoes, and kayaks flock to the only American city with Class IV rapids in the shadow of downtown. Riverside parks give easy access to bike trails and rock-climbing spots and host music and other festivals throughout the year. City leaders recognize the appeal of outdoor recreation to today's young professionals and families, and see the river as essential to revitalizing the city center and the entire region's economy.
But what if the James were key not only to boosting the economy but also to revitalizing neighborhood, schools, and even the lives of individual Richmonders? What if kids from across the city could turn off their digital devices, leave the concrete and asphalt, and connect with each other and with God through his creation? That's the vision behind Richmond nonprofit Blue Sky Fund (BSF), led by executive director Lawson Wijesooriya.
Begun to help inner-city children attend (mostly Christian) summer camps, under Wijesooriya's leadership, BSF now also helps public elementary schools improve their basic science curriculum, and uses the outdoors as a "playground" where students from diverse backgrounds can learn about themselves, each other, and the natural world. In other words, Wijesooriya helps Richmond's youth get their hands dirty, and shows that backpacking can foster both spiritual development and racial reconciliation.
Attending summer camp in Wyoming as a child, Lawson has long recognized the educational and value of being outdoors. But the New Jersey native's passion for serving inner-city kids blossomed along with her newfound faith in Christ as a freshman at the University of Virginia. A spring break trip to John Perkins's ministry in Jackson, Mississippi, gave her a vision of shalom for a broken world as well as models of Christian community development and racial reconciliation. While at UVA, Lawson met her husband, Romesh, a medical student who was part of a tight-knit group of UVA grads committed to moving into an under-resourced neighborhood with an active local church. Moving to Richmond's Church Hill neighborhood in 2004, six months after getting married, Lawson says the group didn't have answers, but wanted to simply show up to work and join what God was already doing.
MORE FROM CHRISTIANITY TODAY