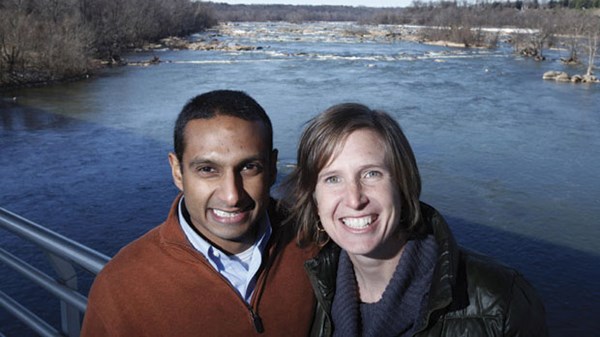 Nature Nurture: A Nonprofit Transforming Youth through the Great Outdoors
Blue Sky Fund, led by Lawson Wijesooriya, connects inner-city kids to Richmond's natural riches.
5.3.12
Winding its way from the Blue Ridge Mountains in the west to the mouth of the Chesapeake Bay to the east, the James River helps define the city of Richmond. Indeed, the city wouldn't exist without the River, on which a series of canals and locks solidified Richmond's role as the trading hub of the region in the 18th and 19th centuries.
Now, after decades of neglect, the James is experiencing a renaissance of sorts. Where barges once bypassed the main channel, now whitewater rafts, canoes, and kayaks flock to the only American city with Class IV rapids in the shadow of downtown. Riverside parks give easy access to bike trails and rock-climbing spots and host music and other festivals throughout the year. City leaders recognize the appeal of outdoor recreation to today's young professionals and families, and see the river as essential to revitalizing the city center and the entire region's economy.
But what if the James were key not only to boosting the economy but also to revitalizing neighborhood, schools, and even the lives of individual Richmonders? What if kids from across the city could turn off their digital devices, leave the concrete and asphalt, and connect with each other and with God through his creation? That's the vision behind Richmond nonprofit Blue Sky Fund (BSF), led by executive director Lawson Wijesooriya.
Begun to help inner-city children attend (mostly Christian) summer camps, under Wijesooriya's leadership, BSF now also helps public elementary schools improve their basic science curriculum, and uses the outdoors as a "playground" where students from diverse backgrounds can learn about themselves, each other, and the natural world. In other words, Wijesooriya helps Richmond's youth get their hands dirty, and shows that backpacking can foster both spiritual development and racial reconciliation.
Attending summer camp in Wyoming as a child, Lawson has long recognized the educational and value of being outdoors. But the New Jersey native's passion for serving inner-city kids blossomed along with her newfound faith in Christ as a freshman at the University of Virginia. A spring break trip to John Perkins's ministry in Jackson, Mississippi, gave her a vision of shalom for a broken world as well as models of Christian community development and racial reconciliation. While at UVA, Lawson met her husband, Romesh, a medical student who was part of a tight-knit group of UVA grads committed to moving into an under-resourced neighborhood with an active local church. Moving to Richmond's Church Hill neighborhood in 2004, six months after getting married, Lawson says the group didn't have answers, but wanted to simply show up to work and join what God was already doing.
Lawson dove into teaching local kids and coaching after-school lacrosse for two years. She loved kids, she loved education and felt natural in it, but did not feel at home in the classroom. "For me, the two main passions I had in life were outdoor living and inner-city kids, but I had no idea how they were connected—or even if they should connect," she says. "I knew that backpacking is a great thing for rich kids who can afford to go away for the summer, like I did, but didn't know how that would apply to kids [from Church Hill]."
She and Romesh agreed that she should offer Lent as a period of soul searching. "Three days after Easter," she recalls, "I got an e-mail from a guy I'd met through lacrosse who heard I wanted to do Outward Bound for low-income kids. 'Let's talk,' he said." That was Richmond businessman Fritz Knapp, who had independently been sending local kids to summer camp on scholarship. Knapp gave Lawson the backing to develop her vision before she knew she was looking for it: "Experiential learning, challenging circumstances [to teach] resiliency skills, backpacking trips, urban adventures."
"I discovered early on that just as there are some kids who learn through art, and some who learn through music, the experiential kind [of learning]—kinesthetic learning—is one way we connect with God and learn. It has to be part of the palette of educational opportunities. [U]ltimately we all need exposure to all of those things, [but] I think the disconnect of children from the natural world is perilous. "
In addition to the summer-camp program, Lawson started afterschool and weekend enrichment programs for area kids—taking them to the James, rock-climbing, almost anywhere outdoors, hoping someday to offer something like that to Richmond's public schools. But in her second year with BSF, she got another call—this time from local school advocate Bob Albright, asking if she could help elementary kids who had never even seen a forest or stream, and therefore were unprepared for the basic science component of state-mandated tests. Again starting as a Saturday program, BSF's Explorers took a whole class of kids and their teachers to the river or area teaching farms to show them the basics of ecology, learn to work together better, and get real live dirt under their nails.
The logistics behind the Saturday program proved tricky, though, and Lawson wondered if a school would let them run a similar program during class time. Knowing it was a long-shot, she approached five city schools. Every one jumped at the chance, and in one year BSF went from serving 35 second-graders to serving 360, then 550. In academic year starting this fall, BSF will be working with 720 students at eight public schools connect to the natural world that lies miles from their homes.
Providing a monthly schedule where entire grade-levels leave school for a half-day of hands-on instruction about watersheds, animals and their habitats, the food chain and water cycle—a curriculum tracked to Virginia's Standards of Learning requirements—Blue Sky Fund is a literal Godsend for a city school system with multimillion-dollar budget shortfalls. Twelve kids plus a teacher or chaperone (and any parents who want to come along) follow a BSF leader through two science stations and one life-skills exercise focused on challenges, resiliency, and teamwork.
If Explorers is BSF's largest program, the Outdoor Leadership Institute is its smallest—but it's also the most transformative, says Wijesooriya. The institute recruits intentionally diverse groups of 10 to 12 high-school students from across the city (all boys or all girls in each group) to commit to a year of growing individually and together, beginning with a five-day wilderness experience and culminating in a project that instills the idea that leadership begins with servanthood in a community.
BSF selects participants who will bring different experiences to the table—or tent, as it were. And it's not just inner-city black youth and affluent white suburbanites. Richmond is no longer a city of just black and white, and there are areas of both poverty and wealth throughout the city and its surrounding counties. The BSF staff are working to perfect the model by accounting for applicants who are not just diverse but already overcommitted as well: the kind of sensitive interpersonal and spiritual work that happens in these groups depends on them being together regularly and dependably. But even with a few bumps along the way, the results have been extremely fulfilling both for participants and leaders, not least because the institute is a context in which Christian faith can be discussed as the grounds upon which their view of personal reconciliation and community development is based.
Wijesooriya believes that "organizations can't be Christian, only people can." She never hides her faith when she approaches schools or potential donors, insisting that complete transparency is key to maintaining the trust of people and institutions she serves, including letting them know that she understands the restrictions on religious expressions in school-sponsored activities. On the other hand, she cites herself as an example of how being outside can offer a wholeness and connectedness that the Holy Spirit can use to draw us to the Lord in his good time, and thinks the theological foundations for what they teach about stewardship can help kids connect with creation and its Creator: "It's good just to fish, even if you don't talk about Jesus."
As for her own favorite place in Richmond, Wijesooriya names Belle Isle, a 54-acre city park in the middle of the James where BSF does programming and where the Wijesooriya family comes often. She tells of leading school children across the suspension footbridge that connects the island with the north shore of the river, and of their initial fear of the water, which some think might be the ocean. She tells of teaching them "Belle Isle Bingo" and "Oh, Deer," to understand what animals need to survive, and of having a deer bound through the woods at just the right moment. Through experiences like this Wijesooriya wants the kids to understand nature better and to excel in their science classes. But more than that, she wants them to claim it as part of their shared heritage with other Richmonders, to know that Richmond isn't just streets and sidewalks and buildings, but the river as well: "This is their city and their river. We want them to be as proud of that as we are."
Mark Sprinkle is an artist and writer based in Richmond, and is senior web editor for BioLogos.
MORE FROM CHRISTIANITY TODAY