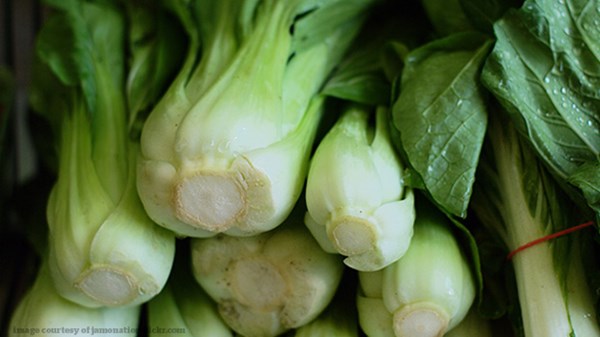 Digesting Grace: Why the Food We Eat Matters to God
And why buying produce from our local CSA reminds me of this fact.
8.15.12
It's Tuesday afternoon, which means I come home from work to a kitchen counter filled with bags of veggies and leafy greens. I dig through the produce: bok choy again. I've eaten more bok choy in the past three weeks than I have in the past three decades, but I suppose that's sort of the point: When you buy into a CSA farm, you take what the land gives you.
Eighth Day Farm is our local CSA, or Community Supported Agriculture, in Holland, Michigan. Simply put, CSA is a model of farming in which community members buy a share of a farm's produce before the season begins. This gives the farmer—in our case, Jeff Roessing—a guaranteed source of income, and gives CSA members a regular supply of fresh, local food.
So tonight it's stir-fried bok choy, again, with kohlrabi, garlic scapes, onions, and you-pick peas. My family is eating our greens (fresh, organic, and about as local as they come) because I see it as a deeply theological act. What my family eats matters to me because, like all aspects of this earthly life, food matters to God.
Food is a gift. In fact, food is the first gift. In one entirely accurate sense, all things from God's good hands are gifts, but I think food is somehow unique. Open a Bible to Genesis 1 and look at what God does in the creation story. More specifically, look at the verbs: God creates, he hovers, he says, he names, he separates, he makes and blesses and sees and declares it good. But it isn't until the end of the chapter, in verse 29, that he gives. And what does he give? Food.
"Behold," God says, "I have given you every plant and every tree. You shall have them for food."
Later, after the Flood, God adds animals: "Every moving thing that lives shall be food for you. And as I gave you the green plants, I give you everything" (Gen. 9:3).
When properly understood as a gift, it becomes clear that food is a tangible expression of God's love for us. As theologian Norman Wirzba has put it, food is "God's love made edible." It is one essential way that he shows his care for us (see Matt. 6:26). It is a physical embodiment of God's common grace, given for the good of his creation. And it's one of the practical means by which Jesus Christ sustains all things.
MORE FROM CHRISTIANITY TODAY