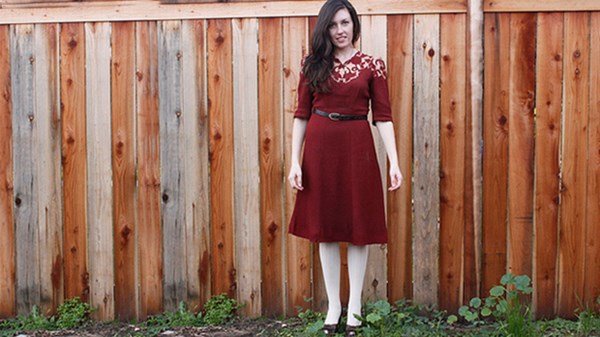 Redeeming What Was Tossed: Fashion, Faith, and a California Designer's Creative Calling
Beth Giles takes "useless" old clothing and repurposes it for something good.
6.22.12
This article is adapted from Willson's piece that originally appeared at Comment magazine on February 22, 2012.
With $300 to spend, Beth Giles made her way through the markets spread out over packed streets of Kampala, Uganda. The aisles were filled with vegetables, meats, spices, colorful local fabrics, and other handmade items being sold by local merchants. A few weeks prior to our trip, she had held a yard sale selling off used clothing, furniture, and other discarded items that now accounted for the recently converted currency in her pocket. (Beth has always been a salvager and creative entrepreneur. In her first business venture as a young girl, she collected dying roses from her neighbor's yard, made potpourri, and then sold it to friends and family.)
We had come to Kampala to help a newly formed NGO establish systems that would provide medical and educational care, as well as vocational training, for over 50 Ugandan orphans. On a rare morning off from our meetings with lawyers, directors of medical clinics, and school principals, Beth made her way down to markets for a few hours and allowed her creative mind to go to work. Most of us did not give much thought to the many fabrics and jewelry that she returned with a few hours later—we had come to expect that Beth's ability to find beauty and see potential in areas that others overlook would somehow unearth extraordinary treasures.
The surprise for me came nine months later, when several of us from the Ugandan trip sat in the audience at Beth's senior fashion show the following spring at California State University, Long Beach. In front of a packed auditorium, the fabrics, jewelry, and other wares that Beth had gathered in the Ugandan markets had been creatively transformed into the beautiful dresses and pieces of art that were now displayed before us. After the show, the lobby showcased each student's work and gave background information on the students and their projects. At the centre of Beth's display was the story of the Ugandan orphans and the work being done to help break the cycle of poverty and to empower the families afflicted with devastating losses by the AIDS epidemic. In the following weeks, Beth's work and the story of the Ugandan orphans were showcased in the fashion district of downtown Los Angeles.
Where "Salvaging" and Fashion Meet
Beth and her husband remain involved with the organization for Ugandan orphans. This experience has both fostered an international social conscience and has encouraged her entrepreneurial spirit and creative abilities. But these experiences also raised new questions for her: Did her work as a Christian at the intersection of fashion and business begin and end with simply making money to give to the church and charitable organizations? Or was there a way for her to pursue fashion and business out of a robust Christian vision for this field of work?
The senior project gave her new ideas about how she might cultivate her artistic gifts and discern how she might work out her vocational calling in the fashion industry. For some time, Beth had been frequenting thrift stores and markets in search of clothes and other items that she could salvage by renewing or modifying them. Articles of clothing and old watches—which some consider to be "useless"—have been transformed into necklaces, and purses have been created out of retired skirts and belts. Now she began to believe there might be a customer base for her to sell these items to.
Beth began formulating ideas for a small business in which she could use her creative gifts while promoting sustainable buying practices for those interested in vintage clothes and furniture. In a short time, Salvage Life was created, and Beth began selling her products online. She explains her vision for renewal and sustainability, which runs counter to the popular buying habits of our society:
Salvage Life was born out of a love for all things vintage met with a disgust for the disposable society we live in and a eye for seeing the potential in things. Our desire is to discourage wastefulness and promote sustainable buying practices without missing out on the beautiful things our world has to offer. We believe that given a little faith and creativity, everything has the opportunity for a new life.
Having spent time in various areas of the fashion industry, Beth noticed unhealthy practices in the industry that ran against the grain of her deeply held values of bringing together beauty and sustainability. For example, some garments were intentionally designed to survive only half a dozen washings—just long enough for that particular fad to die out. Salvage Life has become a way for her to exercise her creative gifts as well as offer something to the broader community that enabled others to share in the practices of thoughtful commerce. Purchasing fashionable clothing at affordable prices did not mean that individuals disregard the lifecycle of that particular garment—from the garment's production to second and even third uses. For those with an eye for beauty and yet leery of buy-dispose practices, Salvage Life offers alternative forms of buying fashionable apparel.
Andy Crouch's book, Culture Making: Recovering Our Creative Calling, shows how the cultural goods and services that we create open up new opportunities for living and thinking which inevitably reshape culture. Similarly, creating businesses like Salvage Life make possible new ways of purchasing goods that nurture a different way of being human and provide new avenues for healthy and sustainable patterns of commerce for the broader community.
The connection between alternative purchasing practices and fostering a healthy humanity is central to Beth's passion and creative calling. In an interview, she explained how her vision for Salvage Life came about: "Salvage Life has two meanings. The first is that I 'Live the Salvage Life' by attempting to use as many old things as possible to fulfill new purposes. Secondly, I 'Salvage the Life' left in an item and allow it to live again. The key to living the Salvage Life is to not see something for what it is, but what it could be."
Beth's business is an example of how a Christian can engage in the market economy with a creative vision. Instead of accepting the current dominant business practices as is, and yet refusing to withdraw from market economy and the fashion industry, Beth has taken the approach of creative protest and attempted to bring change by displacing old cultural patterns with new and appealing goods and services. Further, she is committed to sharing her creative vision with other businessowners in Long Beach, contributing to their businesses' flourishing as well. Beth recently set up a fellow shop owner's blog and developed her Internet presence using the skills she has gained in the industry. "Rather than compete, I'd love to work together so that we can all be successful," says Beth.
A Journey of Cultivating a Creative Calling
Beth's journey in discerning her creative calling has not followed an obvious or linear sequence of events. She has made her way through a wide range of internships, jobs, and experiences. Some, like her time in Uganda, have been exciting and provided clear opportunities for growth. But most have been less "glamorous" or obvious and have come wrapped in quite ordinary encounters of trial and error that have been full of risks and rewards.
While Salvage Life has not gained renown on an international or even national level, businesses like this offer important signs of hope for our society by providing profitable and appealing services and products that help cultivate human flourishing for individuals and for society by providing alternative forms of commerce. Beth's journey of cultivating her creative calling is a story that leads us into the "sacred ordinary," where God's desire for human flourishing met her creative passions in surprising ways. In a world of endless possibilities and a society that provides countless opportunities, her story is instructive for those among us who are afraid to take a risk, fearful of missing out on "better" possibilities, and yet who feel passionate about making life count in meaningful work.
Cory Willson is a PhD student at Fuller Theological Seminary and an elder at Grace Brethren Church of Long Beach. He enjoys riding his motorcycle up the California coast and camping in the Sierra Nevada Mountains.
MORE FROM CHRISTIANITY TODAY