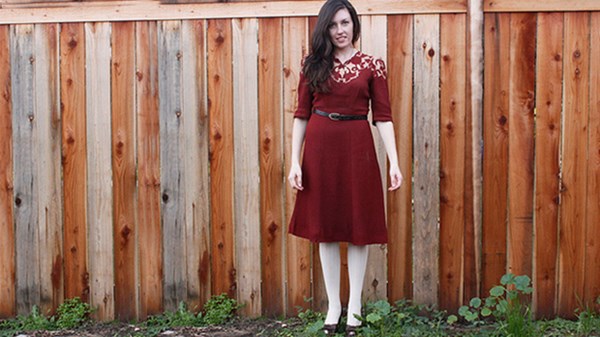 Redeeming What Was Tossed: Fashion, Faith, and a California Designer's Creative Calling
Beth Giles takes "useless" old clothing and repurposes it for something good.
6.22.12
This article is adapted from Willson's piece that originally appeared at Comment magazine on February 22, 2012.
With $300 to spend, Beth Giles made her way through the markets spread out over packed streets of Kampala, Uganda. The aisles were filled with vegetables, meats, spices, colorful local fabrics, and other handmade items being sold by local merchants. A few weeks prior to our trip, she had held a yard sale selling off used clothing, furniture, and other discarded items that now accounted for the recently converted currency in her pocket. (Beth has always been a salvager and creative entrepreneur. In her first business venture as a young girl, she collected dying roses from her neighbor's yard, made potpourri, and then sold it to friends and family.)
We had come to Kampala to help a newly formed NGO establish systems that would provide medical and educational care, as well as vocational training, for over 50 Ugandan orphans. On a rare morning off from our meetings with lawyers, directors of medical clinics, and school principals, Beth made her way down to markets for a few hours and allowed her creative mind to go to work. Most of us did not give much thought to the many fabrics and jewelry that she returned with a few hours later—we had come to expect that Beth's ability to find beauty and see potential in areas that others overlook would somehow unearth extraordinary treasures.
The surprise for me came nine months later, when several of us from the Ugandan trip sat in the audience at Beth's senior fashion show the following spring at California State University, Long Beach. In front of a packed auditorium, the fabrics, jewelry, and other wares that Beth had gathered in the Ugandan markets had been creatively transformed into the beautiful dresses and pieces of art that were now displayed before us. After the show, the lobby showcased each student's work and gave background information on the students and their projects. At the centre of Beth's display was the story of the Ugandan orphans and the work being done to help break the cycle of poverty and to empower the families afflicted with devastating losses by the AIDS epidemic. In the following weeks, Beth's work and the story of the Ugandan orphans were showcased in the fashion district of downtown Los Angeles.
MORE FROM CHRISTIANITY TODAY