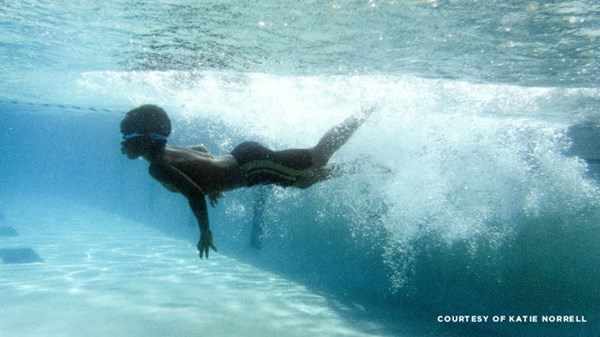 Image: Courtesy of Katie Norrell
Rethinking the $3,000 Missions Trip
When I learned that kids in my city couldn't swim, I started to rethink how much I'd invested in overseas missions.
7.23.13
Every time I hear of another $3,000 short-term mission trip, I think about Dan and Mary, whose ministry to Knoxville's refugee community is chronically underfunded. I think about the 1,600 meals that the same sum would pay for at our rescue mission. I think about the inner city schoolteacher who dips into her $34,000 salary to pay for pencils and treats. I think of the 83-year-old widow with the $700 winter heating bill, waiting for a new roof she can't afford. I think about the 50 children of prisoners on the waiting list for the underfunded Amachi mentoring program. I think about the 30 children who have never seen a deer who could go to a Bible camp in the mountains for the same amount of money it takes to send one person overseas for a week. And I think about the starving boy on my swim team.
I do believe we are changing. Churches in Knoxville with strong foreign mission programs are beginning to invest considerable resources in meeting the spiritual and physical needs of the weakest members of our community.
Without these resources, I couldn't coach Martin.
Martin never stopped shivering that summer, but he did start swimming faster. I made some calls to see if Martin might join a year-round swim program. The local swimming community was eager to help. Then Martin stopped showing up. Nobody at his house returned our calls, and Martin missed the rest of our meets. At our year-end swim banquet, we gave Martin the "Most Improved Swimmer" award. He wasn't there to receive it. A friend and I drove the award to his house after the banquet. After many knocks, a man answered the door. He wasn't happy to see us. We handed him Martin's trophy and told him how well Martin swam. "I don't know where he is," the man said. He shut the door.
Doug Banister lives in Knoxville, Tennessee. He is the pastor of All Souls Church
and coaches the Emerald Youth Foundation Swim Team. His new book, Seek the Peace of the City: Ten Ways to Bless the Place Where You Live, is available for free download.
MORE FROM CHRISTIANITY TODAY