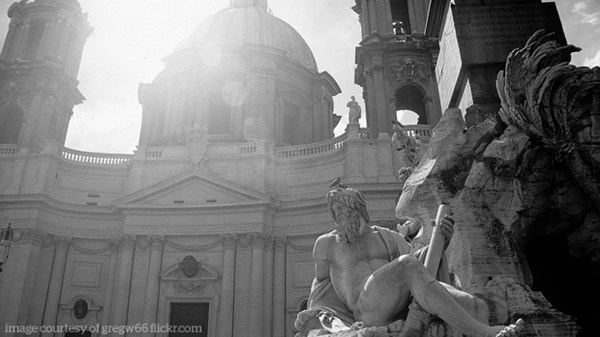 We Can't Go Back to the Garden: Critiquing Evangelicals' Over-Ruralized Eschatology
The Bible suggests we should envision the new heavens and earth as an urban landscape, not a field of lilies.
1.26.12
This article originally appeared in Comment magazine, the opinion journal of Cardus.
The Project for Public Places has a list of some of the best public squares in the world. On this list are well-known places such as Piazza Navona in Rome, Piccadilly Circus in London, the Hotel de Ville in Paris, and a number of less familiar places, such as Rynek Glowny in Krakow, Poland, and the Plaza Hidalgo in Mexico City.
I have visited some of these squares; they are, indeed, delightful places to enjoy a strong cup of coffee in the warm sun and watch the vibrant parade of humanity against a backdrop of stunning architecture. This list evokes some of my most cherished memories of feeling fully alive and engaged with the delights of this world.
But I also become a bit restless as I wonder about the places I haven't yet experienced. And I become nostalgic for the time in my life when I was free to travel to exotic destinations and could while away an afternoon doing nothing.
This may seem like an odd direction to divert this bittersweet stream of thought, but I wonder if I'll have a renewed opportunity to enjoy these places during the time of Christ's eternal reign. That is to ask: Will public squares be included in the new heaven and earth?
This question can be subsumed under the broader question of the relationship between creation, culture, and new creation. Over the past couple of years, I have witnessed an encouraging development in evangelical eschatology (see Randy Alcorn's Heaven and Eugene Wittmer's Heaven Is a Place on Earth).
Evangelicals, it seems, are becoming more comfortable with the idea that followers of Jesus are not going to spend eternity floating around in some kind of remote ethereal location, but will experience redeemed existence in the very physical setting of a new heaven and a new earth.
A key to this significant paradigm shift has been a reconsideration of the provocative text in the second half of 2 Peter 3:10. As the King James Version has it, "The earth also and the works that are therein shall be burned up." One common way to understand this text is that the earth and sky (heaven) will be completely annihilated, then later replaced with a brand new heaven and earth.
MORE FROM CHRISTIANITY TODAY