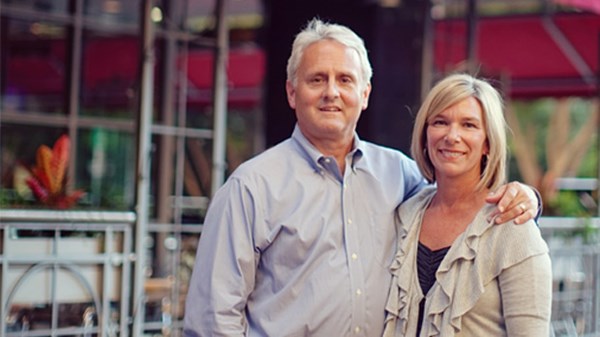 Shrimp and Grits with a Side of 'Shalom': The King's Kitchen Revitalizes Charlotte
Every aspect of Jim Noble's newest restaurant—including the food, all local—is designed to reflect the kingdom of God.
1.31.12
One person who's benefited from the church and the program is Angel Merced, 43. A former construction worker, Merced has been living under one of Charlotte's bridges for three years as one of the 6,000 Charlotteans who are homeless. Last year, the city saw a double-digit jump in the number of homeless families, up to 21 percent. That number is expected to rise this year.
"The reason I became homeless was because I got laid off and lost everything," Merced says. "I tried to get some help and nobody helped me."
That changed one Sunday afternoon in 2011, when Noble approached Merced in the city square and invited him to the church service. Merced began regularly attending and enrolled in the restoration program late last year.
The regular Bible studies, leadership training, and employment at The King's Kitchen have helped immensely, Merced says. However, the most important thing he's received is hope.
"When you're on the streets, a lot of things go through your mind," he says. "You think, 'I'm not going to make it. My life is just going to be on the streets.' Now it's, 'I'm going to make this, step-by-step. I've just got to have faith.'"
The King's Kitchen is instilling hope in other residents of Charlotte. In 2010, less than a year after opening, it raised over $50,000 to give to Charlotte nonprofits that serve the hungry and homeless. Today, its staff partners with more than a dozen local ministries and organizations. It also delivers food twice a week to about 60 people. In 2011, with the help of local businesses, The King's Kitchen served about 2,500 Thanksgiving meals. To further its mission in the New Year, the Nobles recently launched The King's Bakery, a side venture next door whose profits will also go to local ministries.
"Everything we've been blessed with we're supposed to turn around and bless somebody else," Noble says. "We have the same promise that God gave Abraham—'I'm going to bless you so you can be a blessing.'
MORE FROM CHRISTIANITY TODAY