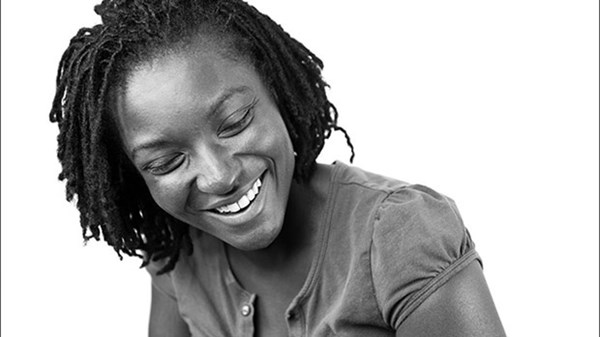 The Story-Telling City Planner: Ebony Walden Infuses Poetry and Place
The Charlottesville leader believes Christians should be 'the 'most' involved, interacting, and creative' neighbors of all.
8.7.12
Having grown up in Queens and Long Island, Ebony Walden wanted to improve blighted and fragmented communities like those of her childhood. And for years, she assumed the best way to do so would be through a church or faith-based organization.
But as she pursued the opportunities that she felt God was giving her, Walden stepped into a vocation that she hadn't imagined: that of a story-gathering city planner.
"In part, your vocation is just you being you. But it is also about helping to create a new heaven and earth and bringing Christ into those places," she says. "I wanted to be a part of making this new creation. Providing places and spaces for people to interact and tell their stories—that is an important part of the life of the city."
Walden graduated from Georgetown University in Washington, D.C., with a degree in marketing and management in 2002, and then joined a fellows program at the Congressional Hunger Center, which sent her to work for six months at Children's Alliance, a child advocacy group in Seattle. That was followed by several months back in the Capital, applying what she'd learned as she focused on policy.
"I started reading books on poverty alleviation theories and urban issues," she recalls, mentioning the work of John Perkins in particular. "And I became more interested in community development. I knew I didn't want to be a policy wonk or be in direct service, though."
Thinking that community development might be best done through the church—"often the last standing social institution" in a devastated African American community, she notes—Walden planned to attend seminary. That discernment process led her to another fellowship, starting in fall 2003, at Trinity Presbyterian Church (PCA) in Charlottesville, Virginia.
Trinity's fellows are placed with a host family, given a part-time work assignment, and paired with a mentor. In her job placement with Amy Sherman (who has written several times for the City project), Walden researched churches involved with community economic development: churches developing low- or mixed-income housing, bringing grocery stores into food deserts, and turning vacant buildings into job centers.
Nisha Botchwey, Walden's spiritual mentor while she was a fellow, was another perfect match. Botchwey,a professor at the University of Virginia's School of Architecture, had studied the the religious sector's presence in local community development. Walden continued to look into community development careers, but, "I still thought I was going to seminary."
And then came the weekend that changed her plans.
Walden went online one day in February 2004, looking for directions to a symposium that Botchwey was facilitating. Walden was surprised to find that Botchwey taught at the graduate level in the urban and environmental planning program—a program Walden hadn't heard about. She liked what she saw, although the application deadline had been several weeks prior.
But after approaching the admissions office, gathering last-minute letters of recommendation, and taking the GRE the morning after learning about the graduate program, she applied and was accepted. She graduated with her master's in May 2006. After graduation, instead of joining a community development organization, she took a job with the city.
Had she gone into community development, Walden would have been advocating for and serving a specific constituency. But in her current position, she serves everyone: residents of all income levels, property developers, homeowners, business owners, government workers, and elected officials. Her duties vary from the large scale, such as when she helps revise Charlottesville's comprehensive plan—a document that envisions all aspects of the city's quality of life for the next 25 years—to the small scale, assistingpeople as they navigate ordinances, codes, permits, regulations, inspections, and the like on a daily basis. She also advises the planning commission and city council, keeping them informed of the city's future development plans.
But taking a job with local government isn't the only way Walden blessed her city. For almost six of her nine years in Charlottesville, she adopted Perkins's relocation model and lived with other Christians a block from a low-income housing development, where residents struggled with the many issues related to poverty. "These were my neighbors, who I cared about," Walden stresses. "They were my friends and their kids, and it was messy, and I was in the middle of it …. It was our problem in our community, and they were my friends—not those people over there with those problems."
During those years, Walden started hosting talent shows, open-mic nights, and poetry jams. On one of those nights, she recounts, "I looked into the audience [and saw] professors, the editor of the C-ville Weekly, people from all walks of life—people so different—all in one room, telling their stories, almost testimonies. Where else do these people come together and listen to each other's stories, as equals? It was a wonderful thing. Their story matters. Their voice matters."
Inspired, Walden started Wordsmith Poetry, which both organized events and participated in arts-related gatherings, and began writing poetry herself. Wordsmith inspired the Poetic Justice World Tour, as Walden called it, "to use poetry as a creative tool to highlight the beauty of different cultures and generate awareness about social injustices in other areas of the world." Walden raised more than half of the funds for the June-to-January solo trip, which took her to about 70 cities in 17 countries. She spent some time teaching English and volunteering; other segments of the trip were spent with poets and artists.
When, in early 2011, Walden returned to Charlottesville and to her job as a city planner, she carried a renewed sense that she was called to placemaking. "As a planner, I am trying to construct space where people are interacting, not dividing," she explains. "If you have a city where only one particular group is being heard or different groups don't hear each other, is that really the flourishing of the city?"
"It takes an extremely powerful and confident and motivated person to do what she did," says fellow neighborhood planner Michael Smith. "I asked her, 'What did you bring back to the States from the people you met? What do they desire?' She told me that everywhere she went, people want community. They want to have family. They value love and friendship. Those are so important that they trump everything else. At the end of the day, it's about who you have in your life, the relationships you have. She thought that was so powerful."
This year Walden assumed a new role : leading a session of the Neighborhood Leadership Institute (NLI), a program used in cities such as Cleveland, Atlanta, New York City, and Pasadena. Enrollment is open to anyone who wants to be proactively involved with their city. The program has been popular in this city of just under 45,000: In the six NLI sessions offered so far, the program has had about 150 graduates.
Participants learn how much they can accomplish without having to depend on, or wait for, local government. They learn about transportation, housing issues, and communication as well as about community organizing and meeting facilitation. "People are interested," explains Walden, "but they may not know how to get involved in a productive way. NLI equips people to make changes in their community. We teach them how to work with local government, but we also show them how to have their own neighborhood associations. They want to own it, buy into it, and not just react to what is being planned."
"A lot of the ice breakers Ebony used in our first NLI session were poetry exercises she used on her poetry world tour a few years ago," says NLI participant Maggie Stein. "She pushed for collaboration and creativity in that first meeting, and I think it set a standard that we attempted to live up to throughout the program."
According to Smith, "Participants are getting appointed to boards and commissions because the NLI experience is looked highly upon by city officials."
Some ideas and projects conceived during the NLI session carried out by graduates. For instance, Stein is now helping start a community-building barter system, the Cville Time Bank, which was her session's final project. Smith points to other projects that have similar origins, such as the plans for a canning cooperative, so members can preserve locally grown produce.
Not surprisingly, Walden encourages people of faith to participate in NLI. "When I mailed out applications," she says, "the list included faith-based organizations and churches. Christians should be the most involved, the most interacting, the most creative—exhibiting all the beauty and the joy that God has placed here."
Walden walks out her vocation as a placemaker by hosting poetry events, training community leaders, and planning for trails, parks, front porches, lawns, and plazas—places where people from different backgrounds interact as equals and listen to one another.
"Think about it. This is what Jesus did, right?" Walden marvels. "He bumped into people—literally …. The gospel was spread when people were interacting in public. Like when Peter's brother said, 'I met this guy! Come with me!'
"My biblical mentor is Nehemiah, who says, 'Let us go rebuild the ruins.' … And it has as much to do with our inner life as with the places and spaces that we inhabit."
Jennifer Conrad Seidel is a freelance writer and editor living in Charlottesville, Virginia.
Photo courtesy of Cramer Photo.
MORE FROM CHRISTIANITY TODAY