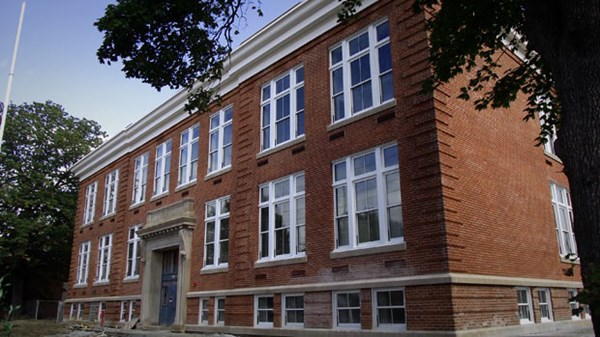 Before 'Transforming' Your Neighborhood, Talk to Your Neighbors
For my failed megachurch, renewing the Near Eastside of Indianapolis meant stopping long enough to listen.
1.4.12
Englewood is a tiny postage stamp of a neighborhood on the Near Eastside of Indianapolis. In many ways it's a stereotypical abandoned urban neighborhood. Located at the heart of the ZIP code with the highest rate of vacant housing in the state, our neighborhood continues to see occupancy rates plummet. But there are signs of hope.
On Rural Street, the century-old Indianapolis Public School #3 building (which has not functioned as a school since 1979) is being converted into 32 units of gorgeous, mixed-income housing. It will be the first development in the state to integrate market-rate and affordable housing with supportive housing for people coming directly out of homelessness or severe mental illness. Right behind the school, a vacant lot once covered with asphalt is now a community garden that has expanded every year for the past decade. And just south of the garden and school building, on the exterior of a commercial building on Washington Street that was once home to a seedy used appliance store, a local artist is painting historical scenes from Wonderland, the amusement park that graced our neighborhood a century ago.
In the midst of this surprising renewal is Englewood Christian Church, a failed megachurch that spiraled downward with the neighborhood. How is it that our congregation, now about 200, was able to help orchestrate these strains of change? The short answer: We learned to talk to each other.
In the 2008 book The Big Sort: Why the Clustering of Like-Minded America Is Tearing Us Apart, journalist Bill Bishop and sociologist Robert Cushing show that Americans live in increasingly homogeneous social circles. In recent decades, geographical sorting has been amplified by the rise of Internet technologies that allow us to pursue conversations with people around the globe who share similar convictions or practices—rather than with our actual neighbors.
Englewood Christian has taken a different path. Starting in the mid-1990s, we scrapped our traditional Sunday evening service and carved out time on Sunday nights for conversation. One of the most pressing theological issues in our congregation was the question of what "the word of God" means in Scripture, so we launched into conversation with this question. We were, and still are, a theologically diverse community, and this diversity made for some heated exchanges, especially in the conversation's early years. Some people stormed out of the conversation; a few even left the church. Following "the rule of Paul" (1 Cor. 14), we valued open conversation: everyone was not only permitted to speak but also encouraged to do so. And although a facilitator initiated the conversation every week, these were not guided conversations. From "the word of God," we turned to explorations of other key terms like gospel, truth, church, and the kingdom of God.
MORE FROM CHRISTIANITY TODAY