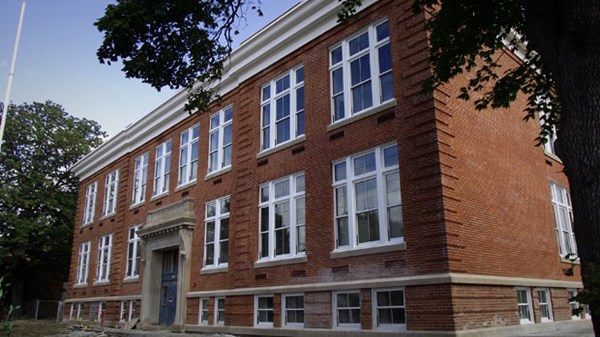 Before 'Transforming' Your Neighborhood, Talk to Your Neighbors
For my failed megachurch, renewing the Near Eastside of Indianapolis meant stopping long enough to listen.
1.4.12
Englewood is a tiny postage stamp of a neighborhood on the Near Eastside of Indianapolis. In many ways it's a stereotypical abandoned urban neighborhood. Located at the heart of the ZIP code with the highest rate of vacant housing in the state, our neighborhood continues to see occupancy rates plummet. But there are signs of hope.
On Rural Street, the century-old Indianapolis Public School #3 building (which has not functioned as a school since 1979) is being converted into 32 units of gorgeous, mixed-income housing. It will be the first development in the state to integrate market-rate and affordable housing with supportive housing for people coming directly out of homelessness or severe mental illness. Right behind the school, a vacant lot once covered with asphalt is now a community garden that has expanded every year for the past decade. And just south of the garden and school building, on the exterior of a commercial building on Washington Street that was once home to a seedy used appliance store, a local artist is painting historical scenes from Wonderland, the amusement park that graced our neighborhood a century ago.
In the midst of this surprising renewal is Englewood Christian Church, a failed megachurch that spiraled downward with the neighborhood. How is it that our congregation, now about 200, was able to help orchestrate these strains of change? The short answer: We learned to talk to each other.
In the 2008 book The Big Sort: Why the Clustering of Like-Minded America Is Tearing Us Apart, journalist Bill Bishop and sociologist Robert Cushing show that Americans live in increasingly homogeneous social circles. In recent decades, geographical sorting has been amplified by the rise of Internet technologies that allow us to pursue conversations with people around the globe who share similar convictions or practices—rather than with our actual neighbors.
Englewood Christian has taken a different path. Starting in the mid-1990s, we scrapped our traditional Sunday evening service and carved out time on Sunday nights for conversation. One of the most pressing theological issues in our congregation was the question of what "the word of God" means in Scripture, so we launched into conversation with this question. We were, and still are, a theologically diverse community, and this diversity made for some heated exchanges, especially in the conversation's early years. Some people stormed out of the conversation; a few even left the church. Following "the rule of Paul" (1 Cor. 14), we valued open conversation: everyone was not only permitted to speak but also encouraged to do so. And although a facilitator initiated the conversation every week, these were not guided conversations. From "the word of God," we turned to explorations of other key terms like gospel, truth, church, and the kingdom of God.
The conversation has continued weekly ever since. Eventually, more conversations began to pop up throughout the week, and our church community began finding new ways to converse with our neighbors. We began to get past both frantic reaction and passive resignation to our neighborhood's decline, and take meaningful steps that flowed out of the convictions that we found we shared in common. Familiar theological terms started to become more than hollow religious language. We realized our conversations were about more than theological terminology—they were about God's call for us to enter into the reconciliation and flourishing of our neighborhood.
Three years ago, we were given the former school building located next to our church building, and we started talking about how that building could best be used, and how the needed work should be funded. Many of us thought the building should again be home to a school, but conversations with schools fizzled, and it eventually became clear that we should redevelop the building as housing units. That might seem like a quixotic task, as we struggled to keep the church running, but thanks to grant funding that became available in the wake of the burst housing bubble, we were able to undertake a $7 million project—by far our largest to date—because we already were deep into working conversations about affordable housing with the neighborhood and city groups that would become our partners on this project.
Since early in the history of the Sunday conversations, we have been actively involved in a number of neighborhood groups in Englewood and across the larger Near Eastside neighborhood. Church members have invested their time in these groups, and we have opened our building for neighborhood meetings. In 2007, the Near Eastside was identified by the city as a re-development zone. In other Indy neighborhoods, this has been the first step on the fast track to gentrification. Together with our neighbors, we agreed that while there were many facets of our neighborhood that could use significant investment, the last thing we wanted to do was drive out our neighbors who already had roots in the Near Eastside.
So we hosted a six-month-long series of meetings to ask how our neighborhood could flourish in ways that would minimize or eliminate gentrification. These neighborhood-wide conversations were recorded to form a "quality-of-life plan" that identified seven key action areas that the neighborhood wanted to develop: Family Strengthening, Education, Public Safety, Affordable Housing, Business and Economic Development, Livability, and Leadership and Neighborhood Connections. Within each of these areas, we identified immediate and long-term goals for developing the neighborhood. This Quality of Life plan continues to guide the neighborhood in making decisions about what development projects should be undertaken and how they should be funded.
Among our new conversation partners are churches in our own neighborhood. In 2003, we got to know Mano de Amistad, a Spanish-language church that was meeting in the school next door, the same building that would later be given to us. Not long afterward, we invited them to use our building for their meetings, and we continued to get to know them and to seek opportunities to work together. The two congregations merged in 2009, and we continue to converse and grow together, although we still have a long way to go, considering for instance that we presently have two services separated by language and the culture and history of their participants (e.g., style of music, order of services).
We've discovered that this kind of conversation is an active way of life—essential to the abundant life into which we have been called in Christ Jesus. Finding God moving in our midst and transforming our neighborhoods, continuing the work of reconciling a broken world and drawing it deeper into the communion for which it was created—it all started, at least for us, with stopping long enough to listen.
C. Christopher Smith is the editor of The Englewood Review of Books and presently is co-writing a book entitled Slow Church (forthcoming, Likewise/IVP). He blogs at SlowChurch.com.
MORE FROM CHRISTIANITY TODAY