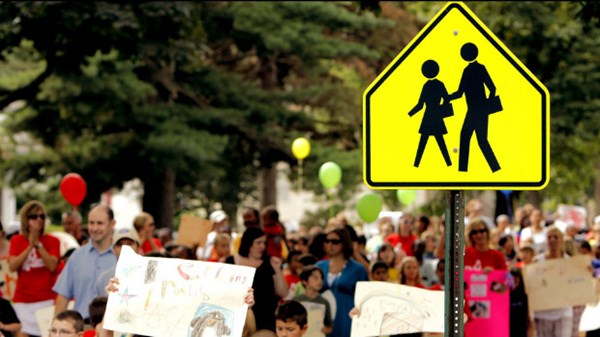 Image: Courtesy of Phil Roeder / Flickr.com
Why We Send Our Kids to the Poorest Public School
It's not just my own kids' well-being that matters anymore.
10.7.13
For the past 14 years, my full-time vocation has been "mom." I have spent a lot of time making decisions about what's best for my three children: which preschools they should go to, which sports teams they should join, which instruments they should play. Eight years ago, I was well on my way to figuring out the life I wanted for them.
Then God stepped in.
In 2005, at the height of the housing boom, my husband's job took us to Charlottesville, Virginia. We left our suburban (lawnboy- and maid-included), 4,000-square-foot parsonage in search of a house just as lovely in the city deemed the "best place to live in America." As we looked at houses, we didn't think much about the school systems for which they were zoned. We called the private Christian school tied to our new church, assuming we would educate our kids just like we did in our old city. But $10,000 a kid wasn't going to work on a campus minister's budget.
That's how we ended up at the poorest public school in the city. Our kids are white; 79 percent of their classmates weren't. Our kids speak English only; 45 percent of their classmates didn't speak English at home. Our kids can live comfortably above the poverty line; 82 percent of their classmates couldn't. The PTO had three members and an $800 annual budget. The teachers seemed burnt out, and new refugee children were being dropped off weekly, sometimes in pajamas, never having seen a school building or indoor plumbing.
One of the first people I met in Charlottesville was an older teacher at the school. I told her I was worried about sending our oldest into first grade. She asked, "What would make you stop him from going here?" I thought about it for a minute. "I guess if he got beat up by another student." Her follow-up question to this young and fearful mother: "How many times?"
That first year I wept and worried. There were kids starting kindergarten who didn't know that an alphabet existed; kids without books at home; kids without parents at home, babysitting each other while their parents worked two and three jobs. I spent a lot of time that year asking God, "Why me?" as in: "Why did I have to be exposed to so much poverty?"
MORE FROM CHRISTIANITY TODAY