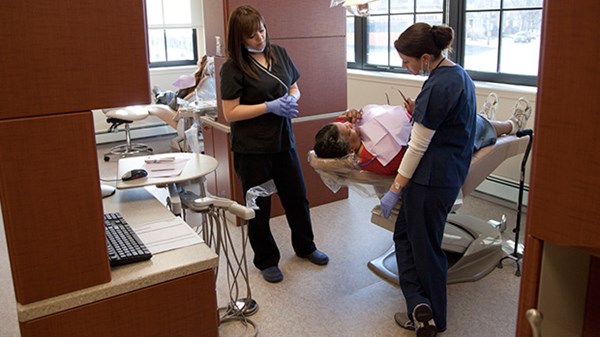 The Great Physicians of Detroit
Covenant Community Care is the only faith-based, federally funded health center in Michigan. It may also be the most Christlike.
2.8.13
Like most players on Detroit's economic stage, Covenant Community Care (CCC) arose out of community demand. Across Detroit neighborhoods, from burgeoning Midtown to the West Village Historic District, entrepreneurs rise to meet the needs and desires of their consumer base. They open restaurants and decorate storefronts, money exchanging hands to pay for lattes or handmade goods.
But what happens when most of your customers can't pay?
That was the dilemma facing Kathy Kleinert, DO, in 1999. After one Sunday service at Messiah Church in Southwest Detroit, the general practitioner noted to Pastor Bob Hoey her growing concerns about their surrounding neighbors. Kleinert had made house calls and even treated people in the street, and was especially conscious of those without insurance, all the while ignoring their inability to pay and poor hygiene. She always shared Christ, praying for clients and trying to point them to a local church. As she became aware of people without necessary medical care, she became increasingly driven to provide it. And she told Hoey that she'd treat all people, regardless of their ability to pay.
Thus Kleinert became the founding physician of one of Detroit's largest health clinics operating on small co-pays and large amounts of grace.
"We try to treat each client as if they are Christ, regardless of their ability to pay," says Hoey, co-founder of CCC and pastor of Messiah Church (part of the Evangelical Covenant denomination) for 18 years.
Opening in 1999, CCC is the only faith-based, federally funded health center in the state of Michigan. Although there are many free faith-based clinics throughout the state, they tend to be much smaller and volunteer-run. By contrast, all of CCC's doctors and dentists are employed. And with 100 employees, the clinic has doubled in size every two years. CCC serves approximately 10,000 Detroiters annually in a city with approximately 200,000 residents who lack adequate health care.
MORE FROM CHRISTIANITY TODAY