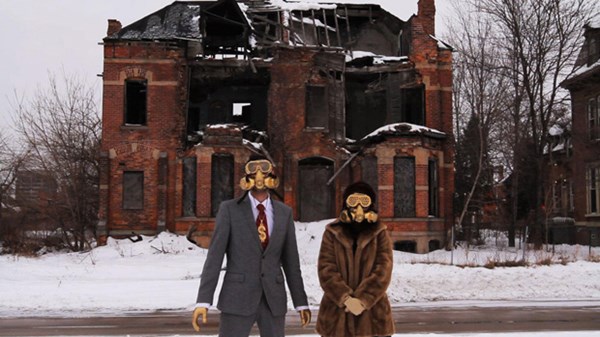 What Detropia Gets Right, and Wrong, about the Motor City
The new documentary is part of the same paternalism that it critiques.
1.28.13
Editor's Note: Aaron Renn is one of the prolific and consistently informative writers on urban revival and sustainability, gaining a following through his frequently cited Urbanophile blog. As he states there, his love for cities is informed in part by the same Isaiah 58 passage that guides the work of Detroit artist Yvette Rock, whom we profiled on Tuesday. Detroit is a regular feature at the Urbanophile blog, and we're delighted to feature Aaron's writing today and in coming weeks. Below is his review of Detropia, a new documentary that's drawn much praise, and many more questions, about the future of the Motor City.
I was lucky to get to see Detropia, a buzz-laden 2012 documentary about Detroit, at the UMass-Boston film series. There, Heidi Ewing, one of the filmmakers, was present for a post-screening discussion. Ewing, incidentally, grew up in suburban Detroit.
The title is an interesting wordplay. It's a portmanteau of ambiguous meaning. It could be a combination of "Detroit" with either utopia or dystopia, though as the bleak civic outlook suggests, the latter is far more appropriate. The film provides a look into the lives of various Detroiters. There's no real story here, no narrative, just a look as if through a window into a portion of the civic experience. The lack of any real relatedness between the characters fuels the sense of disconnectedness in the film. Though billed as a sort of cautionary tale about America, and explicitly intended to provoke political discussion per Ewing, it isn't exactly clear what conclusions we are supposed to draw from it, or how it would inform any real debates or decision making, as the core conflicts and issues are not addressed in sufficient depth to enable that.
The story focuses on three black principals: Tommy Stevens (the backbone character of the film), owner of a blue-collar blues bar called the Raven Lounge; George MacGregor, president of a United Auto Workers (UAW) local; and Crystal Starr, a barista and video blogger. All are thoughtful and likeable characters. A corresponding trio of white minor-character groupings fill out most of the rest of the cast: a newly arrived artist couple, a group of metal scrappers, and the Michigan Opera Theater (admittedly shown in a multicultural way, but I think representing a stereotypically white endeavor and with a healthy dose of white faces).
MORE FROM CHRISTIANITY TODAY