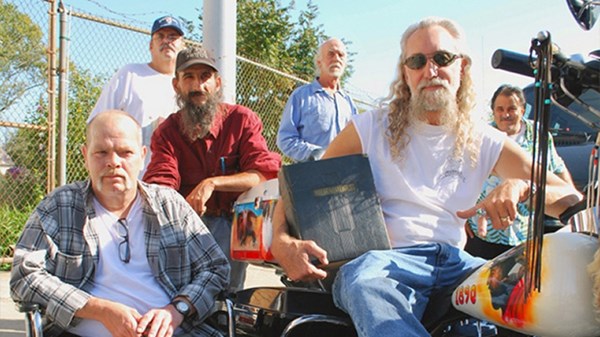 Salvation at the Storefront Church
How Peacemakers International is giving Detroit drug dealers and prostitutes a hope and a home.
3.4.13
In every city, you will find them: storefront churches, often next to liquor stores and laundromats, nearly imperceptible except to those neighbors looking for shelter and spiritual sustenance. And in Detroit, the need for shelter and spiritual sustenance is great.
Yet so is the sense that change, however slow and halting, is possible, on the systemic as well as the personal level. In recent weeks, we at the City project have highlighted Christians who are committed to the Motor City's systemic flourishing. Now we are pleased to share a story of profound personal change, taking place at one of the city's dozens of storefront churches, Peacemakers International on Chene Street.
This story comes to us from John Carlisle, also known as "DetroitBlogger John." Since 2006, Carlisle has documented the lives of hardscrabble Detroiters, first for his own site, later in a biweekly column for local alternative newspaper Metro Times, and now for the mainstream Detroit Free Press. For his 'man on the street' style of reporting, Carlisle was named 2012 journalist of the year by the local chapter of the Society of Professional Journalists. "Urbanophile" Aaron Renn (who recently wrote for us) calls John's blog "the best" in the world. --Katelyn Beaty, editorial director, This Is Our City
They stagger in one by one—each with a story, each with a life of problems.
First comes the prostitute. Then comes a drinker. Every swing of the door brings another desperate person from the street outside.
People with addictions, with diseases, people living on the street. And people who suffer from none of those things but who are just drawn to this strange place.
Some talk to each other; one or two are talking to themselves, or the air, or whatever demons they hear in their heads.
It's Sunday morning. It's time for church.
At Peacemakers International on Chene Street, a little storefront ministry not far south of I-94, the congregation doesn't just help people who are addicts or poor or homeless. Those people are the congregation.
MORE FROM CHRISTIANITY TODAY