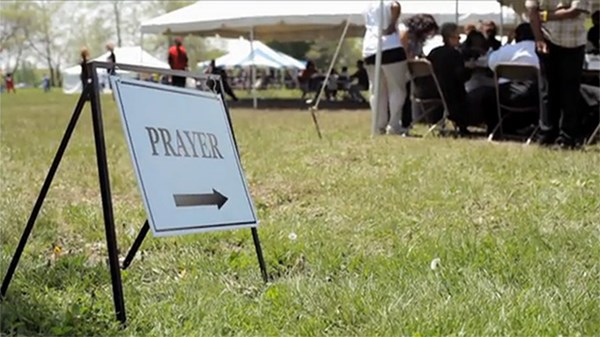 Why Church Partnerships Really Matter in Detroit
In a city Billy Graham called one of the most divided he'd ever seen, a new church-unity movement is all the more profound.
2.1.13
The homey aroma of soup fills a narrow hallway stacked with shelves of bread and crates of potatoes, as Lord of the Harvest Christian Fellowship begins another day of feeding whoever comes.
Associate pastor Janine McLatcher stirs a pot of sausage-lentil soup in the lunch room, enough for the two dozen seniors she expects in a couple hours at her suburban Detroit church.
"They make me do soup," McLatcher says cheerfully in her bright orange apron. "If I do anything different they don't like it."
Out in the hall, Patricia Johnson leans on a cane as she fills two big bags with groceries for herself and two sisters. Five knee surgeries hobble her, but she's the only one who can drive to this little church in working-class Warren on Detroit's northern border.
"I'm very thankful for this place," says Johnson, 65, her head wrapped in a red scarf on this near-zero morning. "It is good that people are able to come and get help, because it's going to get worse before it gets better."
She speaks with the weary wisdom of a former Detroit resident, who once worked in the fabled Hudson's department store before it was demolished in 1998. "That was some good days, for real," she adds wistfully.
Pastor Mike Osminski takes in her story, variations of which he hears from the 250 to 350 families this pantry serves monthly. But beyond the familiar narrative of thinned-out cupboards and foreclosed homes, he sees good days coming again for metro Detroit, thanks to a new, powerful parternship of urban and suburban Christians.
It's called Everyone A Chance to Hear – EACH for short – a network of 500-plus churches and ministries that has cast a net of outreach over more than 3.5 million Detroit-area residents. In seeking hearts for Christ, EACH leads with deeds: food and clothing pantries, medical clinics, housing rehabs, and neighborhood clean-ups, while social media, prayer walks and T-shirts deliver the gospel. In so doing, EACH has united Christians from city and suburbs in a region long riven by race and class.
MORE FROM CHRISTIANITY TODAY