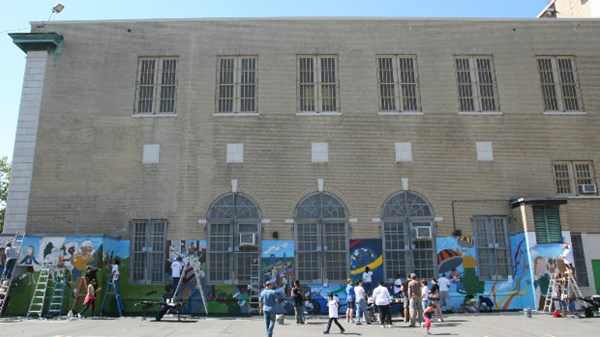 Image: Courtesy of 20/20 Vision for Schools
Mentoring Mohammed: How Loving Schools Saves Souls
The story of a former pharisee turned public school champion.
9.13.13
"God, thank you that I'm not like my bigoted Christian friends."
So prayed an unrepentant Pharisee in the months after September 11. Let's call him Jay.
Jay lived then, and still does, in Bay Ridge, Brooklyn, one of the fastest-growing Arab Muslim neighborhoods in the country. In the weeks and months following 9/11, non-Muslim Americans in Bay Ridge and beyond allowed suspicion and prejudice to get the best of us. What previously remained unspoken was now tolerated, indeed affirmed, in an era of heightened national security.
Christians, it seemed to Jay, became accepting of racial profiling, name-calling, and outright disdain for Arab immigrants. Jesus followers who on September 10 would have said all the right things about loving others (as themselves) and judging not (lest they be judged) now derisively referred to "towel heads" and raged of nuking entire countries.
To this, Jay responded: "Thank you, God, that I'm not a bigot like those Christians. Help me build friendships with my new Arab neighbors, beyond occasionally buying falafel."
Then he proceeded to do nothing to actually befriend his Arab neighbors (although he still enjoyed falafel).
Poaching Fish
In 2004, the Billy Graham Evangelistic Association asked Jay to co-chair the youth committee for what would be the evangelist's final crusade in June 2005. He was tasked with persuading inner-city teens to spend a summer afternoon listening to a then-86-year-old farm boy from North Carolina preach. The committee figured Christian kids would attend such a historic event with their parents or their youth groups. But Graham's evangelistic gift would be wasted solely on Christians. The real aim, they argued, should be to get unchurched youth to the event.
The committee grew to include 787 youth workers and an active core of more than 40 leaders. They created a marketing strategy aimed at nonbelieving teens that local youth groups could use in their public schools.
MORE FROM CHRISTIANITY TODAY