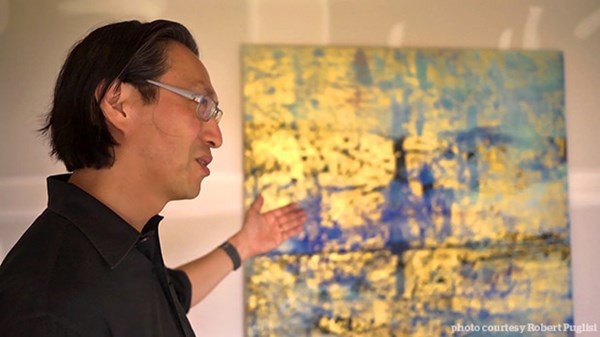 Why Mako Fujimura Left New York City for the Country
The artist's move to Fuji farm follows a tradition of creatives finding new life away from bustling cities.
9.25.12
Cities have attracted artists, musicians, and writers for centuries. Patronage, an educated audience that values the arts, and, perhaps most important, a robust community of creative peers to encourage and challenge artistic practice, have made cities fundamental to the history of art.
However, the artists and writers I've been thinking about recently have, at crucial moments in their careers, left dynamic urban centers for the country. Herman Melville left Manhattan in 1850 for a 160-acre farm in Pittsfield, Massachusetts, that he called Arrowhead to write his masterpiece Moby-Dick; Norwegian painter Edvard Munch left Berlin and its fertile bohemian avant-garde community in 1909 for a solitary, rural life in his native Norway; Abstract Expressionist Jackson Pollock left New York City in the late 1940s for the rural setting of The Springs, Long Island, followed by friend Willem de Kooning in the late '50s. And many more—Henry David Thoreau, Robert Frost, Robinson Jeffers, Anselm Kiefer—have left the city to do their most important work.
And now Makoto Fujimura, after many years of working in and for New York City as an artist and creative catalyst, has moved his home and studio to an old farmhouse outside of Princeton, New Jersey, which he has come to call Fuji farm.
Because they deal in and work with the ineffable, ephemeral, and transitory states of experiences and feelings, artists are particularly shaped and affected by their environment. How has riding the subway numerous times each day over the last decade shaped Fujimura's thought patterns? How has painting in a small studio affected the scope of his work? And now, his thinking, reading, writing, and painting will be shaped by new stimuli and new hobbies, like long walks, early nights and early mornings, bird watching, building and shaping his studio, and the quiet.
What are we to make of this move of the artist from the city to the country, from the urban center to the rural periphery, from community to isolation?
MORE FROM CHRISTIANITY TODAY