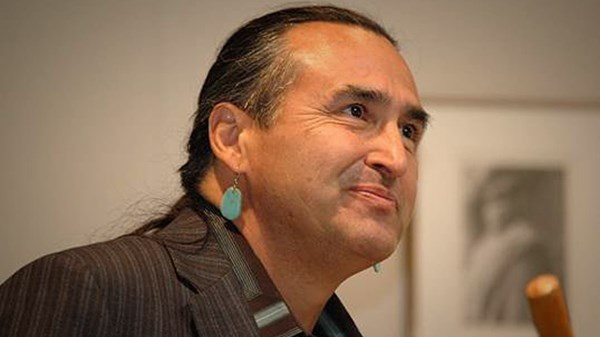 A Native Faith: Richard Twiss Shapes Portland's Youth and Beyond
In a city still skeptical of white Christianity, Twiss's cross-cultural witness is gaining a hearing among citizens and leaders alike.
2.16.12
CT contributor Richard Twiss died this weekend of complications following a heart attack while he was in Washington, D.C. for the National Prayer Breakfast. Twiss was co-founder and president of Wiconi International, an organization that aims toward reconciliation between Native Americans and other Americans.
CT profiled Twiss as part of its This is Our City coverage last year. Twiss also recently wrote about his faith journey for CT's sister publication, Leadership Journal.
When I went to hear Richard Twiss speak at a "Race Talks" event at a popular pub in Northeast Portland, I was struck by how he spoke of his faith.
"I am a follower of Jesus, though I would not call myself a Christian," Twiss said. On several occasions, Twiss asked the audience to consider their own spiritual journeys. It was remarkable how naturally he turned the conversation to spirituality at a city-sponsored event.
"Native American people are in a unique position to talk about spiritual things while many evangelicals are not," Twiss explained. "In this context in particular, they would likely be viewed as narrow-minded, religiously intolerant, and self-righteous."
Twiss, 57, is a member of the Sicangu Lakota Oyate from the Rosebud Sioux Reservation in South Dakota. His mission, as co-founder and president of Wiconi International, is to foster understanding and reconciliation between Native American people and other sectors of Americans. After years of speaking to national and international audiences, Twiss is turning the focus of his passion for empowering those with diverse backgrounds to his hometown of Portland/Vancouver.
His journey from the Rosebud Reservation landed Twiss and his family in Silverton, Oregon, in 1962, when, in the third grade, he began learning to navigate between two worlds.
In 1972, Twiss returned to the reservation and participated in the takeover of the Bureau of Indian Affairs Office Building in Washington, D.C., with the American Indian Movement, who were protesting the government's breaking of treaties. During this time, he told me, he started to hate white people and Christianity.
Later, as Twiss began searching spiritually, he dabbled in everything from Hinduism to Buddhism; and, in 1974, he was also presented with the Christian faith while living in Maui, Hawaii.
"I was a beach bum, did drugs, partied, slept on the beach, chased girls, lived off of food stamps, and started over the next day," he explained.
One day while hitchhiking Twiss was picked up by two evangelicals who shared Christ with him.
"But I didn't want anything to do with their 'white man's' religion; I cussed them out and told them to let me out."
Yet, in 1974, alone during a drug overdose in Hawaii, Twiss recalls the words of the Christians. "I yelled at the top of my lungs, 'Jesus if you are real, would you forgive me, would you come into my life?' I immediately felt the most peaceful that I have in my entire life."
Since embracing Jesus, Twiss has been trying to figure out how to live out his faith as a Native American while inspiring others to do the same.
He moved to Alaska where he met his future wife, Katherine, and was ordained through his local church. After moving to Vancouver, Washington, in 1981, he pastored a community church there from 1982 to 1995.
In 1997 he and Katherine founded Wiconi International. With their message of reconciliation, community, and spirituality, Twiss has spoken internationally and nationally , including invitations from Focus on the Family, Campus Crusade for Christ and Promise Keepers. In addition, Twiss has offered diversity staff training for the Immigration and Naturalization Service and he's spoken as part of auxiliary events at the National Prayer Breakfast in Washington, D.C.
"He has had an impact around the world," said Randy Woodley, a Keetoowah Cherokee Indian and director of intercultural and indigenous studies at George Fox Evangelical Seminary in Portland. "Richard is known around indigenous people to challenge them to use their own culture to understand Christ and his kingdom."
As Twiss has shifted his ministry locally in recent years, it is clear that it takes time to earn a place where one's voice is heard.
For Twiss, it took significantly reducing his travel and speaking schedule to invest in Portland's Native community, which he says numbers 38,000.
"Richard expressed a genuine desire to connect with the local Native American community and serve as a connector between individuals and organizations with interests in education, community development, service work, and all around wellness in our community," said Donita S. Fry, Portland Youth and Elders Council Organizer within Portland's Native American Youth and Family Center.
As part of his local work, Twiss is a board member of the NAYA Family Center and participates in the Portland Indian Leaders Roundtable, a group of executive directors or senior staff from the 28 Indian organizations located in Portland.
He's presented an indigenous worldview framework for neighborhood planning for the mayoral staff of Portland, and regularly speaks at local higher education institutions both secular and Christian. He will also be speaking at the upcoming Justice Conference being held in Portland next week.
"The Portland-Vancouver area doesn't realize what a rich gift this transition is for them," said Woodley.
Twiss seeks to live out his Christian faith without compromising the protocols of his culture, and emboldens others to do the same.
"Along with many friends, we're helping to inspire a cultural revitalization within a redemptive biblical framework," says Twiss. "For the first time Native people could love themselves as Native people, whereas in the past the message was 'God loves you, but He doesn't like you. No more drumming music, no more powwows, no more ceremonial traditions of our culture.'"
Today, Twiss also chairs the North American Institute of Indigenous Theological Studies, providing education for the next generation of believers.
Adam Mury, a White Mountain Apache and Ph.D. student at Portland State University, said, "The fact that Richard is a Native who has earned an audience with a diverse group of listeners makes it that much more likely that future audiences will lend an ear to Native voices."
Christians outside the Native American community have been inspired by Twiss as well. Jane Leong of Portland heard Twiss speak at a missions conference where he appeared in his full Lakota powwow regalia and braids.
"He spoke about how he was taught that God thought his culture was evil. He challenged people to not look at Native Americans stereotypically as just 'drunks' or people who need help, but instead as coheirs, co-laborers in God's kingdom."
Twiss and his friends led conference attendees for worship to the Creator with powwow drumming, singing, and dancing in full regalia.
"It brought me to tears," said Leong. "I could picture the Native believers leading us in worship to God in the eternal kingdom."
After that, Leong said, she began exploring her own Christian practices.
"Minority believers generally take a backseat in the wider Christian community," she says, "so when Richard was featured in his full 'Indianess' as a Christian, it gave me great comfort …. My Chinese culture was not an afterthought of God."
Twiss's most recent project is creating The Salmon Nation internship, which launches this August, designed to train future spiritual leaders, business leaders, educators, politicians, and husbands and wives. The Twisses are purchasing a house in Portland near the Native American Youth and Family Center, from which they will serve the Native American community through existing programs.
Interns will volunteer in after-school programs for tutoring and sports, attend powwows, and spend time with native elders, church, government and business leaders.
Twiss said the internship will draw applicants from across the country but the focus of the program is serving the youth, particularly Native American youth, in Portland.
"We are talking about advancing education, culture, family and spirituality; ultimately, we are helping youth navigate the challenges of life successfully."
Somber statistics for Native American youth is one of the driving motivations for The Salmon Nation, Twiss said.
"The [high school] graduation rate for Native Americans is one of the lowest in the nation, and we have among the highest numbers of kids in the foster-care system in Portland. We have huge economic disparities in Portland," he said.
One of the projects that interns will undertake is developing an economic plan for the house.
"They have to have the skills to succeed in that world rather than feel victimized by it, so they will work with business leaders in the community in actually developing a business plan," explained Twiss, noting that the details will largely depend upon the students.
Interns will also minister to the elderly, such as providing transportation for medical services.
"We want to serve the entire community, from youth to the elders, because that is how the community works," Twiss said. "We want to ask the question, 'How can a Christ-follower engage in loving conversation with those who differ religiously, culturally and ideologically?"
Richard has been able to energize that conversation, from Portland Oregon to Portland Maine, no matter the venue.
"Richard can speak with integrity as a follower of Christ, [even] in a bar," said Woodley of his friend. "That's the magic."
Freelance journalist Cornelia Becker Seigneur is the author of Images of America: West Linn and the faculty adviser for Muse student magazine at Multnomah University. Reach her at CorneliaSeigneur.com.
MORE FROM CHRISTIANITY TODAY