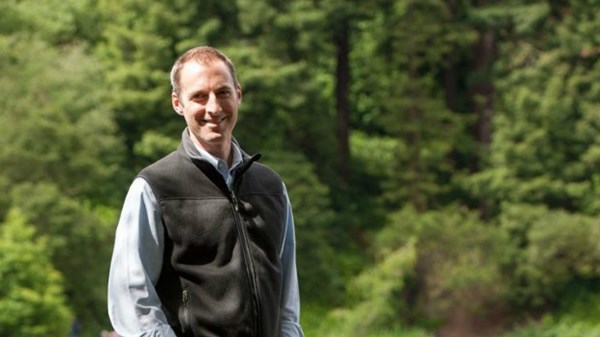 Faith in the Free Market
Wes Selke's HUB Ventures invests in entrepreneurs whose products create a social good.
7.1.13
Like so many before him, Wes Selke's life took a turn after he went on a short-term missions trip. When he returned from Mexico as a 25-year-old, however, he did not enroll in seminary or hop on a plane to begin life as a missionary. Instead, he quit his job in finance and went to business school.
Selke, now 36, is part of a vanguard of young Christians who believe that God uses not only the church and formal ministry but every sphere of society, including business and free markets, to advance his work of shalom. Selke parlayed his experience analyzing companies, creating spreadsheets, and evaluating profitable opportunities for an investment bank into helping social entrepreneurs—people who create organizations in order to benefit society.
In 2010, Selke co-founded Hub Ventures, an accelerator in San Francisco investing in entrepreneurs launching companies that produce a social good. The 12-week program provides up to $20,000 in seed funding, mentorship, workshops, and access to investors in exchange for an average of a 6 percent ownership stake. What separates Selke's program from other business accelerators en vogue in Silicon Valley is the focus on "entrepreneurs building technology solutions for a better world," Selke says.
For example, Hub Ventures is an investor in MobileWorks, a startup that allows low-skilled workers in the developing world to join the outsourcing economy. Ten thousand people in more than 60 countries use it to earn money doing simple tasks on a computer such as labeling data. Selke helped to find, vet, and invest in the company in 2011.
Selke is an investor who views his work as a form of worship. But worship isn't just where you might expect. For some, a mall can be a modern temple, complete with iconography and rituals, a false faith of consumerism directed at shaping people's desires. For Selke, worship is embracing capital as a means of achieving human flourishing, an outpouring of his talents in finance and his faith in God.
"The market is a great servant but a horrible master," says Selke, paraphrasing 20th-century missiologist Lesslie Newbigin. "Our culture tends to become slaves to the market and greed, when in reality the market should be our servant in attaining the best allocation of goods and services."
Doing Good While Making Money
After completing his degree from the University of Michigan in 1999, Selke joined Ernst & Young's corporate finance practice in Chicago, contributing to mergers and acquisition transactions. He then moved to William Blair & Company, where he researched public equities in the digital media industry. During his time in finance, Selke spent a few weeks experiencing life with people in poverty through mission trips with Park Community Church. He felt God's call on his life to apply what he'd learned in business to another arena.
A deep theology motivates Selke, who spent nine months in an intensive theology program called the Newbigin Fellowship, offered through his church, Christ Church East Bay. On the reading list was James K. A. Smith's Desiring the Kindgom: Worship, Worldview, and Cultural Formation. The first volume of a three-part series, the book argues that the foundation of Christianity is not just "worldview"—a set of ideas and creeds that we rationally assent to—but something more primal and gut-level, a cultivation of a love for worship. "We are moved to action by what we love," Smith writes, "and worship shapes our loves."
The questions gnawing at Selke: What legacy do I want to leave? Is it enough for me to do good on weekends? How can I deploy the skills from corporate finance to shape culture in a way that loves the things that God loves, seeking his purpose, vision, and heart for restoration?
Selke in 2007 completed an M.B.A. at UC–Berkeley, one of the premier programs in social entrepreneurship. He won a half-scholarship, which he took as a sign that he was heading in the right direction. He joined Good Capital, a pioneering firm that invests money and time in businesses that generate a social return. There he focused on finding new investment opportunities.
Better World Books is one of his success stories. The company collects and resells used books, many from college campuses. Ten percent of every book sale is donated to global literacy programs, including Books for Africa, Room to Read, and the World Fund. They've now reused or recycled 100 million books and raised $14 million for global literacy and local libraries. Better World Books had $15 million in revenue when Selke helped arrange a $4 million investment, $2 million of which came from Good Capital, the other $2 million of which came from angel investors who share a similar investment philosophy. Five years later, the investment has thrived, and Good Capital will generate a profit: Better World Books has quadrupled in revenue to $60 million.
Organizations like Better World Books use both tested entrepreneurial principles and innovation to address global issues ranging from poverty to environmental sustainability. Unlike traditional business entrepreneurs, their social mission is "fully baked into the products and services that company is selling," Selke says. This allows for the startup's social impact to continue even in the event of a sale to a larger corporation or the issuance of company shares to the public market.
For Selke, investing in entrepreneurs who are producing profits with a purpose is a holistic view of stewardship. The traditional model of stewardship keeps separate accounts for money that makes more money, and money that's given away to serve a public good. Why not do good while making money? Selke, and a growing collection of social entrepreneurs and impact investors, are investing their lives to prove their case. The Acumen Fund raises donations to invest in companies that create social impact, and it helps them grow. Henry Kaestner raised $11 million for Sovereign's Capital, which will invest in biblically managed businesses in southeast Asia.
"Impact investing is a holistic view of profits, the planet, and people. It's the stewardship of resources," Selke says. "Christians thinking about ways to leverage their resources are called to make sure their capital is doing good."
Josh Kwan is co-founder and chairman of Praxis, which helps Christian entrepreneurs build high-impact businesses and nonprofits. He also manages the international giving of the David Weekley Family Foundation. Dashell Laryea is an intern at the foundation and a senior at Yale University studying humanities and philosophy.
MORE FROM CHRISTIANITY TODAY