With 2014 coming to a close, we're featuring the 10 most popular Bible studies of the year. These studies include topics like marriage, war, and spiritual gifts. And they cover books from both the Old and New Testaments. Whether you like to study on your own or in a group, these popular studies will infuse great wisdom into your Bible reading.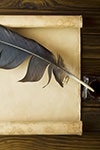 Live out the message of Jesus.
Multi Session Group Bible Study
As time passed after Jesus' death and resurrection, the believers had an increasingly difficult time remembering his actual teachings. Believers from different places were preaching different messages. As fewer and fewer people who had spent time with Jesus in the flesh were alive to share their experiences, John wrote these three letters to clear up Jesus' teachings and to call believers back to his message. The drift away from Jesus' message happens all too easily—even today—and we can all gain from John's wisdom. Learn how to stay true to Christ in a very gray world.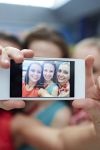 In our modern day of mobility and instant gratification, what might lifelong dedication to a friend mean?
Single Session Bible Study
Many of us long for deep friendship. Perhaps you haven't admitted it, even to yourself, but the desire for someone other than your spouse to share the joys and sorrows of life looms front and center in most of us. As the article says, we all hope for friendships that say not, "You're mine because I love you," but say, "I love you because you're mine." This commitment implies that even when my enjoyment of the friendship wanes, I will still be there and refuse to walk away. In this study we will look at the scriptural evidences that support such friendship. This study is based on a popular article from Christianity Today magazine.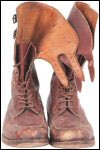 Transformation—the process of becoming holy—begins in your mind.
7 Session Bible Study
Transformation—the process of becoming holy—begins in your mind. We will see in this seven-session Bible study that the apostle Peter shows us how to begin to think differently, which will radically affect our behavior. We all make split-second decisions in any given moment to do right or wrong. To choose right, we must learn to be obedient to God, which will give us an appetite for being good. This kind of obedience will create a radical change in our relationships, so that our quality of life will improve. Finally, we will learn how to prepare for suffering that inevitably comes to everyone, as we trust a loving God who has promised to take care of us.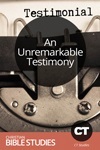 Some of us can't pinpoint a moment of conversion, and that's okay.
Single Session Bible Study
Those who were raised in the Christian faith may have trouble narrowing down when exactly they first believed. From the time of their earliest memories, Scripture and church teachings dominated what they thought about God and how they approached life. If they never strayed from those teachings, it's hard to pinpoint when and how they became Christians, which can lead to doubt. But as this study points out, our "unremarkable testimonies" can foster certainty and thankfulness instead of insecurity.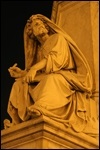 Study the real Jesus and choose to follow him wholeheartedly.
4 Session Bible Study
The Gospel of Mark is written simply through short, punchy parables. It catches our eye and draws us into the action. As we read about Jesus' miracles, we're faced with a choice: you've seen what Jesus can do; will you follow and obey? In this four-session Bible study, learn to see Jesus for who he is and what he requires of his followers.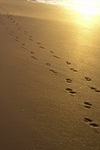 Lead your group in experiencing God's sovereignty, holiness, and love.
12 Session Bible Study
Be honest. When did you last read a book like Obadiah? Or Nahum? Or perhaps the better question is "Have you ever read Obadiah?" or "Where do I find Haggai"? The Minor Prophets form the last 12 books of the Old Testament. Theologian James Montgomery Boice comments on how the Minor Prophets dramatize the character of God as few other books do: "They highlight God's sovereignty … holiness … [and] love …. In the Minor Prophets, we will hear the voice of God speaking to us in a fresh way … as individuals and as a spiritual fellowship in the Church."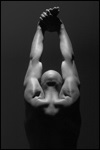 Six biblical men of integrity
6 Session Bible Study
Whether an "everyman" like Jacob or a man of supernatural strength like Samson, the Bible tells the story of many men used especially by God. This six-session Bible study will use Scripture lessons and stories to teach you about themes like obedience, equality, humility, fear, suffering, and more. This study includes leader's guides, optional activities, and profiles on each character from the Men of Integrity Devotional Bible (Tyndale, 2002).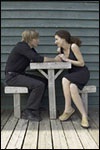 Read some helpful hints about speaking with your spouse. Then discuss!
6 Session Bible Study
Communication problems are as old as Adam and Eve. In this 6-session Bible study, we will explore what the Bible has to say about the obstacles and solutions to communication, how to communicate love to our spouses, how to avoid miscommunication, how to stop hurtful words, the importance of compromise, and finally how grace toward one another is the key to getting along.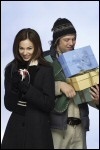 Spiritual gifts provide clues to God's intention for how we should live out our days and affirm the uniqueness of our calling as human instruments of his grace.
5 Session Bible Study
This five-session Bible study on spiritual gifts looks at our predisposed talents and how these change when we give our lives to Jesus Christ. Some spiritual gifts fit our personality, and others challenge us to grow and change. Spiritual gifts provide clues to God's intention for how we should live out our days and affirm the uniqueness of our calling as human instruments of his grace. Included is a personal inventory to help you determine your spiritual gift.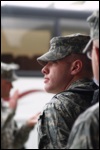 Making sense of a difficult question
3 Session Bible Study
This three-session Bible study will help you and your group think about important and intensely controversial questions that surround war, peacemaking, and terrorism. Take a look at different Christian views of war, whether we should risk life for peace, and what it means to live in an age of terrorism.