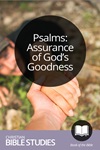 Psalms: Assurance of God's Goodness
God is always good, no matter what is happening in our lives.
7 Session Bible Study
This seven-session series on the Book of Psalms reassures us that God is always good, no matter what is happening in our lives. It also points out that God wants to be our Father, to shelter us, to give us peace, to help us avoid panic, to give us confidence, and to keep us near him.
Session One
The Father Heart of God
based on the sermon by Jim Nicodem
Discovering the privilege of being his child.
Psalm 103
Jesus taught us to call God our Father. He has graciously adopted us into his family, even though we don't deserve it. He finds joy in our companionship and pleasure in giving us good gifts. He is always good and never selfish. When we let the knowledge of who he truly is soak into our hearts, we can trust and enjoy him forever.
Session Two
Under His Wings
based on the sermon by Bill Hybels
The comforts of having a refuge.
Psalm 91
God is a refuge for his children in times of danger and distress. We all need a physical and spiritual place to go that is safe and secure. Hurting people need a refuge from their distress. This study helps us to see that we must seek the refuge of God.
Session Three
Life Is Hard, but God Is Good
based on the sermon by Joni Eareckson Tada
God is good, and his answer to our suffering is himself.
Psalm 107:1–9
Joni Eareckson Tada had a diving accident as a teenager that left her paralyzed from the neck down. The experiences she shares in this study give us perspective on the difficulties of life and on our relationship with God, and the confidence that he is good no matter what. She found comfort from Psalm 107—the same comfort we can find.
Session Four
Peace for a Troubled Heart
based on the sermon by Steve May
The key to a heart full of peace is a heart completely surrendered to God.
Psalm 4
If your troubles keep you awake at night, if peace of mind seems to elude you, then this study is for you. In Psalm 4, David showed us how we can have a heart full of peace, even when we have a head full of troubles.
Session Five
How to Attack Panic
based on the sermon by Steve May
When you've got nowhere to run, let God save you.
Psalm 31
When some people panic, they come completely unglued. Others face panic more stoically in an attempt to mask the fear. Internally, we become immobilized and powerless. This study will examine Psalm 31, which David wrote after he had endured a fit of panic. It almost got the best of him, but he overcame it through God's power.
Session Six
Confidence Builders
based on the sermon by Steve May
We can have confidence in any situation if our confidence is in Jesus Christ.
Psalm 123
Our level of confidence determines, to a great extent, how our lives turn out. Confidence makes the difference in whether or not a person gets a job or makes a sale. Confidence is a factor in how well a team plays, a leader leads, or even how effectively a church reaches its community. We need to be confident men and women if our lives are going to have an impact.
Session Seven
What to Do When God Seems Far Away
based on the sermon by Steve May
It's not a feeling we depend on; it's a faith we live by.
Psalm 13
As new Christians, most of us had a profound sense of God's presence. We often woke with bright feelings—knowing that God loved us, that we were right with him, and that all was well. Many of us assumed those early days of euphoria would last. However, with time things changed. We may no longer sense God's presence. If you've ever felt this way, this study is for you.
Psalms: Assurance of God's Goodness