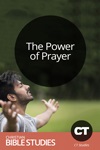 The Power of Prayer
God is working both in us and through us.
Single Session Bible Study
Overview
It's the first response to news of a sick or hurting friend—"I'll pray for you." The Bible tells us that prayer has the power to heal. So what are we to think when scientific studies seem to suggest that prayer may actually hurt patients instead of help them? It is important to understand the nature of prayer, and how it prepares us to receive and accept God's answers—whatever they may be.
Table of Contents
SCRIPTURE: James 5:13-16, Matthew 6:5-15, Luke 2:36-38
LEADER'S GUIDE
• Identify the Current Issue
• Discover the Eternal Principles
—Teaching point one: God promises to heal through our prayers.
—Teaching point two: God answers all prayer, but sometimes his answers are not what we want or expect.
—Teaching point three: Prayer helps us recognize and receive God's answers.
• Apply Your Findings
ARTICLE FROM CHRISTIANITY TODAY
• "What Do Prayer Studies Prove– When a landmark study suggests that intercessory prayer may actually hurt patients instead of help them, you have to wonder. By Gregory Fung and Christopher Fung.
Total number of pages—7
The Power of Prayer
SmallGroups.com offers a diverse set of adaptable training tools for small group models that can be customized to a church's unique needs.
14-Day Free Trial
Get complete access free for 14 days.
Featured Training Tools:

Connect People into Small Groups
A la carte price:
Theological Discussions for Everyone
A la carte price: