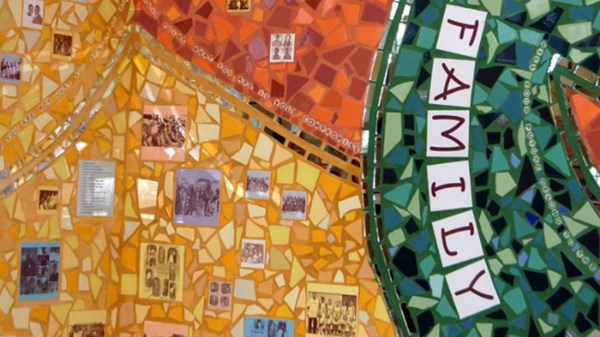 Image: Courtesy of Carolyn Elaine
Piecing Together Peace Amid Chicago's Youth Violence
Why muralist Carolyn Elaine returned to her embattled alma mater.
9.23.13

Image: Courtesy of Carolyn Elaine
In the first meeting, Elaine swallowed hard and told the group she needed $60,000. Though many in the room met her later suggestions with blank stares, a couple people would always approach her after meetings to ask how they could help. One was a vice president of U.S. Bank. "Can you get me a proposal by tomorrow morning? I have a meeting. I may be able to do something." She got him a proposal. And he got her some money.
"The rest of the money came quickly after that," Elaine says. Over the next few months of the school year, the project raised all its funding and formed important partnerships along the way.
Partnering for Peace
Two key partnerships were with Robert Spicer, dean of a then-new restorative justice program at Fenger, and with the Community Justice for Youth Institute. The grant money came with the stipulation that the project have a restorative justice component. Restorative justice is a method of reconciling offenders and victims in conflict, using conversation and teamwork to rebuild trust and foster peace. Through these partnerships, Elaine was learning that restorative justice addresses three questions: What happened? Who's been harmed? And what needs to be said to repair the harm?
"Those are the exact questions I ask when I go into a community or environment," says Elaine, "because I work with broken people and broken communities." She's led art projects for other Chicago schools, on overpasses next to Chicago neighborhoods, and even another project with Fenger in subsequent years. But the first project with Fenger was giving her a new way to understand the redemptive power of her art. "It gave me a vocabulary for what I'd been doing through my work all these years." (She began her professional artist career 16 years ago.)
Elaine's mosaics are made from pieces of ceramic tile and glass arranged into patterns and images that are grouted largely by the people she works with. "I rarely actually touch the pieces myself, I'm so busy directing and overseeing the work."
MORE FROM CHRISTIANITY TODAY