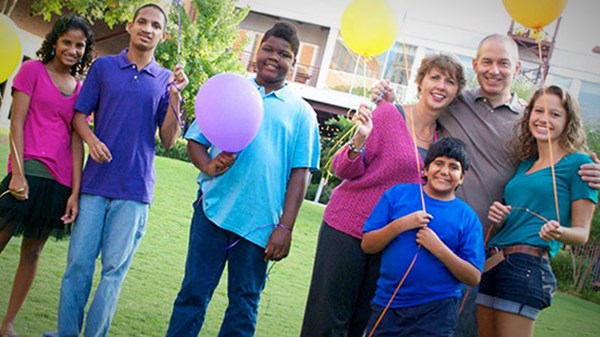 Building a Beloved Community around Persons with Disabilities
North Street Community seeks to embed the marginalized in Durham, North Carolina's common life.
7.13.12
When Traci Hoover e-mailed other parents of children with disabilities about three years ago, she had no idea what might materialize. What she did know was the isolation that comes with raising children with disabilities. Many of the group's kids, including her now 19-year-old son, John, were entering adulthood and would either be integrated into or excluded from the life of their city, Durham, North Carolina. These concerns began the incubation period for a peculiar experiment in community-building and urban renewal: North Street Community.
It is not hard to recognize the ever-shifting identity of Durham, once regarded as a booming Southern Wall Street but more recently locally maligned: seen as dirty, unsafe, and an unfortunate interstice between the seer-suckered capitol Raleigh and her charming co-ed cousin, Chapel Hill. North Street is located, notes resident Susan McSwain, on the cusp of North Durham's hipster hub and the economically depressed East Durham. The confederation of 14 renovated multifamily homes on two city blocks in Old North Durham suits its surroundings, if for no other reason than its eccentricity.
Each home is earmarked for a specific purpose. Some will house families of both children and adults with mental and physical disabilities. One or two will host Friendship Houses, which bring together persons with disabilities and seminary students. There is talk of a home for post-juvenile detention youth who want to develop life skills. North Street's closest neighbors are the Durham Athletic Park of Bull Durham fame, a farmer's market, a local brewery and concert venue, an arts school, and a Latino leftist community organization.
To listen to the stories of those involved in the start of North Street Community, one senses the many blessings, small and large, provided along the way, including the sheer unlikelihood of 14 brick buildings, abandoned and boarded but with enough structural integrity to be salvaged, and the emergence of "angel developer" Andrew Howell, who jump-started the financing of these properties and had a similar ministry vision as the future residents. This marks an early venture for Howell and Mark Moshier's development company, one Howell hopes will provide guidance, imagination, and experience for future projects.
"Everyone involved with the complex process of breathing new life into the dilapidated old buildings has been touched by a spirit of working toward a common goal," notes Howell, principal of Legacy Real Property Group in Chapel Hill. "Only the Lord could match the seemingly disparate needs of a forgotten part of downtown Durham with a community of friends … sharing a focus on those with cognitive and physical disabilities, with a developer who prefers projects that carry purpose beyond financial returns and who was looking for a debut for Legacy."
Rather than the "city on a hill" (Matt. 5:14) mentality newcomers to an urban landscape often bring, North Street more closely resembles the "leaven in the flour" (Matt. 13:33). Most residents are Christians who are committed to the slow work of community-building and an openness to their new neighbors. "Jesus Christ is the center of what we are doing here, in word and in deed," notes Jeff McSwain, founder of Reality Ministries, who helped start North Street. "Whether we lead with that always in articulating the vision, he is the Center of what we're doing. He is our True North."
North Street features several common areas that will serve as gathering spaces as well as great accessibility to outside venues. When I asked Amy Papinchak, a new North Street resident, what she most looked forward to in moving, she gave a litany of foot-accessible outings, from McDonalds to Daisy Cakes, a local cupcake shop. Each residence functions a bit differently. While some homes will be family focused, others might embody a style of common monastic life similar to Bonhoeffer's Finkenwalde Project. Even its name suggests this dual focus: to have called the group of homes "Northwood" (the interior road between rows of homes) rather than the shared North Street would have insulated it from rather than opened it up to its neighbors.
To better understand God's Spirit at work in through unexpected people might be the greatest hope for the right kind of change in U.S. cities: one that learns from the least, one that finds gifts rather than deficits, one that provides seasoning to its surroundings rather than overwhelms by force and control. Within North Street Community, perhaps the most poignant display of this spirit is Friendship House. With its predecessor and only counterpart housed at Western Seminary in Holland, Michigan, Friendship House allows four persons with disabilities to host four seminary students from nearby Duke Divinity School. Flipping the usual resident-guest relationship on its head, seminarians will live with their Friend-Residents as they complete their three-year master's degrees. The hope is that Friendship House will attract not only future Seminarian-Residents with specific interest in disability ministries, but future pastors, professors, and missionaries as well.
North Street Community residents look to Scripture like the prophet Joel's picture (also in Acts 2) of the Spirit of God being poured out on all flesh. The Spirit allows for life, unity, and the strange enlivening of each and everyone's gifts. Papinchak declares, "I think the Holy Spirit is going to bless us and make us happy, and we'll do lots more fun things that we've never done before." Indeed, there's no ambition for homogeneity. Rather, each person will be encouraged to find their full humanity in Christ and contribute that expression to their community. Perhaps this is what makes North Street both an appropriate addition and a potential catalyst to Durham's progress. Durham's cityscape allows for diversity, but the early residents of North Street are wholly relying on the Holy Spirit to enliven and bind them together in a way that might just be a parable to those on the outside looking in.
The first phase of residents is set to move in this month. In the coming months and years, the new North Street inhabitants will likely learn quite a bit. Some of the residents used to doing the teaching might receive the greatest education. They'll learn how to share space and life with each other and with their new neighbors. They'll learn how to be a part of the patchwork of a healing and growing Durham. They'll come to concretely understand that city renewal happens through self-giving and faithful presence. And collectively, they'll learn how to express gratitude, the kind Traci Hoover did when she recently scrawled in the flyleaf of her son's yearbook: "Thank you for teaching us to expect the unexpected and that relationships are the stuff of life."
Chris Breslin is associate pastor of the Gathering Church in Durham/Chapel Hill, North Carolina. He volunteers regularly at the Reality Center and contributes to the Hopeful Realism blog.
In the photo: Traci Hoover and her husband gather with John and their other children (biological and adopted) at North Street. Photo courtesy of Meredith Macy.
MORE FROM CHRISTIANITY TODAY