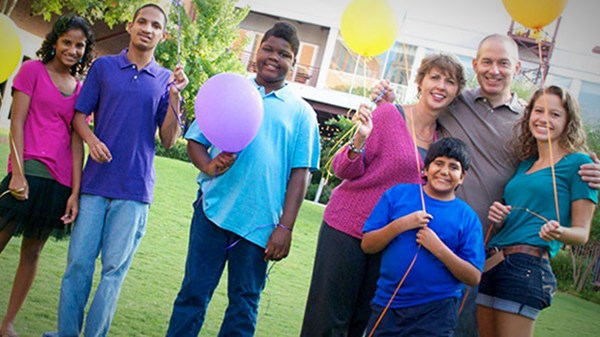 Building a Beloved Community around Persons with Disabilities
North Street Community seeks to embed the marginalized in Durham, North Carolina's common life.
7.13.12
When Traci Hoover e-mailed other parents of children with disabilities about three years ago, she had no idea what might materialize. What she did know was the isolation that comes with raising children with disabilities. Many of the group's kids, including her now 19-year-old son, John, were entering adulthood and would either be integrated into or excluded from the life of their city, Durham, North Carolina. These concerns began the incubation period for a peculiar experiment in community-building and urban renewal: North Street Community.
It is not hard to recognize the ever-shifting identity of Durham, once regarded as a booming Southern Wall Street but more recently locally maligned: seen as dirty, unsafe, and an unfortunate interstice between the seer-suckered capitol Raleigh and her charming co-ed cousin, Chapel Hill. North Street is located, notes resident Susan McSwain, on the cusp of North Durham's hipster hub and the economically depressed East Durham. The confederation of 14 renovated multifamily homes on two city blocks in Old North Durham suits its surroundings, if for no other reason than its eccentricity.
Each home is earmarked for a specific purpose. Some will house families of both children and adults with mental and physical disabilities. One or two will host Friendship Houses, which bring together persons with disabilities and seminary students. There is talk of a home for post-juvenile detention youth who want to develop life skills. North Street's closest neighbors are the Durham Athletic Park of Bull Durham fame, a farmer's market, a local brewery and concert venue, an arts school, and a Latino leftist community organization.
To listen to the stories of those involved in the start of North Street Community, one senses the many blessings, small and large, provided along the way, including the sheer unlikelihood of 14 brick buildings, abandoned and boarded but with enough structural integrity to be salvaged, and the emergence of "angel developer" Andrew Howell, who jump-started the financing of these properties and had a similar ministry vision as the future residents. This marks an early venture for Howell and Mark Moshier's development company, one Howell hopes will provide guidance, imagination, and experience for future projects.
MORE FROM CHRISTIANITY TODAY