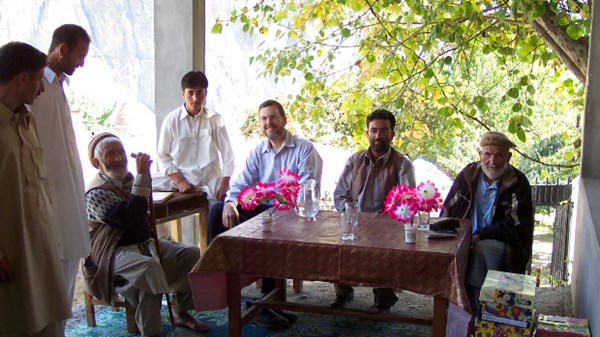 Image: Courtesy of Tim Kietzman
Choosing Marriage Over the Mission Field
How Tim Kietzman, a successful missionary eye doctor, chose quiet faithfulness despite enormous needs in Pakistan.
6.13.13
As a young man, Tim Kietzman wanted to do "something extraordinary, something very risky" for God. In his mind, that probably meant following in the footsteps of his father, who'd been a missionary eye doctor in Nigeria. As an adult, Kietzman did do great things—his innovative ophthalmologist work in Pakistan earned him one of his field's most prestigious awards in 2012.
But Kietzman's boldest act for God may have been coming home from Pakistan to repair his marriage of almost 30 years.
How he came to make that choice involved re-understanding something Kietzman calls the "Isaac syndrome." "Missionary kids are the sacrificial child for their parents doing what God wants them to do," he said. "A lot of times they feel like they're under the knife . . . like they're second-class citizens." Compounded by the sense of missing out on their home culture, the Isaac syndrome can leave missionary kids with spiritual baggage.
Kietzman never rejected God altogether, but he did enter adulthood doubting what God might want of him, and how his dreams and desires were valued. Would God let him become a doctor?
Medical Calling
For a while, his prospects seemed grim. A professor in the Wheaton College pre-med program discouraged Kietzman from pursuing his ambition. Three of his four med-school interviews passed with no return calls. When he interviewed with the fourth school, Loyola, one physician took a strong dislike to him.
Only after an unexpectedly positive interview with the dean of the school, who happened to be a Jesuit priest, was Kietzman accepted. Some of his spiritual tension dissipated. God did care.
The next few years were hectic with medical school and two residencies—his wife, Laurel, is an ER doctor—starting a family, and completing the four-year commitments to the Army they both took on instead of student loans.
Not until the mid-1990s did the Kietzmans return to the big-picture vocational questions of their early adulthood. By this time, Tim was working for a cataract practice in Georgia, and Laurel was commuting to hospital shifts in Texas while homeschooling their kids. "We'd sort of lost our family unit . . . It didn't feel like we were connected any more," Kietzman said.
MORE FROM CHRISTIANITY TODAY