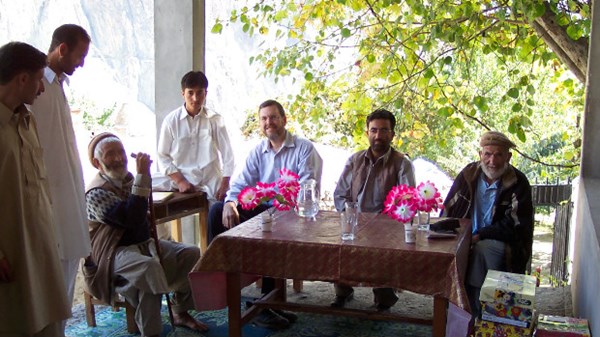 Image: Courtesy of Tim Kietzman
Choosing Marriage Over the Mission Field
How Tim Kietzman, a successful missionary eye doctor, chose quiet faithfulness despite enormous needs in Pakistan.
6.13.13
As a young man, Tim Kietzman wanted to do "something extraordinary, something very risky" for God. In his mind, that probably meant following in the footsteps of his father, who'd been a missionary eye doctor in Nigeria. As an adult, Kietzman did do great things—his innovative ophthalmologist work in Pakistan earned him one of his field's most prestigious awards in 2012.
But Kietzman's boldest act for God may have been coming home from Pakistan to repair his marriage of almost 30 years.
How he came to make that choice involved re-understanding something Kietzman calls the "Isaac syndrome." "Missionary kids are the sacrificial child for their parents doing what God wants them to do," he said. "A lot of times they feel like they're under the knife . . . like they're second-class citizens." Compounded by the sense of missing out on their home culture, the Isaac syndrome can leave missionary kids with spiritual baggage.
Kietzman never rejected God altogether, but he did enter adulthood doubting what God might want of him, and how his dreams and desires were valued. Would God let him become a doctor?
Medical Calling
For a while, his prospects seemed grim. A professor in the Wheaton College pre-med program discouraged Kietzman from pursuing his ambition. Three of his four med-school interviews passed with no return calls. When he interviewed with the fourth school, Loyola, one physician took a strong dislike to him.
Only after an unexpectedly positive interview with the dean of the school, who happened to be a Jesuit priest, was Kietzman accepted. Some of his spiritual tension dissipated. God did care.
The next few years were hectic with medical school and two residencies—his wife, Laurel, is an ER doctor—starting a family, and completing the four-year commitments to the Army they both took on instead of student loans.
Not until the mid-1990s did the Kietzmans return to the big-picture vocational questions of their early adulthood. By this time, Tim was working for a cataract practice in Georgia, and Laurel was commuting to hospital shifts in Texas while homeschooling their kids. "We'd sort of lost our family unit . . . It didn't feel like we were connected any more," Kietzman said.
Meanwhile, Kietzman grew restless, despite an ophthalmology career that was soaring. By then most doctors would have bought into the lucrative cataract practice where Kietzman worked—and he could have—but it never felt right.
After a year of struggling to discern God's calling, Kietzman e-mailed a college friend, who recommended the U.S. Center for World Mission's popular Perspectives course. Initially the Kietzmans did the video course, but partway through planning a family ski vacation, they decided to organize their own, onsite Perspectives course. Over 14 weeks, they used their vacation budget to fly in speakers for each session. Don Richardson, who had helped develop the Perspectives course in the mid-1970s and wrote Peace Child, a bestselling account of missions in New Guinea, taught one of the lectures.
As the weeks passed, the Kietzmans began to view God's will in a different light. "We stopped waiting for a light from heaven saying, 'Go to Mauritania!' or something like that," Tim says. "We just started putting one foot in front of the other."
Creative Teaching
By 2001, Kietzman accepted a cataract position in a remote, high-altitude hospital in northern Pakistan. When the family got to Gilgit, a large valley nestled among some of the world's highest mountains, it proved "a perfect playground for an ophthalmologist like me," Kietzman said.
Because of the breathtaking altitude—6,000 feet—Gilgit residents get heavy doses of UV light exposure, which causes cataracts. Compounding this risk is residents' reluctance to wear sunglasses or eye protection when blasting rocks.
An ophthalmologist friend of Kietzman's who makes short-term trips to Gilgit reports that he treats as many serious eye injuries in two weeks as he does in a year at home. Typical causes include walking into the thorns used as goat fences or blast injuries from working with the region's most popular building material: stone.
Initially Kietzman was shocked. "I thought I was in a war zone," he said. "I was flabbergasted." But because of the region's instability, walls were one of the most popular ways to protect family and possessions. Building walls meant blasting stone, usually without protection of any kind.
Further, Gilgit residents were strangely "fatalistic" about dangers to their own bodies, especially their eyes. "I found myself yelling at my patients" for not taking better precautions, Kietzman said.
After his wife challenged him to respond more proactively, Kietzman tried various interventions, none of them working. Finally, he decided to write a radio story modeled on popular local TV dramas.
He wrote a draft in English, then ran it past his mostly Pakistani clinic staff. After finding the right balance of lesson and humor—the story revolved around a man who was injured after ignoring repeated warnings—he got the script translated into three languages and recorded for radio. Kietzman himself worked out the sound effects.
Once done, he got the local radio station to air his five-minute drama. (Because of the region's linguistic diversity, airtime was already allocated to programming in each of seven languages.)
After the drama aired, Kietzman eventually saw hospital admissions for the most serious eye injuries drop 20 percent. Last November, he received one of two Humanitarian Service Awards presented annually by the world's largest association of eye physicians and surgeons, the American Academy of Ophthalmology.
Vocation of Marriage
Yet despite his gains, Kietzman was battling depression and marital strain due to a series of forced separations from Laurel. "Almost every year there was some kind of tragedy," he said. A third of the initial Pakistani families had left after the World Trade Center attacks; those who remained endured an earthquake, flooding, and then a terrorist attack on their children's boarding school near Islamabad in 2002. Six of the Pakistani staff were killed.
Shortly thereafter, the region's entire school—which had about 60 students, mostly missionary kids—was relocated to Chiang Mai, Thailand. The boarding school remained there until 2004, after security improvements to the campus near Islamabad. During that time, all the wives from the Gilgit-based families went to Thailand with their children, leaving their husbands to stay and work at the hospital.
After only one year, though, Laurel was done with being separated. In 2003, she returned to Gilgit to homeschool their boys. When the school returned to its newly fortified campus, though, Laurel was soon drafted to help fill the many staffing gaps, and the spouses were forced apart again.
"Our top priority was taking care of our boys," Tim said. "I always had this thing echoing in my mind, that from my childhood, I did not want my kids to feel the Isaac syndrome was coming back on them. . . . I always wanted them to feel like they had everything they needed to succeed in life."
So the Isaac role quietly fell on their marriage. Eventually it proved too much. "It's like the frog in the hot water," Tim said. "If we'd had all these troubles at once, we'd have pulled the rip cord way earlier." Because the circumstances worsened gradually, though, Tim and Laurel kept agreeing for the short term.
The Kietzmans finally realized there wasn't any way to be together day to day and stay in Pakistan. In 2007, Tim told the hospital board they'd need to find a new ophthalmologist, but not until late 2011 did the whole family permanently reunite. Tim spent the final 15 months in Pakistan alone.
Faced with the incredible needs in Pakistan, it was hard to put their marriage above loving the people of Gilgit. Ultimately, Kietzman said, they had to accept their limits and leave things up to God. Due to his departure, Tim spent his final few years helping the hospital and clinic staff become self-sustaining.
When I talked to him in Chicago late last year, Tim was starting to learn a completely new specialty in ophthalmology, through a fellowship near the hospital where Laurel has resumed practice. Most fellows are closer in age to Kietzman's sons, but he was upbeat about learning such a new side of eye medicine. "I'm having a good time," he said.
He didn't say what he and Laurel write in their e-mails to supporters these days. But then, no one writes supporter e-mails about the latest mundane sacrifice made for a spouse. Though Christians are called to love both stranger and spouse distinctly, we ultimately do so in response to the love of a God who praises quiet, hidden faithfulness.
Anna Broadway is a writer and web editor living in the San Francisco Bay area. The author of Sexless in the City: A Memoir of Reluctant Chastity, she has written for Books and Culture, The Atlantic, and Paste. She is also a regular contributor to Her.meneutics.
MORE FROM CHRISTIANITY TODAY