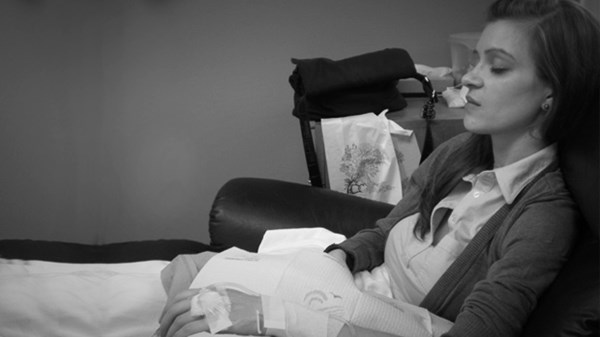 Culture Making Amid Cancer: The Choices That Suffering Makes Possible
Without getting breast cancer at age 27, would I have reached out to that Somali family on the subway?
5.16.12
I was 27 and had just earned a master's degree in medicine from Yale, and was halfway through earning a master's degree in journalism from Columbia, on my way to becoming a famous health-care reporter in Manhattan.
And then I went to my doctor because something didn't seem right, and a week later I got the confirmation: I had breast cancer. My pastor showed up that day, while I was sitting in my surgeon's office, waiting to schedule my bilateral mastectomy.
He sat with me in a silence that he occasionally punctuated with a sentence or two. "We all think the world of you, you know," he said.
I nodded.
A few minutes later he added, "Cancer's a gift that God only gives to special people."
I thought, I'm not so sure.
In spite of the mastectomy, my cancer came back and I had four more surgeries and year of chemo and radiation. During that year, my boyfriend broke up with me, I spent most of my savings on medical bills, and I had to drop out of Columbia because I was too weak to go to class. After losing everything but my life, I sold my belongings and bought a one-way ticket from New York to Portland, Oregon, where I landed with nothing but a suitcase of clothes and a broken heart. And I started over.
I thought about my story as I watched This Is Our City project's new documentary film about Kim Newlen, a woman who started a post-mastectomy fashion line for women with breast cancer. When Newlen was going through the battle herself—which, as she said, felt more like a war most days—she realized how difficult it was to wear normal clothes after the deforming surgery. And in the middle of chemo and radiation, "Ms. Matchy-Match" decided to take the risk of starting her Look Better Than You Feel business.
When I heard about Newlen's adventure, I remembered how God had used my cancer as well to do something beautiful on behalf of others—how I met a Somali refugee family on the train in Portland, and I started writing vignettes about helping them get settled in America. And then the vignettes turned into a blog, and this year the blog turned into a book deal with one of the largest publishers in the world. (The proceeds will go to start a college fund for the Somali children.)
As I've watched my messy-yet-beautiful life unfold in Portland, I've learned to see God's presence in it—not only in what he gave me, but in what he allowed to be taken away. As Kim and I and many saints before us have discovered, sometimes it takes a catastrophe to strip away our assumptions and our sense of security. Sometimes having nothing left to lose gives us an incredible freedom to take a risk we were too afraid or too comfortable to take before.
As the City project tells stories of Christians who are serving their communities in creative, sacrificial ways, I'm reminded of the city metaphor of Hebrews 13:12-14:
And so Jesus also suffered outside the city gate to make the people holy through his own blood. Let us, then, go to him outside the camp, bearing the disgrace he bore. For here we do not have an enduring city, but we are looking for the city that is to come.
The Christ we worship is not only with those who are successfully ruling over cities; he's also with the ostracized lepers and the brokenhearted cancer patients who are weeping just outside the gate. And in our pain and isolation, he's calling us to surrender everything we wanted, to release our grip on everything we thought we needed, so that he can give us himself instead.
I don't know that I'll ever believe my cancer was a gift. But as I've watched God exchange my temporary losses for his eternal joy—and as I see people like Kim Newlen take courageous steps of creativity for his name's sake—I've seen beauty emerge from ashes. I've seen strength unfold from weakness. I've seen his painful yet patient mercy working in me just beneath the scars, just outside the gate.
Sarah Thebarge lives and practices medicine in Portland, Oregon. She writes at My Tropic of Cancer, the Burnside Writers Collective, and Her.meneutics, and has written for the This Is Our City project about Jules Kopel-Bailey and Tom Perez.
MORE FROM CHRISTIANITY TODAY