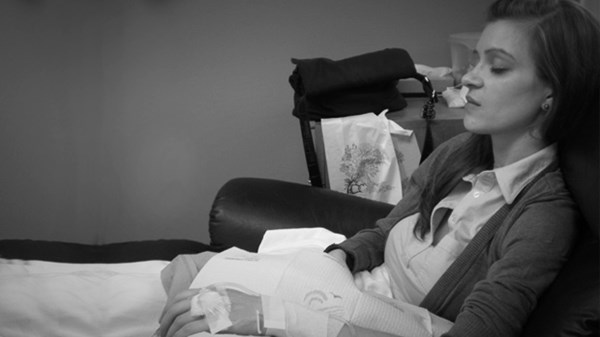 Culture Making Amid Cancer: The Choices That Suffering Makes Possible
Without getting breast cancer at age 27, would I have reached out to that Somali family on the subway?
5.16.12
I was 27 and had just earned a master's degree in medicine from Yale, and was halfway through earning a master's degree in journalism from Columbia, on my way to becoming a famous health-care reporter in Manhattan.
And then I went to my doctor because something didn't seem right, and a week later I got the confirmation: I had breast cancer. My pastor showed up that day, while I was sitting in my surgeon's office, waiting to schedule my bilateral mastectomy.
He sat with me in a silence that he occasionally punctuated with a sentence or two. "We all think the world of you, you know," he said.
I nodded.
A few minutes later he added, "Cancer's a gift that God only gives to special people."
I thought, I'm not so sure.
In spite of the mastectomy, my cancer came back and I had four more surgeries and year of chemo and radiation. During that year, my boyfriend broke up with me, I spent most of my savings on medical bills, and I had to drop out of Columbia because I was too weak to go to class. After losing everything but my life, I sold my belongings and bought a one-way ticket from New York to Portland, Oregon, where I landed with nothing but a suitcase of clothes and a broken heart. And I started over.
I thought about my story as I watched This Is Our City project's new documentary film about Kim Newlen, a woman who started a post-mastectomy fashion line for women with breast cancer. When Newlen was going through the battle herself—which, as she said, felt more like a war most days—she realized how difficult it was to wear normal clothes after the deforming surgery. And in the middle of chemo and radiation, "Ms. Matchy-Match" decided to take the risk of starting her Look Better Than You Feel business.
When I heard about Newlen's adventure, I remembered how God had used my cancer as well to do something beautiful on behalf of others—how I met a Somali refugee family on the train in Portland, and I started writing vignettes about helping them get settled in America. And then the vignettes turned into a blog, and this year the blog turned into a book deal with one of the largest publishers in the world. (The proceeds will go to start a college fund for the Somali children.)
MORE FROM CHRISTIANITY TODAY