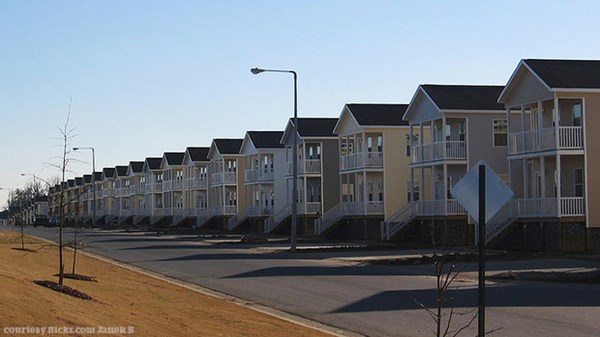 Why Suburbia Really Is Affecting Your Spiritual Life
Eric Jacobsen, author of 'The Space Between: A Christian Engagement with the Built Environment,' says place matters for human flourishing.
10.5.12
It seems that getting out and about is the first key to understanding the built environment.
Yes, for both understanding and flourishing in the built environment, we need to experience it on foot. I realize that in some environments this is impossible, but it is important to resist the temptation to jump in our cars. When we walk, we are confronted with aspects of the built environment that don't work very well. And, hopefully, we also discover aspects of the built environment that do work well.
Can you offer an example?
When my family lived in Pasadena, we deliberately chose a church, school, and activities to which we could walk. Because this was Southern California, everyone thought we were crazy, even though we were only walking distances less than a mile. But over time, our friends and neighbors joined us in walking and biking. It was fun to see how this changed not only how we experienced the built environment, but also how we related to one another. Walking or biking together to school provided a way to interact with our neighbors and their kids that wouldn't have happened if we had all been in separate cars.
As a pastor, how has your leadership been affected by engaging your built environments?
I'm not sure if I'm interested in the built environment because I like to walk to church, or I like to walk to church because I'm interested in the built environment. In any case, my pastoral identity is deeply formed by my understanding of the built environment. I think of my church not just in terms of my congregation but also in terms of my parish. I feel as if our church has been placed in a particular neighborhood for a reason, and I try to spend enough time in the neighborhood so as to hear how God wants to use us there.
If human embodiment is core to experiencing community, has the "suburban experiment" failed?
The best way to answer is through analogy. A city is like a pizza, and a neighborhood is like a slice of pizza. Just as a slice of pizza should contain all the ingredients of the pizza, each neighborhood should contain all the things we enjoy and value about the city: homes, coffee shops, ball fields, churches, grocery stores, and so on. The suburban experiment that was so influential in the 20th century involved dividing up the functions of the city into different zones: housing, shopping, office, recreation. This works about as well as eating the elements of your pizza in different courses: you're still getting the same nutritional value, but you've lost the joy of your pizza.
MORE FROM CHRISTIANITY TODAY