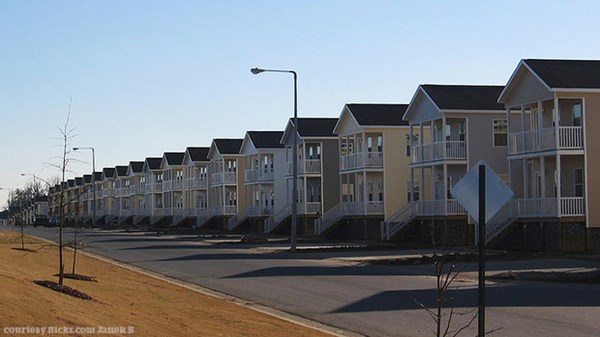 Why Suburbia Really Is Affecting Your Spiritual Life
Eric Jacobsen, author of 'The Space Between: A Christian Engagement with the Built Environment,' says place matters for human flourishing.
10.5.12
I think we're starting to realize that the suburban experiment has not done a great job of providing a satisfying experience of human community, and we're interested in building neighborhoods again.
But will building better neighborhoods with better building practices entail more neighborliness?
Over the past decade we've finally figured out that we can damage our experience of human community by designing homes and subdivisions that encourage isolation. But the pressing question now is whether we can fix the problem simply by changing our building practices. One way to frame that question is, If we re-learn how to build neighborhoods, will people automatically start acting neighborly again? I think the answer is 'no,' but it leads naturally to the question, What can the church do to help rebuild a sense of community in our neighborhoods?
Does our own busyness contribute to our disconnectedness from place?
One of the great ironies of modern life is that the people who live in "advanced" cultures, which have an abundance of resources and employ time-saving devices, tend to be more harried and stressed out than people who live without these amenities. I think that this is because the more advanced cultures tend to treat time as a commodity that can be saved and spent at will.
We become intoxicated with a sense of power over the hours of our days, and it causes us to push ourselves harder and separate ourselves from the people and places of our lives. When we can get past that illusion and see time as a gift to be received with humility, we will find that our experience of time connects us to the places we live and the people we love. Traditionally, the built environment was a key element of receiving time in a gracious way.
MORE FROM CHRISTIANITY TODAY