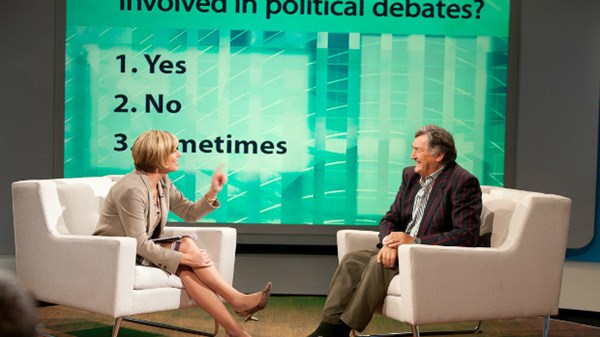 Image: Courtesy of Context with Lorna Dueck
'Let Me Impact the Media for You'
How Lorna Dueck is embodying a winsome apologetic on Canadian TV.
7.30.13
The Context team operates from the belief that the gospel is made clearer when people are unafraid to ask their critical questions. "I thank God for the Pharisees," says MacMillan. "They trekked along with Jesus, and their questions brought out the richness of the gospel. That's what [Context] does." Every episode begins and ends with Dueck framing the show's content from a gospel perspective. It's winsome yet manages to remain unapologetic about biblical truth.
Moving Closer to Mainstream Media
Dueck had previously partnered with Canada's daily Christian TV program, 100 Huntley Street, to produce Listen Up, a segment similar in intent to Context. But she recalls the day she decided to move closer to Toronto's mainstream media community—and the CBC. Walking past the downtown building that had once housed the offices of the Methodist Church and published its Bibles, Dueck noticed a line of teenagers snaking out its doors, waiting to buy tickets to MuchMusic, Canada's MTV. Once the Wesley building, the building was now owned by one of Canada's largest media companies. It had shed its religious name—and its original mandate.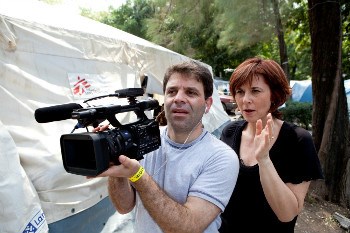 Image: Courtesy of Context with Lorna Dueck
"I realized I had been too comfortable in [my] evangelical world," Dueck says. She describes how she sensed a call to re-establish a noticeable Christian presence in Toronto's downtown.
For the next eight months, Dueck and Media Voice Generation pursued CBC executives to lease them studio and office space at 250 Front Street West. No one seriously entertained their bids.
Too small, too religious, Dueck and her team were told.
Nevertheless, the team persisted. In 2010, Media Voice successfully negotiated a five-year lease with the CBC. Within 30 days, the media charity had raised $1.8 million to secure the lease and to put the necessary financial safety net around what increased production costs would require.
MORE FROM CHRISTIANITY TODAY