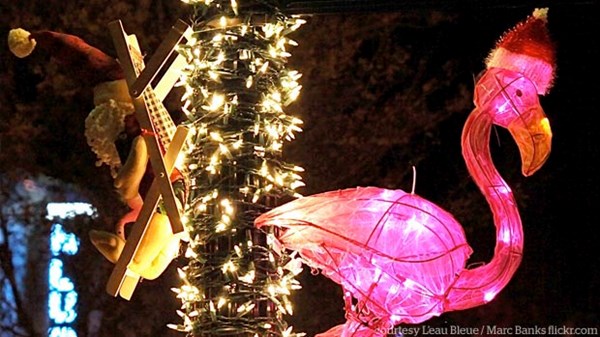 Twinkly Lights in the Palm Tree: Why I Love Christmas in Miami
The city of emigrants reveals an important truth: We are all wanderers on the earth.
12.21.11
Miami is not a place that comes to mind when most people think of Christmas. Carols, eggnog, and cookies by the fireplace, numerous viewings of It's a Wonderful Life, childhood memories, and traditions that bind the present to the past seem at odds with the sun, beaches, and the aggressive nightlife that characterize the city.
This is our first Christmas in Miami. My family moved here from Nebraska in July. Like our city, our new life is now full of extremes, contrasts, and discontinuities. The studio where I work with an internationally renowned artist consists of an 18,000-square-foot warehouse and is in a neighborhood filled with drug dealers, the homeless, prostitutes, and the Miami Rescue Mission. The contrast between this neighborhood and the image of art and culture in Miami Beach could not be more revealing.
In Miami, the first Sunday after Thanksgiving is not the beginning of Advent, but rather the beginning of Art Basel: Miami Beach, an international art fair that for 10 years has attracted thousands of art dealers, collectors, and curators from around the world to enjoy the sun and art. The church begins its new year with an Advent fast precisely when Miami gorges itself on the pleasures of culture. But like the beaches and the nightclubs, the art fair also reveals the sense of homelessness and restlessness that characterizes the city.
Most people here come from somewhere else. Like us, they have left someone or something behind. They are here for a new start, to follow a dream or to escape a nightmare. Exile and displacement are a presence for nearly everyone we meet. Miami embodies an important biblical truth: We are wanderers on the face of the earth, searching for or running away from what we cannot fully comprehend as our home. Christmas in Miami has become a constant reminder that no matter what or whom we have left, we are not home yet.
A cohort of pastors here are developing a network of churches that are gospel-centered and grace-driven, that are presenting Christ as the fulfillment of the homelessness, displacement, and restless longing that characterizes the city. Tullian Tchividjian at Coral Ridge Presbyterian Church, Rick Hunter and Brad Schmidt at City Church in Fort Lauderdale, and Keith Case, Felipe Assis, and his brother, Marcus, at Crossbridge Church in Miami are offering a foretaste of the kingdom, developing strong communities that contribute to the social and cultural flourishing of the city. And this is something that my family has experienced firsthand. It has been through Coral Ridge that we have found stability as we negotiate the challenges of our own displacement.
Although this is our first experience of Miami at Christmas, as we prepare to celebrate it for the first time this week, I think I will love it, because I have already come to love so many people God has brought into our lives on our journey in this very foreign land.
Emmanuel, God with us. Even in Miami.
Daniel A. Siedell is director of Whale & Star, the Miami-based studio of artist Enrique Martínez Celaya, where Siedell oversees research and development. Previously he taught modern and contemporary art history, theory, and criticism at the University of Nebraska-Omaha. Follow Daniel on Twitter @DanSiedell.
MORE FROM CHRISTIANITY TODAY