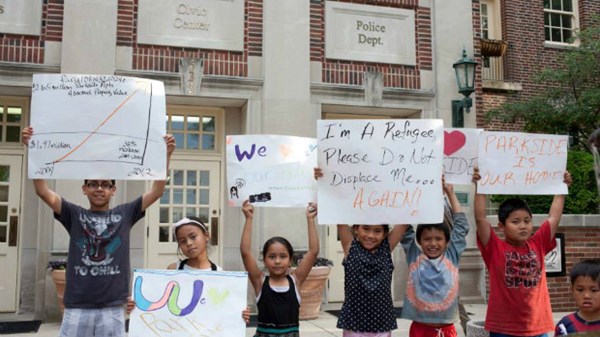 Image: Courtesy of We Love Parkside / Facebook.
Marching to Town Hall with Refugees and Immigrants
How my community stood up for the vulnerable.
7.9.13
"I am a refugee. I've been displaced once already. I don't want to be displaced again."
This is what one of my neighbors at the Parkside Apartments said to me in the midst of a recent dispute with our village. He is a young refugee from Sudan who recently graduated from Glenbard West High School in Glen Ellyn, Illinois. As I write this, his fate is still undetermined.
Parkside is a low-rent apartment complex in the wealthy Chicago suburb of Glen Ellyn. Here, 87 percent of residents are white, the average home costs more than $400,000, and the median household income tops $90,000 per year.
With World Relief resettling refugees in the area since 1979, and Exodus World Service also focusing efforts in the vicinity, Parkside has proved an obvious place to resettle refugees, who come from Burma (Myanmar), Nepal, Iran, Sudan, Congo, Eritrea, and Somalia.
Parkside is also home to a number of other immigrant families, many of whom were forced out by poverty in their countries of origin, along with an intentional Christian community of just over ten young adults. We live among the apartments, hoping to serve and learn from our neighbors and each other.
Since the days of the Jamestown Settlement and Plymouth Plantations, America has been an immigrant people, dependent on the largesse of previous bands of established settlers. Our reputation as a welcoming shore was entrenched so early that it was codified in our Statue of Liberty: "Give me your tired, your poor, your huddled masses yearning to be free."
These words were once a source of national pride. Even though each new wave of immigrants has faced prejudice and discrimination, we may now be reaching a tipping point. This centuries-long resettlement project has been so successful that it is creating tensions so severe as to threaten our historic empathy for afflicted and suffering peoples.
Part of the tension is economic. The number of newcomers is a sore spot when the unemployment rate remains unsettlingly high. Further, these families bring children—and new economic costs—into an elite local public school system.
MORE FROM CHRISTIANITY TODAY