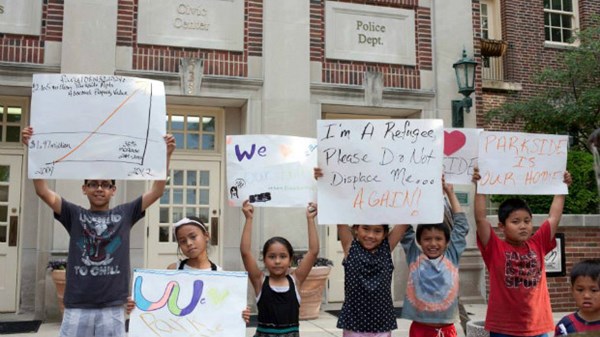 Image: Courtesy of We Love Parkside / Facebook.
Marching to Town Hall with Refugees and Immigrants
How my community stood up for the vulnerable.
7.9.13
"I am a refugee. I've been displaced once already. I don't want to be displaced again."
This is what one of my neighbors at the Parkside Apartments said to me in the midst of a recent dispute with our village. He is a young refugee from Sudan who recently graduated from Glenbard West High School in Glen Ellyn, Illinois. As I write this, his fate is still undetermined.
Parkside is a low-rent apartment complex in the wealthy Chicago suburb of Glen Ellyn. Here, 87 percent of residents are white, the average home costs more than $400,000, and the median household income tops $90,000 per year.
With World Relief resettling refugees in the area since 1979, and Exodus World Service also focusing efforts in the vicinity, Parkside has proved an obvious place to resettle refugees, who come from Burma (Myanmar), Nepal, Iran, Sudan, Congo, Eritrea, and Somalia.
Parkside is also home to a number of other immigrant families, many of whom were forced out by poverty in their countries of origin, along with an intentional Christian community of just over ten young adults. We live among the apartments, hoping to serve and learn from our neighbors and each other.
Since the days of the Jamestown Settlement and Plymouth Plantations, America has been an immigrant people, dependent on the largesse of previous bands of established settlers. Our reputation as a welcoming shore was entrenched so early that it was codified in our Statue of Liberty: "Give me your tired, your poor, your huddled masses yearning to be free."
These words were once a source of national pride. Even though each new wave of immigrants has faced prejudice and discrimination, we may now be reaching a tipping point. This centuries-long resettlement project has been so successful that it is creating tensions so severe as to threaten our historic empathy for afflicted and suffering peoples.
Part of the tension is economic. The number of newcomers is a sore spot when the unemployment rate remains unsettlingly high. Further, these families bring children—and new economic costs—into an elite local public school system.
But the stereotype of low-income immigrants sponging off upper-middle-class citizens is shamefully inaccurate. Most Parkside residents work long hours for low pay in unattractive service-sector jobs that directly benefit the surrounding community. One of our neighbors, an immigrant from Mexico, works in the drive-thru at the McDonald's down the street. She has lived with her family at Parkside for more than 20 years. Many of us have been blessed by her delicious cooking and generous spirit. Her eldest son is now a student leader at Wheaton College. Although he lives on campus, he has remained actively involved in our neighborhood and regularly visits.
Part of the tension is also likely racial. As whites for the first time become a minority in America, most of these refugees and other immigrants come from the majority world, and their skin color and attire easily set them apart.
Whatever the motivations, pockets of immigrants and refugees create tensions in wealthy suburbs like Glen Ellyn. In our particular case, village officials have complained that the grass in the two interior courtyards keeps dying because the kids play outside too much. They've threatened to fine the owners of the complex if they don't figure out a solution. The Village suggested building fences along the sidewalks so that kids could not step off them and onto the grass.
Vulnerable Village Members
Matters took a much more serious turn recently, when all Parkside residents received a legal notice from the Village of Glen Ellyn. The notice included a proposal to include our neighborhood in a new TIF district that "may reasonably be expected to result in the displacement of residents."
TIF (Tax Increment Financing) districts help local governments to raise revenue from property taxes to subsidize development. While originally intended to help improve "blighted" neighborhoods, research has demonstrated that TIFs regularly end up harming and displacing low-income communities like Parkside, even when carried out with the best of intentions.
When the Village announced a public meeting this summer to discuss the TIF proposal, our intentional community and many of our neighbors mobilized to ask friends and churches for support. We love living in Parkside because of the schools, our jobs, our churches, our neighboring friends and family, the safe and vibrant community, the affordable rent, and the cultural richness. Many of us are refugees who have already been forcibly displaced once. Some of us have lived here for over a decade. This is our home. And we do not want to be sent away.
Upward of 300 people came out to the village public meeting—roughly half from Parkside itself and half from the surrounding areas—to voice support for our neighborhood. About 100 residents and friends marched about a mile from the apartments, straight down Main Street to the Glen Ellyn Civic Center. They carried homemade signs, waved American flags, and cheered, "We Love Parkside."
As we gathered in front of Town Hall, a local pastor prayed for the meeting. Then our group filed peacefully past the police officers that had been sent out to monitor the situation. On the third floor, we packed out the meeting room, two overflow rooms, and the halls and doorways in between.
Among those gathered were leaders from prominent churches, local teachers, Wheaton College professors, World Relief staff, and many lay Christians who had become involved at Parkside in one way or another. As Matt Woodley, pastor of compassion ministries at Church of the Resurrection, put it: "We're not against economic development, but we won't let the most vulnerable members of our community bear the brunt of our progress."
Alone, our neighborhood is easy to write off. The majority of us are poor, do not speak fluent English, and lack sociopolitical influence. But with the help of our many friends and supporters, we made our voice heard. After the public meeting, we were featured in CBS Chicago, WBBM News Radio, the Chicago Tribune, and on the cover of The Daily Herald, the main newspaper serving the Chicago suburbs. One reporter told us he had never seen a village meeting quite like that.
When it came time for public comments—which went late into the night—village officials remained disappointingly vague. They listened politely but declined to provide concrete answers to most of our questions. They said we have nothing to worry about yet, but the lawyers and experts we've consulted think we do.
We do not know the fate of our refugee neighbors. But through the process, we have seen lives changed and hearts transformed through relationships with them. It is a privilege to witness local Christians coming together across diversities of age, culture, race, and socioeconomic status, to stand together for our beautiful but vulnerable neighborhood. This diversity, community, and cooperation express the kingdom of God.
Wani Suliman lives upstairs from me and is a much-loved leader in our neighborhood and in his local church. His family fled Sudan and spent 17 years in Egypt before finally being resettled in the United States—at Parkside in Glen Ellyn—nine years to the very day of the Village meeting. When his turn came to speak, Wani shared passionately about how much his family loves living at Parkside, how beautiful a community it is to raise kids in, and how concerned they were upon receiving the legal notification from the village. He thanked the friends and supporters who came out to help protect his home. He ended with his hope that he will still be living at Parkside a year from then, on their tenth anniversary in America, and for many more anniversaries beyond that.
The rest of us hope so, too.
Ben Lowe is director of young adult ministries for the Evangelical Environmental Network and national spokesperson for Young Evangelicals for Climate Action.
MORE FROM CHRISTIANITY TODAY