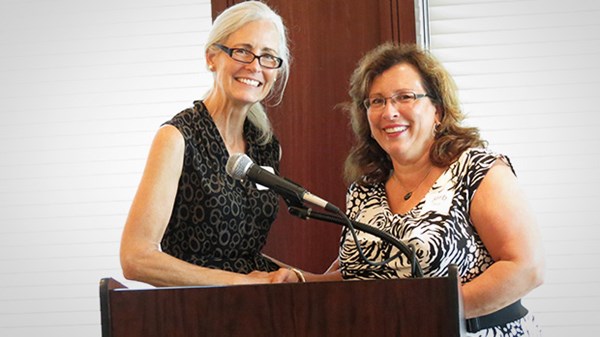 More Than Sales and Coupons: Giving Circle Connects Suburban Moms to Indianapolis
Cindy Palmer and Barb Tait's Kaleo giving circle is part of a bigger trend in U.S. philanthrophy.
6.12.12
In two studies in 2005 and 2007, the Forum of Regional Associations of Grantmakers uncovered a substantial and growing philanthropic phenomenon: the Giving Circle. As the name suggests, giving circles are groups of individuals who decide to pool their money—and sometimes their talents—to make a bigger difference in their locality or a national or international cause. Over 400 circles have been identified in 44 states. Present in both large and small cities, giving circles are estimated to have raised over $100 million for charity.
Cindy Palmer and Barb Tait, two Christians from Indianapolis, didn't know about these studies four years ago when they founded a circle called Kaleo (Greek for "called"). But their creation embodies the positive findings from the Forum researchers' investigations: that members of giving circles "give more, give more strategically, and are more engaged in their communities."
Take Dori Morton, for example. As a result of joining Kaleo, she and her husband will be leaving their suburban home and relocating into the inner city this summer. She says it's all because she has "learned to see our city as God does." Other Kaleo members say they are serving more, and in more meaningful ways, now than ever before. As member Ann Ost put it, "You can go through life trying not to know about these painful things too personally, because it can be so overwhelming. But when you get your feet wet and are in the midst of it, and you see all the ways that you can contribute and participate in what God is doing, it's a joy to give yourself." Tait admits that she used to "serve when it was convenient"; now she views all her time as belonging to God. She longs to place herself where he is active, because "when you go where God is, it's a holy place."
Ellen Smitson says her involvement with Kaleo has increased her financial giving. "When you hear and see other Christians being generous, it just makes you want to be more generous."
These testimonies are music to Palmer's ears. She started the group not only to bless the city, but also to deepen the faith of suburban women. She says she got a vision for Kaleo when sitting at lunch years ago with some friends. "They were talking about sales and coupons and I'm like, 'Is this what I have to look forward to when I quit working?' " Palmer adds: "The Lord laid on my heart that here we are, women of resources, women who've been soaking up Bible studies, women with money, and if God would raise us up, we could change everything."
MORE FROM CHRISTIANITY TODAY