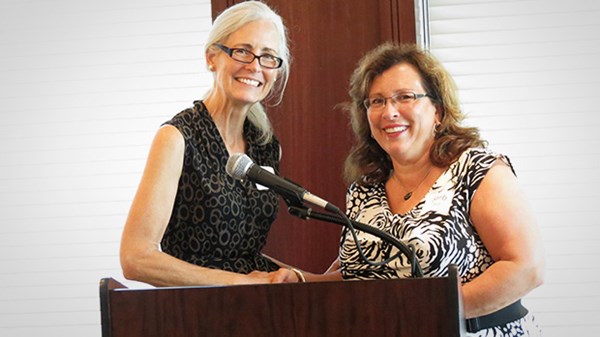 More Than Sales and Coupons: Giving Circle Connects Suburban Moms to Indianapolis
Cindy Palmer and Barb Tait's Kaleo giving circle is part of a bigger trend in U.S. philanthrophy.
6.12.12
In two studies in 2005 and 2007, the Forum of Regional Associations of Grantmakers uncovered a substantial and growing philanthropic phenomenon: the Giving Circle. As the name suggests, giving circles are groups of individuals who decide to pool their money—and sometimes their talents—to make a bigger difference in their locality or a national or international cause. Over 400 circles have been identified in 44 states. Present in both large and small cities, giving circles are estimated to have raised over $100 million for charity.
Cindy Palmer and Barb Tait, two Christians from Indianapolis, didn't know about these studies four years ago when they founded a circle called Kaleo (Greek for "called"). But their creation embodies the positive findings from the Forum researchers' investigations: that members of giving circles "give more, give more strategically, and are more engaged in their communities."
Take Dori Morton, for example. As a result of joining Kaleo, she and her husband will be leaving their suburban home and relocating into the inner city this summer. She says it's all because she has "learned to see our city as God does." Other Kaleo members say they are serving more, and in more meaningful ways, now than ever before. As member Ann Ost put it, "You can go through life trying not to know about these painful things too personally, because it can be so overwhelming. But when you get your feet wet and are in the midst of it, and you see all the ways that you can contribute and participate in what God is doing, it's a joy to give yourself." Tait admits that she used to "serve when it was convenient"; now she views all her time as belonging to God. She longs to place herself where he is active, because "when you go where God is, it's a holy place."
Ellen Smitson says her involvement with Kaleo has increased her financial giving. "When you hear and see other Christians being generous, it just makes you want to be more generous."
These testimonies are music to Palmer's ears. She started the group not only to bless the city, but also to deepen the faith of suburban women. She says she got a vision for Kaleo when sitting at lunch years ago with some friends. "They were talking about sales and coupons and I'm like, 'Is this what I have to look forward to when I quit working?' " Palmer adds: "The Lord laid on my heart that here we are, women of resources, women who've been soaking up Bible studies, women with money, and if God would raise us up, we could change everything."
Kaleo members each pledge $1,000 each year for two years. The vast majority are white, suburban moms, most empty-nesters or approaching that stage. They participate in an 8-month "Urban Workshops" series to learn about God's heart for the poor and the city, and are encouraged to serve hands-on together with nonprofits working among low-income women and children.
Sandy Sides, a relatively new Kaleo member, says her involvement "has opened my eyes to the injustices in my city and in my own backyard." New members take a bus tour of the inner city facilitated by a veteran urban ministry leader, Tim Streett. "They see and they hear the history of how these neighborhoods were formed, and all of a sudden they're saying, 'Yeah, we want to make a difference in our city!' " Palmer says. "And they want to go to places that they tried to avoid before." For member Kathie Fox, the group has provided the "vehicle and the moral support needed to get out of the Christian bubble it's so easy to find yourself in."
Palmer and Tait aren't surprised by the transformations they've seen, because they have experienced such change themselves. Tait reports her newfound relationships with urban families exposed her prejudices and have helped her to stop idolizing educational success. Palmer says she hopes she is less of a "bucket Christian" and more a "pipe Christian" now, giving herself away in imitation of Christ. "We are made to serve, and when we serve, we find life," she emphasizes.
"I was a joyful person before," Palmer continues. "But now I know a joy level that's so increased, and I see it increased in our members. I watch women come to Kaleo a little bit uptight, a little bit fearful, a little rigid. Then you see them come to life, and they become even more beautiful through their serving. Their joy is huge."
Jay Height has seen a lot of volunteers in his 14-year tenure as director of Shepherd Community on Indianapolis's near eastside. He's impressed by the quality and maturity of Kaleo members. "Kaleo brought a servant's heart to the city to learn, to ask questions, and to try and meet the needs as defined by those from our neighborhood," Height says.
Through its first four giving cycles, Kaleo has raised $197,000. Its grant to Outreach Inc., reports executive director Eric Howard, "enabled us to expand our program to help more homeless high-school students." He appreciates that Kaleo women have come alongside both some of his "frontlines" female staff to encourage them, and also have mentored the teenagers served by the ministry. Kaleo's donations have also increased staffing for the women and children's wing at Wheeler Mission Ministries' homeless shelter, underwritten new curriculum for use at Shepherd Community, and enabled Neighborhood Christian Legal Clinic to open an intake center at Wishard Hospital.
Across the border in Ohio, Krista Sisterhen is replicating the Kaleo model in Columbus. She says two things attracted her to the Indianapolis group. "I loved the emphasis they placed on giving time and talent as well as treasure," she says. "I was also inspired by their thoughtful approach to applying those gifts to meet strategic felt needs in their city." Sisterhen's giving circle has engaged about 70 women so far and has granted just over $60,000 to three ministries that serve women and children in the greater Columbus area.
Photo courtesy of Diana Hunter.
Amy L. Sherman is a senior fellow with the Sagamore Institute. Her most recent book is Kingdom Calling: Vocational Stewardship for the Common Good (InterVarsity Press), which includes an abundance of stories of Christians contributing to the flourishing of their cities. More at ivpress.com.
MORE FROM CHRISTIANITY TODAY