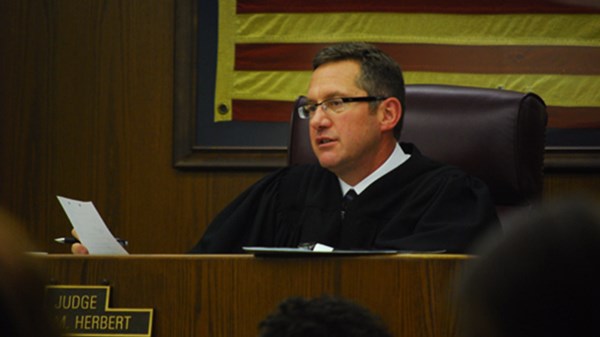 Oldest Profession, or Oldest Oppression? Ohio Judge Creates Court for Abused Prostitutes
Out of Christian compassion, Paul Herbert created CATCH Court for women arrested on the streets.
6.1.12
In 2008, Paul Herbert was using Rick Warren's The Purpose Driven Life to disciple his teenage daughters on Sunday evenings. They weren't enjoying it much. One night, they turned the tables on him. "One asked me, 'Daddy, what's your purpose in life?' "
"That really got me," says the Municipal Court Judge of Franklin County, Ohio. He gave a vague answer about being "a light on the bench," but that night, he prayed candidly to God. "I said, 'God, I realize that being a judge is a very unique position. Not many people get this opportunity. Can you show me some way that I could be significant for you in my work?' "
About nine months later, Herbert, 51, was presiding in arraignment court. A typical procession of domestic violence victims passed before him. "A woman will come in, and she'll have these bright red marks around her neck. Clumps of her hair will be pulled out, maybe she'll have a puffy eye or a broken jaw—it's horrible." After seeing several of these women, the sheriff brought a prostitute before him. "She looked exactly like one of those victims that I'd been seeing," Herbert recounts. It shook up his categories.
Soon after, Herbert began researching the criminology of prostitution. What he learned stunned him. "Around 87 percent of these women are sexually abused, typically starting at around age 8," he explains. "They start using drugs to deal with that trauma around age 12." The girls run away from home or foster care and are dragged by predatory pimps into the commercial sex trade. "They are not in this lifestyle because they are nymphomaniacs who want to have sex with 15 different men a night."
Before, Herbert admits, "I would have said that women engaged in prostitution were involved in the world's oldest profession." Now he considers it "the world's oldest oppression."
Herbert decided to establish a restorative justice program for these women, launching CATCH Court—"Changing Attitudes to Change Habits"—in September 2009 with the support of his colleagues. Traditional treatment and probation had never been successful with this population, Herbert explains. Prostitutes simply cycled in and out of jail. The other judges told him, "If you want to try this experiment, go right ahead.'"
Through the two-year CATCH Court, women are sent to residential rehabilitation programs to detox and receive intensive therapy. Their movements are monitored electronically, they are subject to random drug tests, and they appear before Judge Herbert weekly in the courtroom to report on the progress. "I wish you could see the way they interact with each other," he says. "They all have each other's phone numbers, and they call, and they make meals for each other, and if one's in the hospital, they all go visit her. It's an amazing community."
U.S. District Court Judge James Graham encouraged Herbert when he first heard of the idea of an alternative court, and he has personally attended three sessions of CATCH Court. "The program helps these women get clean and sober and to get healthy, physically and emotionally, and use their own abilities to make a new life for themselves," Graham says. "This ultimately restores families and is a great benefit to our community … and also saves the continued cost of prosecution and incarceration of these women in a 'revolving door' that can go on for decades."
Two secular and one faith-based facility have partnered with CATCH Court. Herbert explains that the program lasts two years because "that's the model for typical specialty courts. If you can stay sober for two years, you have a higher likelihood of success."
Thus far, 72 women have participated in the program. In testimony at the State House in May on a bill to increase penalties on human traffickers, Judge Herbert described some of the women. "One was sold when she was a little girl by her mother to older men for crack cocaine," he told the Judiciary Committee members. "Today she is in Phi Theta Kappa at Columbus State Community College." Another was kidnapped by a motorcycle gang and raped, then transported to other gangs and sold for sex. "Now," Herbert smiled, "she is two years sober from heroin." Overall, 66 percent of CATCH Court participants have received no new charges.
So far the success of CATCH has saved the state nearly $1 million. "We've saved $945,630 so far in jail costs alone," Herbert says. "But the thing that really matters is transformed lives." He shows me before-and-after pictures of some of the CATCH Court graduates. He compares one woman's dead-eyed mug shot to a recent photo of her with a bright smile. "Look at that, and tell me that's not worth it."
Herbert says CATCH Court has made Luke 7:47, about those who have been forgiven much, loving much, come alive for him. "The Holy Spirit continues to reveal how much I've been forgiven, and how similar I am to the individuals that come before me," he admits. "That's really hard to say! When you've got the robe, and you've got the bench, and you've got the job, and your job is to judge. But the farther I go along [in my faith], the more I realize that I'm just like most of them—and that makes me more understanding, more kind, more merciful."
With some 1,000 women typically arrested in a year for solicitation in Franklin County, CATCH Court's impact thus far has been limited. Though the program is well known on the streets, space is limited at the rehab centers. "That's the biggest impediment," Herbert laments. "It's hard to get someone to say, 'I'm going to do two or three months in jail waiting on treatment.'"
Herbert also notes the disparity in the prosecution of "johns" (customers) and pimps, a legal gap that's created problems in other cities. "It is just as illegal to buy sex as it is to sell it," Herbert said. "If each of the 1,000 prostitutes arrested per year were with a low estimate of just three johns per week, that works out to 3,000 john crimes per week."
Data collected by the court confirm that 90 percent of women engaged in prostitution are also considered human trafficking victims—meaning that some type of force, fraud or coercion is part of the prostitute's lifestyle. Herbert hopes that as more light is shown on this problem, society will place more emphasis on protecting vulnerable women and girls. "Traditionally, this has not been an area that has been enforced." He's hopeful this can change—especially since Columbus's new police chief, Kim Jacobs, the first female in that role in Ohio's history, recently visited CATCH Court to meet personally with participants.
Dr. Amy L. Sherman's most recent book is Kingdom Calling: Vocational Stewardship for the Common Good (InterVarsity Press), which includes an abundance of stories of Christians contributing to the flourishing of their cities. More at ivpress.com.
MORE FROM CHRISTIANITY TODAY