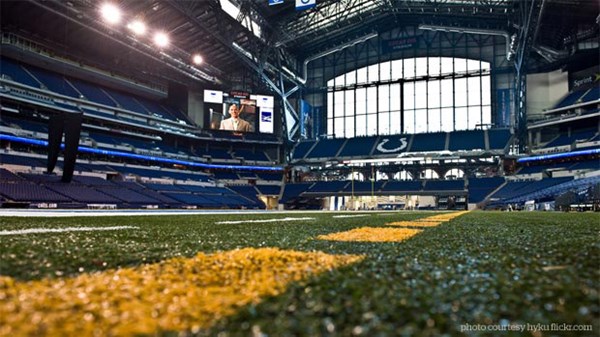 A Legacy in Indianapolis That Outlives the Super Bowl
Long before the NFL named my hometown this year's host city, Near Eastside leaders were revitalizing the heart of their neighborhoods.
2.1.12
Since the early 1990s, the NFL has a tradition of leaving a legacy in each Super Bowl host city by helping to fund a Youth Education Town (YET) there. YETs are typically built in lower-income neighborhoods to offer afterschool programming, including sports, tutoring, arts, and career training. But long before Indianapolis became the host city for Super Bowl XLVI, churches, including my own, and neighborhood groups on the city's Near Eastside were diligently working to leave a positive legacy of a different kind.
The vision began years ago. In 2008, as Indianapolis was creating a bid to host Super Bowl XLVI, the city decided it wanted to do something different: Instead of building a YET, Indianapolis's Super Bowl Legacy Project would showcase an entire neighborhood, with the YET being one part of the effort. Bill Taft, Indianapolis director of the national nonprofit Local Initiatives Support Corp (LISC), e-mailed Mark Miles, chairman of the Super Bowl Bid Committee, and pitched the idea of focusing on an entire neighborhood. Miles, inspired by former NBA player Kevin Johnson's work in Sacramento, was receptive to the idea. Taft suggested two neighborhoods that had been part of the Great Indy Neighborhoods Initiative, in which neighbors developed a vision for rebuilding their communities.
The 2012 Host Committee decided to showcase the Near Eastside, 21 neighborhoods just east of downtown Indianapolis. The choice was apt, for the Near Eastside neighbors have a long history of talking and working together. For example, the Near Eastside Community Organization (NESCO) was founded in 1970, before the worst urban challenges hit the neighborhood, and churches were the driving force during NESCO's early years. Though NESCO has broadened its horizons beyond its church roots, many churches are still deeply involved in its work, including my own, Englewood Christian Church. NESCO is still driven by a Christlike cooperation rooted in a love for neighbors and place that allows neighbors to set aside their selfish interests and seek the good of their community.
In 2007, Near Eastside neighbors convened as part of the Great Indy Neighborhoods Initiative, working intensively for six months to imagine a flourishing future for the neighborhood. The result of these conversations was a Quality of Life Plan that outlined redevelopment in seven areas: Family Strengthening, Education, Public Safety, Affordable Housing, Business and Economic Development, Livability, and Leadership and Neighborhood Connections. In partnership with LISC and a host of local organizations, the Near Eastside lost no time in working toward their plan. The John H. Boner Community Center got a major facelift, and many other redevelopment projects popped up along the East 10th Street corridor running through the heart of the neighborhood.
Becoming the focus of the Super Bowl Legacy Project opened doors for the neighborhood to leverage a variety of funding sources to make significant progress toward the Quality of Life Plan. Through this effort over the past five years, over $150 million has been invested toward objectives related to the Plan. And perhaps most importantly, each initiative or project is led by entities within the Near Eastside. This funding has been used to jumpstart the revitalization of the housing stock, particularly in St. Clair Place, an area that had been largely abandoned. Other major projects included overhauling the streetscape along the 10th Street Corridor, building a new facility for the People's Health and Dental Center, and launching Pogues Run Grocer, Indy's first food co-op, which makes healthy and locally produced fare available in what's otherwise a food desert.
The Super Bowl Legacy Project also brought the Chase Near Eastside Legacy Center (which houses the Super Bowl XLVI YET) to the campus of Arsenal Technical High School. Like other pieces of the project, the John H. Boner Community Center assembled funding from local, state, and national sources to complete the $11.4 million center, which will provide fitness and education to Near Eastside. As it has in other Super Bowl host cities, the NFL provided the first $1 million as seed funding. This type of gathering place is one important piece of the Near Eastside neighbors' vision for their neighborhood and is the first YET to be completed before the Super Bowl. It's clear that the Legacy Center will contribute deeply to the health and flourishing of the place.
The Super Bowl has offered a wonderful opportunity to showcase the comprehensive community development work on Indy's Near Eastside. But this sort of development is not unique to this place. Rather, it is good work in which churches everywhere can be involved. The most effective development of places is done from the inside out—by neighbors who organize themselves and work together.
Robert Lupton, one of the founders of the Christian Community Development Association known for his work in urban Atlanta, emphasizes in his new book, Toxic Charity, that the collaboration of neighbors is essential to lasting community development. "Governments can give millions, rock bands can do benefit concerts, ex-presidents can champion causes" he writes, "but in the end what takes place in the community, on the street, in the home, is what will ultimately determine the sustainability of any development." And churches, as communities called into active witness to God's reconciliation of all things, are uniquely positioned to lead these comprehensive and sustainable development efforts. First, they teach that place matters by demonstrating selfless commitment over time to a community. (Anyone who questions that places matter should read Duke theologian Willie Jennings's recent book The Christian Imagination, which recounts the vast human and ecological wreckage caused by Western Christianity's long history of displacement.) Second, churches can lead the way in creating spaces where neighbors have open and honest conversation about the future of their place. I have told the story of Englewood Christian Church's experiments with conversation here and in my recent book, The Virtue of Dialogue, and have also argued there that conversation is an essential and timely practice for churches to recover. Finally, as we begin to imagine a way forward with our neighbors, churches can join in the work of finding and leveraging the resources needed to embody the neighborhood's shared hopes and dreams.
To be sure, the Super Bowl has offered the Near Eastside a rare opportunity to showcase its work, which has translated into additional human and financial resources. But our experience tells us that when we commit to a place and begin to look at our neighborhoods with new eyes—not as under-resourced, but as full of diverse resources—we begin to see it become healthier and full of life. New and different resources are identified. Strong connections are made that serve the neighborhood well during hardship. This inside-out development is the key to healthy and thriving places. Churches, in whatever location they find themselves, can play a vital role in this sort of cultivation of places if they understand and follow their calling to mature together into a rooted and imaginative embodiment of the shalom of Christ, and simultaneously to work diligently with their neighbors in seeking the common good of their place.
C. Christopher Smith is a member of Englewood Christian Church on Indy's Near Eastside and editor of The Englewood Review of Books. Author of the recently published eBook The Virtue of Dialogue (Patheos Press 2012), he is cowriting a book entitled Slow Church (forthcoming IVP/Likewise).
MORE FROM CHRISTIANITY TODAY