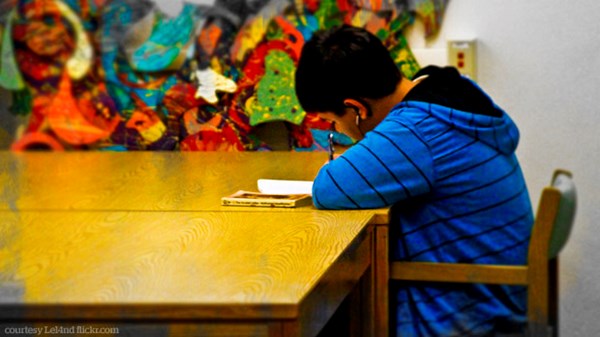 Waiting for the Real Superman: A Christian School Closes the Achievement Gap
Hope Academy in Minneapolis says its success reaching at-risk youth rests on Jesus.
4.19.12
Nearly 15 years ago, Russ Gregg began doubting that he understood what it meant to love his neighbor. Living in the Phillips neighborhood of urban Minneapolis, he commuted every day to the upscale suburb of Edina, where he was an administrator at the private Christian academy where his children attended school. The question—"Does it mean that everything I want for my children, I should want for my neighbor's children as well?"—began to haunt him.
After resigning from his position in Edina, Gregg began the process of cofounding Hope Academy, a private K-12 Christian school in one of the most economically challenged, ethnically diverse regions of the Twin Cities. Founded in 2000 and graduating its first class of seniors this spring, Hope provides a "God-centered education for the youth of the city," with a commitment to make tuition affordable for all 300 students, regardless of income and religious persuasion.
And it's hard to argue with the claim that something remarkable is happening here: Hope's 2010 "Hope by the Numbers" report indicates that its students, most of whom live in the surrounding neighborhoods, are performing at twice the level of the city's public school students. Only 35 percent of students of color in Minneapolis's public schools will graduate from high school. Those who do graduate exhibit on average an eighth-grade reading level. By contrast, 70 percent of Hope's students test proficient in math and reading, and next month the school will graduate its first senior class, a watershed moment in Hope's history. "It's the realization of a dream come true," says Gregg, head of school. "You don't grow an oak tree overnight."
Over 75 percent of students at Hope are ethnic minorities, the vast majority of whom live below the poverty line. But 80 percent of the average student's tuition is covered by partner scholarships with individuals and organizations. As Dan Olson, director of development, explains, "We are an upside-down school in terms of who we serve. We give greatest priority to students who can't afford to be here. It's a rescue mission for at-risk inner city youth." Indeed, Hope will often turn away prospective students who don't satisfy various at-risk factors, a trend that has become more common in recent years as the school's reputation has grown throughout the Twin Cities.
MORE FROM CHRISTIANITY TODAY