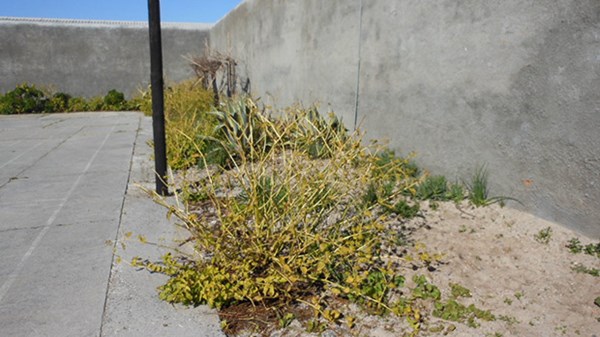 Image: flickr.com mikecogh
Planting Gardens in Prison: Why We Labor for Shalom Now
Even though we know we can't usher in God's kingdom, we're still called to establish order, beauty, and abundance in this life.
10.9.12
How do we cross the gap between our vision and our reality? We plant gardens. We work to cultivate a small piece of the wilderness of this world so that it reflects what we know the world ought to be. When we do this successfully, it brings hope—a small taste of freedom, as Mandela discovered.
Consider John the Baptist locked away in Herod's prison. In that terrible place, all he could see was the wilderness of this world, the injustice and evil of corrupt systems and men. Filled with doubt, John sent his friends to Jesus to ask, "Are you the one?"
Jesus did not condemn John for his lack of faith. Instead he said, "Go tell John what you have seen. The deaf hear, the lame walk, lepers are cleansed, the dead are raised, and the poor have the good news preached to them." Jesus helps John see what he is cultivating—the way he was reaching across the gap and planting the order, beauty, and abundance of God's kingdom within the wilderness of the world.
Jesus is the Gardener who comes to cultivate the kingdom of God among us. He comes to bring order from chaos—he calmed the storm with just a word. He brings beauty from ugliness—he restored bodies and raised the dead to life. He brings abundance from scarcity—he fed multitudes with just a few fish and loaves. And when his Spirit comes upon his people, we see them cultivating the very same things. At times this occurs through miracles, as when Peter healed the paralytic outside the Temple (Acts 3). Other times it occurs through transformed lives, like when the disciples shared everything in common so that none were in need (Acts 2, Acts 4).
We, the people of Christ, are here to plant the seeds of his kingdom; to cultivate gardens of order, beauty, and abundance in the wilderness of this world. These gardens not only draw people to our God, and they not only point to the restoration of all things that is yet to come. The gardens we cultivate through the resurrection power of Christ also bring flourishing here and now. They bring life into our communities. They bridge the gap between the world that is and the world that is yet to come.
MORE FROM CHRISTIANITY TODAY