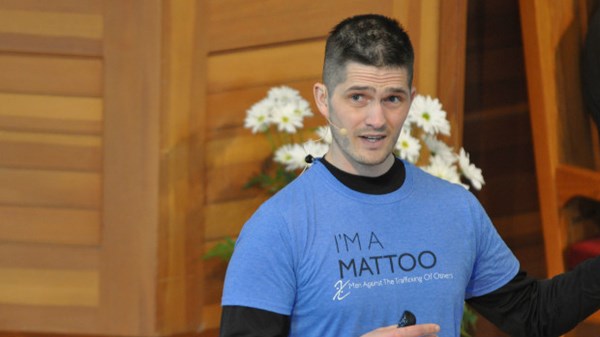 Image: Photo courtesy of Jessica Lynch and Charlie McGlynn
Yes, Sometimes We Can Serve Both God and Mammon
My congregation's experiment in using market values to grow our mission.
10.7.13
I've always believed that the church exists on earth for the sake of mission—the tangible, embodied love of Christ. It's the one thing we do on earth that we won't do in heaven. More than well-done music and a well-honed sermon in a well-crafted building, the church is called to take up concrete things done with and for other people: feeding the hungry. Visiting the sick. Loving neighbors. Speaking truth. Loving enemies. Sharing the gospel.
Given this, it seems odd that many churches treat mission with nickel-and-dime efforts: a few hundred dollars a year to this agency, another check to that, a short-term trip here and there. Churches outsource much of their mission work to specialized organizations. Though both efficient and expedient, doing this has a way of teaching us to be donors instead of doers.
Arriving as the new minister at my church—a fairly affluent, Midwest, middle-aged, suburban church in the Congregational model—I became convinced that God was calling us to something we could we do together that none of us could do alone. Historically speaking, common mission boosts enthusiasm, deepens prayer, builds community, and bears fruit for the kingdom. While no single church can go to all ends of the earth (and should not aspire to), surely ours could marshal its ample resources for a bigger splash than we were making.
Unfortunately, my missions pitch sounded exhausting. Like many a mainline, our congregation has its share of gray hair. This means more wisdom and life experience than the hip churches that older congregations envy. But wisdom without energy means that mission goes undone. We needed to integrate a younger demographic into our church. Regrettably, with the so-called "rise of the nones" (the population of adults indicating no religious affiliation), integrating younger people into our church was a challenge. Pop music worship and entertaining children's programs no longer sufficed.
At the same time, the decline in religiosity among younger people is not necessarily a decline in spirituality. Many young people are certainly religious about justice and social causes. And here was the mission tie: Instead of trying to attract younger people for the purpose of mission, perhaps doing mission on purpose could attract younger people.
A Providential Windfall
As fortune came to pass, our church recently sold a piece of land for $2 million. Most of that went to retire a sizable debt and building repairs, but we knew that to spend the entire proceeds on ourselves was unfaithful. We voted to allocate 20 percent to serving outside our walls.
The sensible way to spend the 20 percent would have been to find a successful service agency and write the check. But I hated that idea. Surely we could leverage this money in a way that would let us get personally involved.
Yet how to pick? We assessed. We discussed. We hired consultants. We prayed. The heavens stayed silent.
We had the money. We had the wisdom and experience, especially in fields related to business. What we lacked was our particular calling (or the energy to follow it through). What if we challenged young adults in our church and wider community to generate an idea that could become our calling?
I proposed we take $250,000 and sponsor a social entrepreneurial competition. We could invite innovators ages 35 and younger to submit project proposals with gospel values of grace, justice, love, redemption, and reconciliation. We'd ask that applicants affirm the Apostles' Creed, because we wanted our effort to promote Christian faith. Our church would provide funding and expertise, networking, creative community, and acceleration toward successful launches. We'd use business acumen to make the projects sustainable and stress measurable outcomes.
When I pitched the idea of a business-based social entrepreneurial competition to church leaders, some presumed I'd lost my mind. This was too large an amount of cash to risk on unproven ventures. Better to give it to a proven enterprise and maximize our return on investment. To put it in biblical parlance: Be a good steward. Church and business don't mix. "You can't serve both God and Mammon," Jesus said (Luke 16:13).
When I pitched the idea of a business-based social entrepreneurial competition to church leaders, some presumed I'd lost my mind.
They had a point. So many foundational business values run counter to the gospel, be it the primacy of shareholders over service, gluttonous profits, avaricious career ambition, or accumulating too much capital. To prosper financially may not be a biblical vice, but greed, injustice, and extravagance lurk in prosperity's shadows.
On the other hand, Jesus also said, "all things are possible with God" (Matt 19:26). Mission can redeem the better aspects of the market to serve kingdom ends. Virtues of honesty and hard work, along with love and fairness, all improve the way we do business. To believe in Jesus is to value all these things. Granted, to believe in Jesus is also to embrace humiliation and loss, and loss is no way to profit—unless you buy the gospel. To take a providential windfall and risk it all on untested idealists sounded as ridiculous as changing the world through death on a cross. It takes faith for good business sense to make good mission sense.
Breaking New Ground
Being the new minister, I had relational capital to spend. The congregation tentatively went along, walking by faith rather than sight. We named the initiative Innové, a French word meaning "breaking new ground"—or perhaps better, "digging a grave," in keeping with the gospel's promise of resurrection power.
We designed an evaluation process that maximized our business-minded congregation--from technology, marketing, assessment, and coaching to advising, planning, training, budgeting, execution and evaluation. More than 150 members volunteered their talents. We worried that after marshaling this wealth of resources we would fail to attract applicants. But worry has a beautiful way of converting to prayer.
Twenty applications came in as we approached the due date—a disappointing number, frankly. We'd prayed for more. Then, as the clock approached midnight, our online application portal lit up. Apparently young entrepreneurs like to take every minute they are given (either that, or they like to procrastinate). Suddenly our modest 20 applicants bloomed to 139.
The applications ran the gamut from laundro-daycaremats for underemployed mothers in the city, to concierge services for elderly people who wanted to stay in their homes, all the way to educational projects for children orphaned by conflict in Kenya. We scored according to uniqueness, feasibility, and fit with our congregation. We wanted not only to fund and launch new mission endeavors, but to participate in the work itself.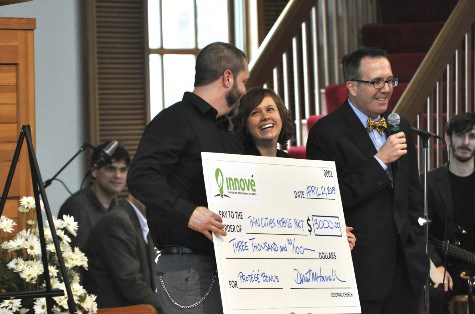 Image: Photo courtesy of Jessica Lynch and Charlie McGlynn
We also trained 24 gifted church members to be Innové "navigators." Each of them ushered through the process the semi-finalist projects. Our process entailed formulating business plans and budgets, as well as preparing a pitch for a panel of judges who determined which semi-finalists to fund.
Eventually, after much input and prayer, the semi-finalists submitted their business plans and pitched their ideas to our judges. They picked six to fund as "Protégés" (in keeping with Innové's French milieu). The Protégés included a church-school partnership program that provides weekend meals to undernourished children, a nonprofit, non-predatory payday lender, a mobile food market that sells affordable fresh fruit and vegetables in urban "food deserts," an educational initiative for men to combat sex trafficking, a college opportunity for post-secondary students with disabilities, and a for-profit printing business that directs profits toward clean water projects. To further ensure project success, the Protégés embarked with us on an incubation period that provided further consulting, financial and professional planning assistance led by church members with strong nonprofit and new business experience. Church office space was also offered as needed.
Innové brought together a vast array of gifts that comprised our church—human resources people, arts people, social services people, accountants, lawyers, managers, executives, marketers, technologists, organizational developers, and more. They all were finally getting to use what they did best for the sake of God's work in the world. It was as good as we'd prayed it would be: good for the gospel, good for our congregation, good for our young entrepreneurs and good for the world. And having done it as unto the Lord meant our work now had an eternal lifetime guarantee.
Daniel M. Harrell is Senior Minister of Colonial Church, Edina, Minnesota, where he has served for the past three years with his wife and daughter. He has written for Christianity Today about Leviticus and is author most recently of Wisdom of the Saints (And Near Saints).
MORE FROM CHRISTIANITY TODAY